What do you do when you wish to scan and store a page or important document while you're on the move? It is not possible to carry a scanner but you can certainly make the best of the Android smartphone in your pocket to scan the text on pages using your mobile's camera.
CamScanner app enables Android 2.0 or higher update to scan and store images in a readable format. For old bills or important personal documents you can always keep a copy of them as PDF files to be referred to later. This is a very useful app for those who keep referring to old documents that are fragile and easily damaged.
With the CamScanner you can turn your smartphone into a portable scanner and it can be quite helpful to store readable copies of documents.
Download and install CamScanner App from Android Market.
Step one
Open the CamScanner app and tap on the extreme left icon with the image of a camera on it.
Step two
Capture the image page in question. Tap on Retake to capture the image of the text again and tap on the OK button when done.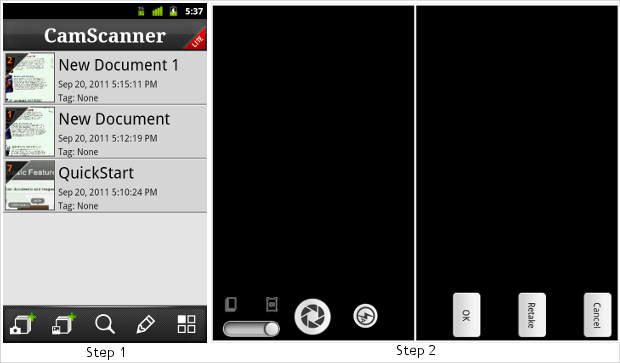 Step three
Use the 90 degrees rotation buttons to rotate the document clockwise or anti-clockwise. Then adjust the fluorescent green selection box to choose the specific text you want, or directly tap on the Correct symbol to automatically crop/trim and enhance the captured image. That removes all dark or grey spots.
Step four
Finally tap on the Correct symbol again to save the captured image.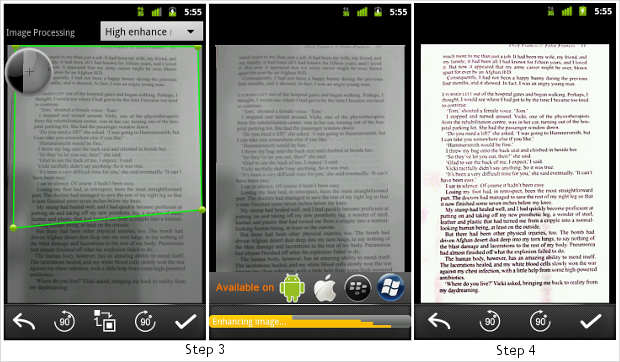 Step five
Tap on the Pen icon and then assign a name to the scanned documents. Tap on the Correct icon once you're done. If required you can tap the icon in the center to convert the document into a PDF file, then tap the Menu icon and select File to send the PDF document via Bluetooth, or upload it to your Google Docs, or send it via Gmail.
One of the shortcomings of CamScanner is the limit of up to three photos while capturing images in bulk mode. Also, the free version comes with advertisements; PDF files are created with watermarks; and there is a limit of up to 50 documents in which each document can have up to ten pages.