Since the invention of touchscreens there have been many things invented on the sidelines just to make the touchscreen experience even better. Haptic feedback, a small little vibration based feedback that the smartphone gives to the user when he/she touches the touchscreen, is one of those a inventions that have been done to make the touchscreen usage more realistic.
While it was done to make things more realistic as far as the touch and feedback goes but ultimately there are people who did not like the feature as much it was expected. Hence, manufacturers have now coming out with devices in which users can shut the haptic feedback system off.
Step 1
From the home screen, press the applications menu key on the display that will bring up the applications menu.
Step 2
Locate and select the settings tab. This is the regular way to reach to the main device settings. If you want you can access it through the device's short menu as well by choosing settings under the 'options' key on the device..
Step 3
The settings menu will open up the device's settings page. From here select the 'Sounds and Display' tab and select that to open the related menu. This settings menu takes care of the performance related settings of the device so be careful while changing other settings as well.
Step 4
The 'Sounds and Display' tab will open up the associated menu. Scroll and locate 'Haptic feedback' form the menu.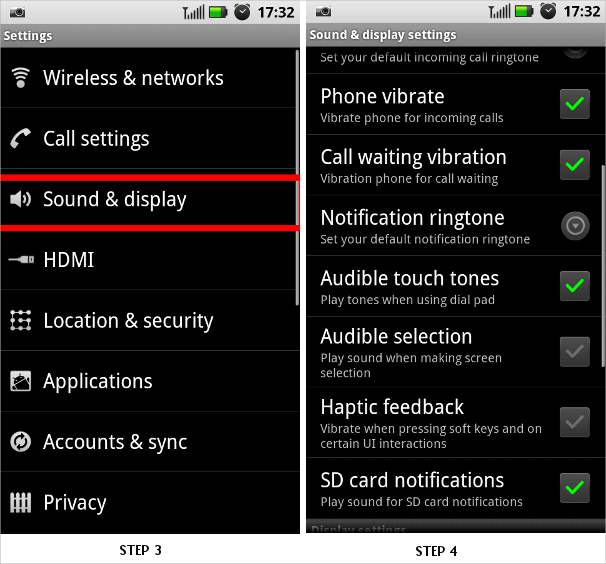 Step 5
Some devices by default come with haptic feedback enabled while some come with this functionality disabled. The Motorola Milestone smartphone, which we used for this, comes with this service enabled by default.
Step 6
Select the desired effect for the haptic feedback. So if you want to enable the feedback then check the checkbox or uncheck it if you do not want it. This provides settings for both those who want this feedback and for those who do not want this as well.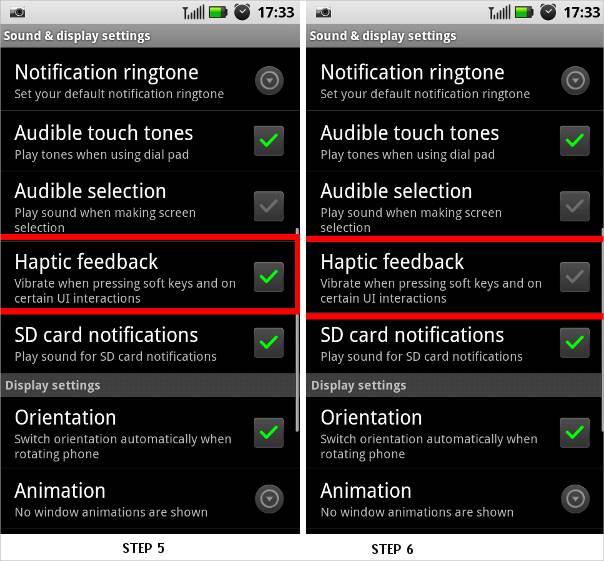 Once done exit the menu and now you will notice your device working according to your preference.