As reported earlier, Indian Railways have now started the mobile ticketing service.
Now you can book your railways tickets using mobile which don't support internet, either through SMS or using USSD based service.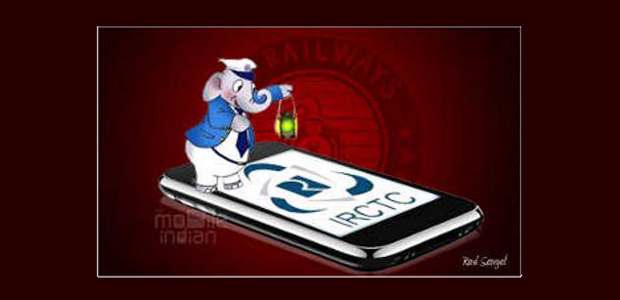 Here is how you can book your tickets using your mobile. However, keep in mind only registered IRCTC users can use these services as of now.
Remember you cannot use these methods between 8 AM to 12 PM, so tatkal booking is out of question. Since both SMS as well as USSD are based on SMS mode, you do not need internet connection and can use any mobile phone to do so. Also, you can book a maximum of four tickets using the SMS method at one go.
###PAGE###
Through SMS: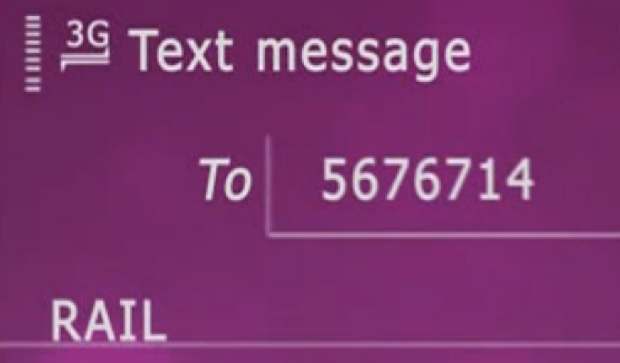 For SMS Bookings, IRCTC user ID is a prerequisite and you should have your mobile number linked with that ID. To start the booking process you have to send an SMS "RAIL" to 5676714.
###PAGE###
You will then get a message which will tell you to register your IRCTC account for the SMS booking service, for which you have to send a message- "START IRCTC_user ID" – to 5676714.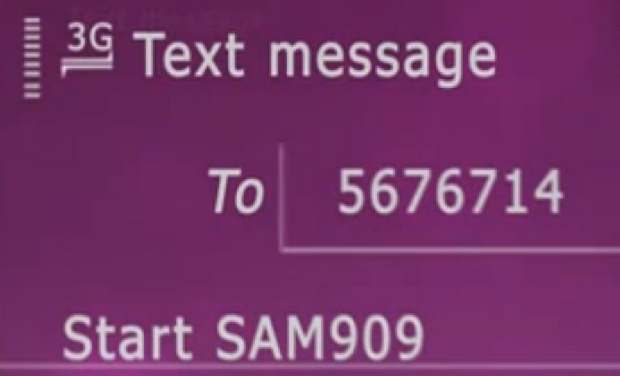 For instance, if your IRCTC ID is 'SAM909', then you have to send an SMS typing "START SAM909" to 5676714.
###PAGE###
In response, you will get a message from Indian Railways which will inform you in which format ( mentioned below) you have to send next message.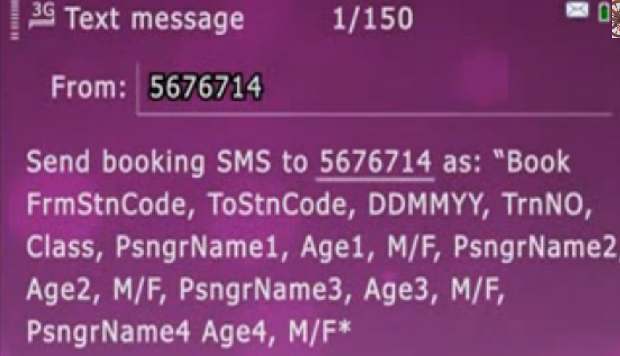 The message should be typed in the format: "Book From Station Code, To station code, DDMMYY, Train No, Class, Passenger Name 1 , Age , M/F, Passenger Name 2, Age 2, M/F, Passenger Name 3, Age 3, M/f, Passenger Name 4, Age 4, M/F".
Please Note: One should know the station codes of stating station and destination.
###PAGE###
You can then just edit the message, mentioning the details. For instance, if you want to go book four tickets from New Delhi to Allahabad on June 28,2013; you have to type "Book ndls, ald, 280313, 12418, SL, varun, 23, M, ezaz, 23, M, priyanka, 24, F, sukhbir, 25, M". Afetr entering the details send the message to 5676714.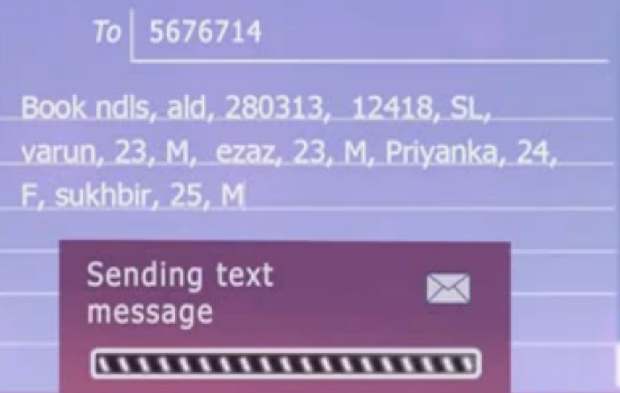 ###PAGE###
You will then receive an SMS which will brief you on the availability details, your transaction ID, and the method of paying the fare.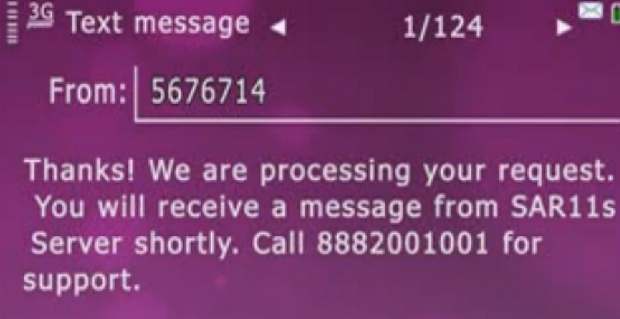 ###PAGE###
As would be mentioned in the follow up SMS, you will have to send an SMS "PAY Transaction ID, IMPS or MPAY" to 5676714. Remember, IMPS or Interbank Mobile Payment Service is an interbank electronic instant mobile money transfer service through mobile phones. The service is usually available 24/7 throughout the year including holidays and Sundays. You can contact your bank about the service. MPAY is mobile money payment service which is being provided by many organisations like Vodafone, Airtel etc.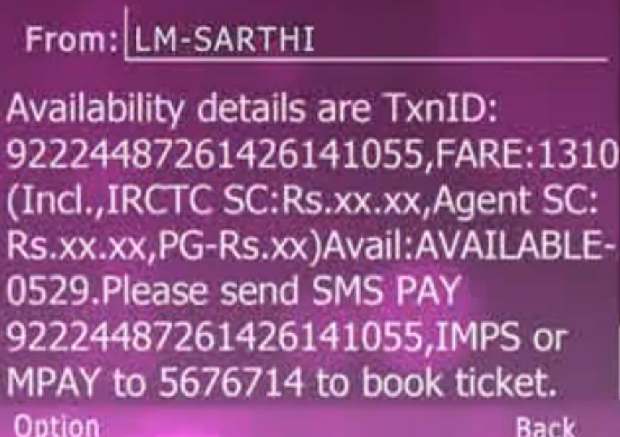 ###PAGE###
So if you want to use the MPAY service, type just "PAY Transaction ID, MPAY" and then send it to 5676714. Similarly, you can send "PAY Transaction ID, IMPS" if you want to use the Interbank Mobile Payment Service.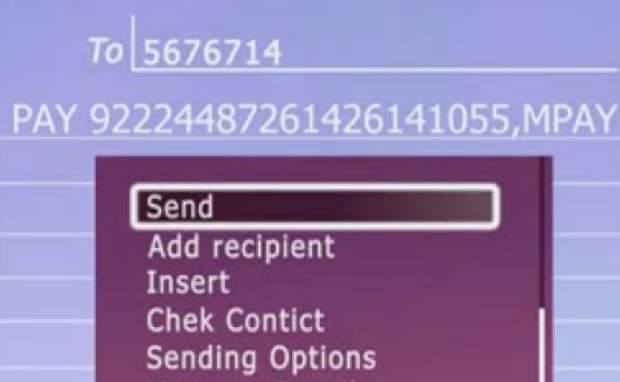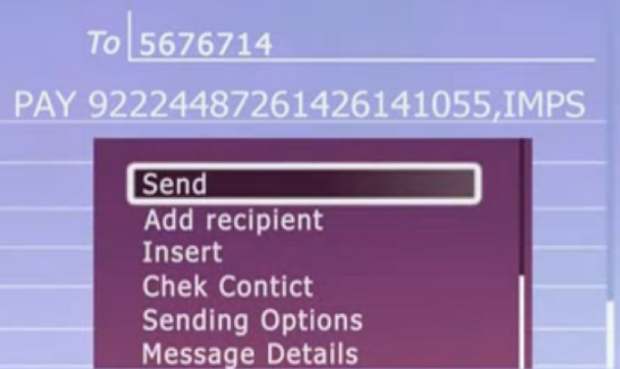 ###PAGE###
Using IMPS method will take one step more. For IMPS method, you will have to send an SMS: "Mobile number, MMID No, Amount to be paid, Transaction ID, OTP" to 5676714.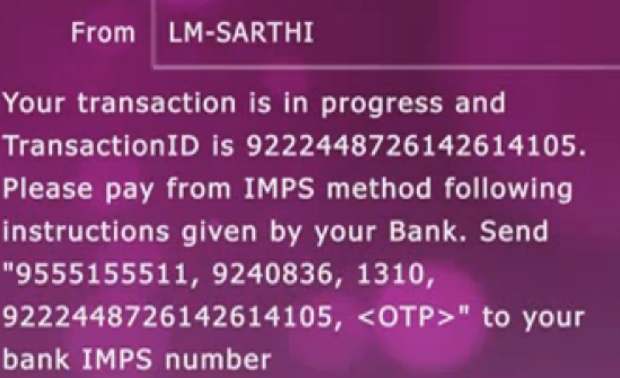 ###PAGE###
In either case (IMPS od MPAY), you will then get a confirmation message of your transaction.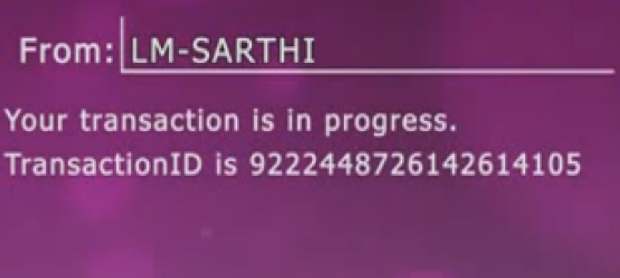 ###PAGE###
If all goes well, you will get a confirmation message in a short while with detailed information of your tickets booked.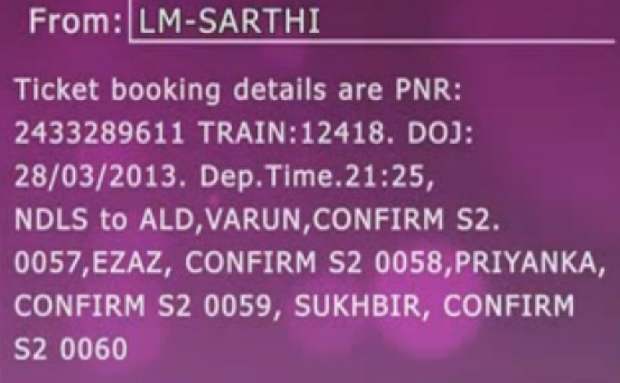 ###PAGE###
USSD (Menu-based dialing)
USSD Services are currently offered by Airtel Money. Those who have subscribed to Airtel Money have to dial *400#. You will then get a menu based screen dialing page. There select "Book Tickets" and then "Rail booking"; choose reservation (if you wish to search trains and choose) or Easybook (if you know the train number). Then follow the instructions in the menu.


If done correctly, you will reach the payment section where you have to enter mPIN for authorising payment through mobile wallet. Booking confirmation SMS will then be sent by IRCTC to you mobile phone.