Currently, a special event called State Wars has begun on the Free Fire Indian Server. Players from all over the globe are striving to attain a higher rank on the leaderboard. Moreover, Free Fire has presented an additional chance for players to obtain India Faceprint, Pet Food, and even free vouchers. To qualify for these rewards, players must inflict damage that meets the specified threshold.
For those in search of new cosmetics, this event could be a promising beginning. Here is a thorough guide on how to obtain these rewards.
Free Fire: How to Claim State War Event Rewards?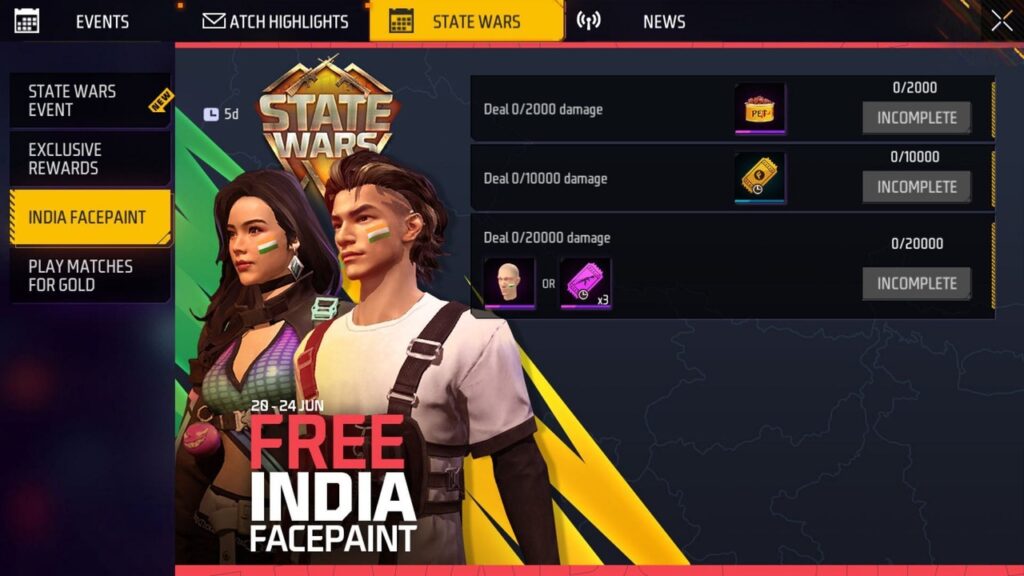 State Wars even started on June 20th and will be staying in the game until June 24, 2023. During this period, you will just have to deal damage to claim the rewards.
Free Pet Food: Deal 2000 damage
Gold Royale Voucher: Deal 10000 damage (Expiry date – July 31, 2023)
India Facepaint or 3x Weapon Royale Voucher: Deal 20000 damage (Expiry date – July 31, 2023)
To obtain the India Faceprint for free, one must cause total damage of 20,000 in any of the game modes. Although the number 20,000 may seem daunting, even new players can accomplish this with ease.
Once the players have dealt with the damage, follow these steps to easily claim India Faceprint.
Step 1: Open the Events section and select Star Wars
Step 2: Select India Faceprint from the section tab
Step 3: Press the claim button.
There might be some instances where the players have already secured India Faceprint. For those players, Weapon Royale Vouchers are made available.