In today's era of digital transformation, the banking industry has undergone a profound revolution, with digital banking emerging as a dominant force. The traditional brick-and-mortar banks are increasingly being complemented and, in some cases, replaced by innovative digital banks and services. This shift has paved the way for a new paradigm in financial management, where being money-wise is now intricately connected to being tech-wise. The convergence of finance and technology has unleashed a wave of opportunities, transforming how we interact with money. It is empowering for us to take control of our financial well-being and daily transactions through digital banks.
Airtel Payments Bank, the first company to receive a Payments Bank license from the Reserve Bank of India, is leveraging technology to make banking a hassle-free and safe experience for one and all. The powerful combination of an adept workforce and cutting-edge technology at Airtel Payments Bank offers:
Smooth & Secured Daily Transactions:
Digital banking offers faster and more secure transactions through mobile apps, making financial services accessible anytime and anywhere. Moreover, having a separate digital account for daily transactions enhances security by minimising the risk of exposing your main bank account. They can also provide added security and a reliable fund transfer system to protect your money.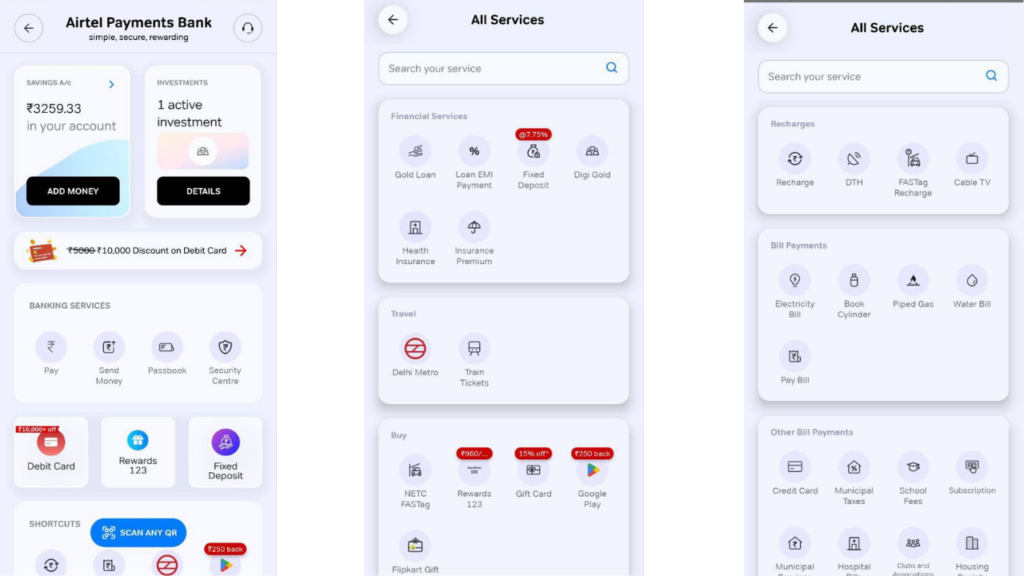 Airtel Payments Bank, a leading player in the digital banking space, offers features such as bill payment, savings accounts, instant money transfer, and an extra layer of security for online payments with Airtel Safe Pay, where no money leaves your bank account without your approval. Hence, it's definitely worth exploring a Daily Transactions Account (DTA) with Airtel Payments Bank!
Convenience at Your Fingertips:
Gone are the days when opening a bank account felt like a cross-country marathon. With the right bank, you can now open an account from the comfort of your home. Airtel Payments Bank has prioritised two things for its customers: convenience and comfort by offering a completely digital and paperless account opening process that too in minutes. Moreover, Airtel Thanks App's smooth UI/UX ensures that the customers have an easy journey through the App while making daily transactions.
Airtel Payments Bank even provides savings bank account customers with a tiered interest rate system for their savings. When account holders maintain a balance ranging from Rs. 1 to 2 lakh, they can avail of an interest rate of 7%. However, for those with an account balance up to Rs. 1 lakh, the interest rate is 2%. This approach incentivises maintaining a higher balance in the savings account.
Enjoy Rewarding Experience:
Not only do you get convenience and security with Airtel Payments Bank, but each transaction also presents an opportunity to earn rewards through the Rewards123 programme.
As an Airtel Payments Bank customer, you have the exciting opportunity to earn cashback and discounts on various online and offline transactions from leading merchants, including loading money, shopping, and bill payments. Furthermore, you are entitled to a free virtual debit card, unlimited deposits, and a sweep-out facility.
Diversify and Grow Your Wealth:
With digital banks, you can conveniently access a variety of smart investment solutions to diversify your portfolio and potentially increase your profits. Airtel Payments Bank offers both traditional investment options, such as Fixed Deposit (FD), and modern alternatives like Digi Gold.
Benefits of Digi Gold:
Buy and sell 24K 99.50% pure Digi Gold with 100% secure storage
You can buy gold for as low as Re 1
Buy or sell gold at internationally competitive prices
Gift gold to your family and friends
Fixed Deposit at a Glance:
The interest rate of up to 7.75% p.a.
Completely digital and paperless process for booking FD
Minimum investment amount of just Rs. 500 to start investing in an FD
Seamless WhatsApp Banking
Nowadays, instant Messaging has become an integral part of our daily routine, and a few digital banking service providers have leveraged this trend by introducing WhatsApp Banking. This service lets you perform various banking transactions through the popular messaging app conveniently.
Airtel Payments Bank is among the first banks that offer this service, along with several other cutting-edge services, through WhatsApp chat. The list of services provided by the bank is extensive and includes the following:
Banking services – check the account balance, transaction history, virtual debit card and load money
Airtel Payments Bank FASTag services
Recharges and bill payments
Shop for gifts cards and gold
Conclusion
When it comes to digital banking, you don't have the option to opt-out, but you certainly can pick a bank that will best meet your needs. Switch to Airtel Payments Bank – the safest digital bank as it offers 3-in-1 benefit, i.e., safety, comfort, and rewards.

If you are an Airtel Payments Bank user, your onboarding process is just a few clicks away. And even if you aren't, this is one time when you can't really go wrong in getting the most value for your money. So, go ahead and Download Airtel Thanks App now!