WhatsApp is a very important part of the life of every person. All your essential and cherished data, such as photos, videos, and other files, are commonly shared with this. Moreover, Android users also like to back up their WhatsApp from time to time. However, sometimes you accidentally delete important chats.
To resolve this matter, you can use the local backup of WhatsApp to restore data. In addition to this, Google Drive can also help you in restoring WhatsApp. But this thing can only happen if you have a backup of WhatsApp. However, sometimes, you fail to back up the important chats, which results in the loss of needed data. Here, we will guide you on how to restore WhatsApp messages without backup.
Part 1: How to Recover the WhatsApp Data Using the Local Backup
Local backup is the built-in feature of WhatsApp, which helps to back up your data from time to time. It works like the WhatsApp data recovery tool in a time of need. With this, you can save your essential data as an encrypted file.
The automatic type of local backup of WhatsApp is 2:00 AM. If you are facing a scenario where you have accidentally deleted an important chat, then this local backup will help you. To recover the lost WhatsApp messages with local backup, have a look below:
Step 1: Reinstall WhatsApp on your Android and launch it. Follow the on-screen instructions and verify your WhatsApp account. Following this, tap "Continue" to allow access to WhatsApp and press the "Allow" button.
Step 2: To proceed, press the "Restore" button and tap 'Next." Enter your "Profile Info" and select the "Next" button. Wait a few moments, and your WhatsApp chats will be restored in the Android.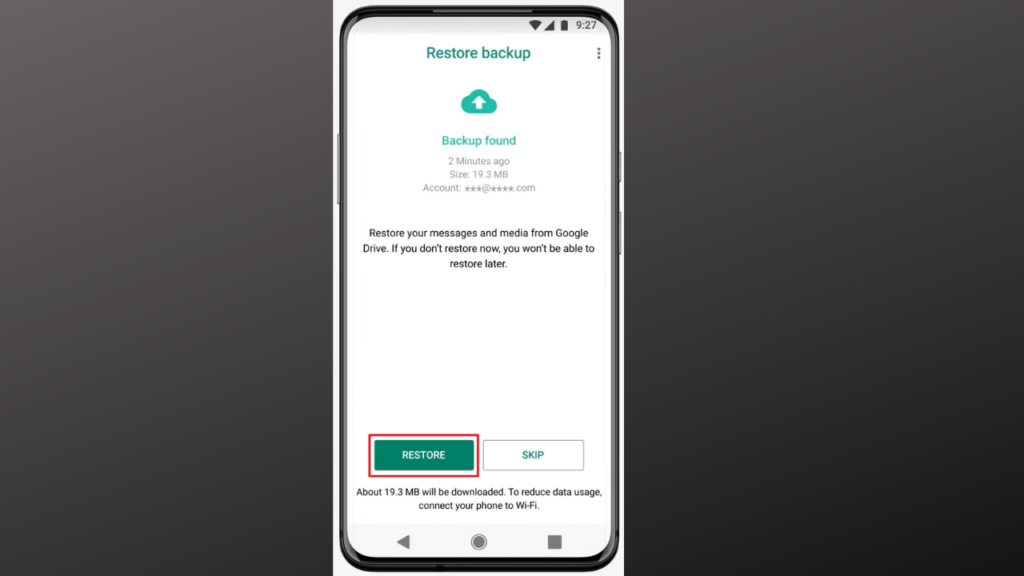 Part 2: How to Recover the WhatsApp Data Using the Google Drive Backup
Google Drive is one of the most popular tools that can store and share your valuable information. You can also back up your essential WhatsApp data in Google Drive and restore it whenever needed. Besides WhatsApp data, it can store several files, such as audio, videos, and photos.
You can also collaborate with others or your team members to streamline the workflow efficiency. Moreover, it also offers diversified integrations such as Google Docs. If you are still stuck on the WhatsApp part and want to know how to recover deleted WhatsApp messages with Google Drive, follow the instructions here:
Step 1: To restore WhatsApp, reinstall it in Android and verify it with your number. This will lead you to the backup screen, and WhatsApp will automatically locate the Google Drive backup. Once the backup is detected, select the "Restore" button.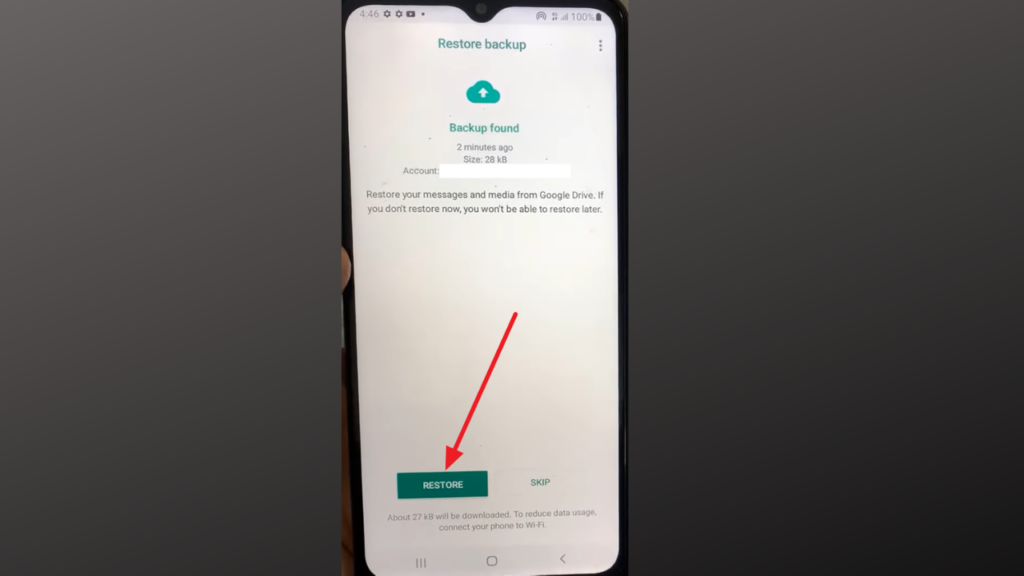 Step 2: To proceed, press the "Next" button and choose "OK." After this, fill out your profile information and tap "Next." Wait until you are on the home interface of WhatsApp and your restored chats are visible to you.
Part 3: How to Restore the WhatsApp Data Without Backup
The tool widely used to recover deleted WhatsApp messages without backup is Wondershare MobileTrans. Not only WhatsApp, but you can also restore lost WhatsApp Business data with this. It also has the power to work with more than 18 types of data, such as photos, videos, music, files, and more. Whether you want to restore the started messages, locations, or stickers, it can handle everything for you.
It also lets you export the messages of WhatsApp in the form of HTML and PDF. Other than this, if you want to restore the iTunes backup to your Android, it can also do this for you. One of the optimistically impressive things about this tool is that you can make selective restorations.
Key Features of Wondershare MobileTrans
This tool allows you to transfer WhatsApp from one device to another, such as Android to iPhone.
With this tool, you can also make Phone Transfers, as it can easily transfer photos, videos, music, contacts, messages, and other data.
It also helps you transfer the data of apps from one device to another. This may include Viber, LINE, WeChat, and more.
What is the Process of Restoring WhatsApp with MobileTrans
By following some straightforward steps instructed below, you can recover deleted WhatsApp messages without backup:
Step 1: Access MobileTrans and Connect Android to Computer
Firstly, install MobileTrans and launch it to restore WhatsApp. Go to the "Backup and Restore" module and click the "Deleted WhatsApp Data Restore" tool from the available options. Following this, grab a cable and connect your Android to your computer.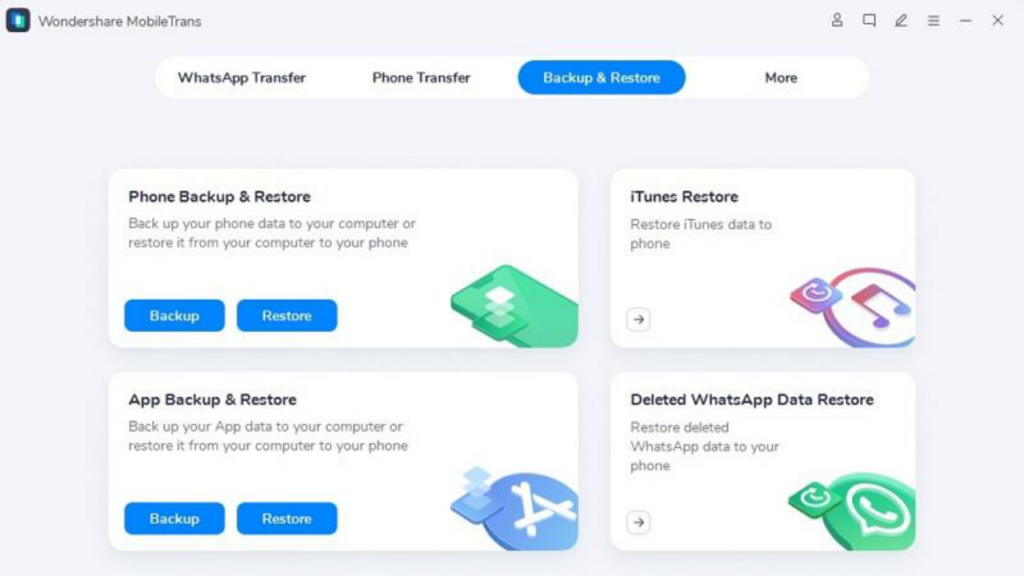 Step 2: Manage WhatsApp Settings
To proceed, open WhatsApp and log in with your number. Follow the on-screen instructions until you fully log in to WhatsApp. Afterward, select "Settings" and click "Chats Backup." Make sure you turn off the "Backup to Google Drive" option and perform the backup of WhatsApp. Next, follow the on-screen instructions to install WhatsApp via USB.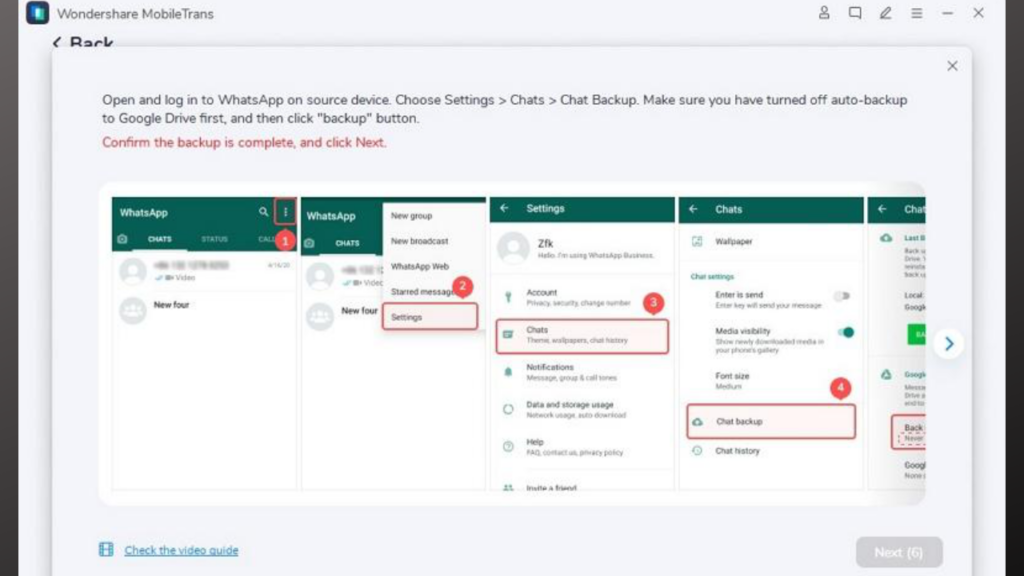 Step 3: Restore Lost WhatsApp Chats
Again, log in to WhatsApp and verify your account and click the "Restore" option. Hereafter, select "Next" and make the "Checkbox." To restore the WhatsApp data permanently, press the "Restore to Device" to complete the process.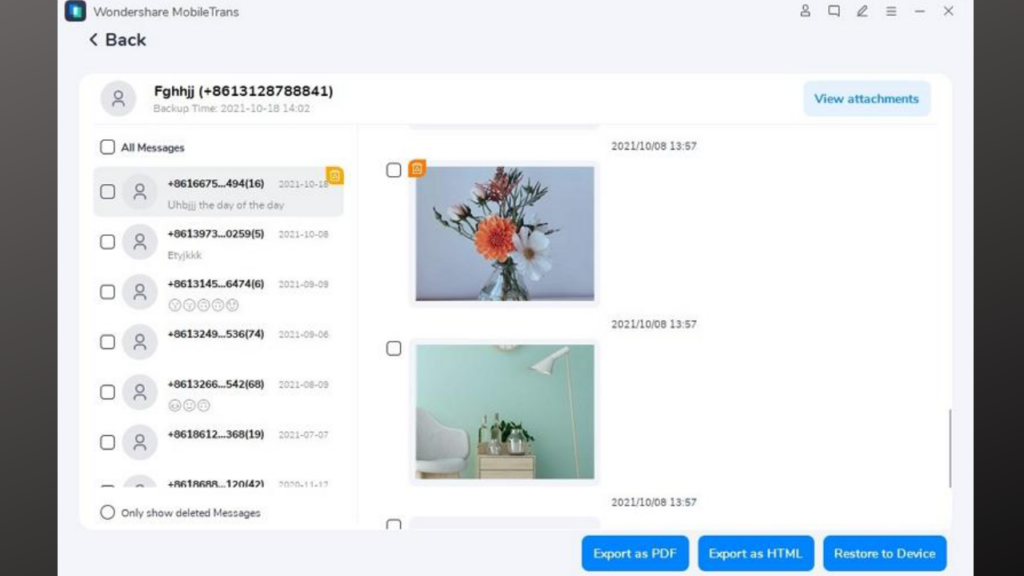 Conclusion
In a nutshell, you have now learned how to recover deleted WhatsApp messages easily. You can use local backup or Google Drive for this. Yet, sometimes, you don't have a backup, so you need to use an optimized tool. The best tool that can help you in this scenario is Wondershare MobileTrans. You can learn more about this from the above discussion.