Gone are the days when love messages used to travel trough pigeons and handwritten messages, now in a era where mobile phone have become a preferred medium of communication the distance between two people has reduced to zero. And with applications becoming increasingly popular amongst mobile phone users almost all application developers are making applications for Valentine's Day.
Google's Android has a vast variety of applications for the Valentine's Day. Here we have selected a few free applications that will make your Valentine's Day a memorable one.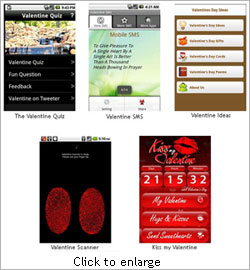 The Valentine Quiz
Actually a very neat little application that tries to update your Valentine's quotient cleverly by asking you various question related to it. This quiz can also help users by helping them know more about themselves and their relationship by answering some apparantly simple questions.
Valentine SMS
Words work the best when it comes to expressing emotions. A few lines said on Valentine's Day works way better than anything else. If you are good with words then no problem for you but if not, this application will help you by putting words to your feelings.
Valentine Ideas
Running a little short of creative ideas on how to impress your lover on the day of Valentine's or even before that? Well, don't worry many of us face the same mental block. Luckily we have Valentine Ideas, which gives you great ideas on how you can impress your partner in the best way possible.
Valentine Scanner
Do you want to know how well you fare with your partner? No problem, just put your and your partner's thumb on your Android phone screen and this application will scan your compatibility and gives you the results on how well you go along with each other.
Kiss my Valentine
This application won't invite people to come and kiss your valentine but rather send her kisses hugs in a unique way. It stores information about the love you have shared in various forms and how much love you have gotten back from your lover. And bonus for all those who believe in multiple lovers, this application can be used for multiple contacts at a time also.