We have been tapping the television industry a lot often than before nowadays. While we have already covered with best TVs under the budget of Rs 20,000 and the overall best TVs you can buy right now irrespective of the price, however, the midrange TVs are probably the most demanded. Today, we have combined the top five options under the price range of Rs 40,000. Note, that we haven't stick to a particular screen size in this one.
LG 43LH576T – Rs 39,390
The first one in our list is LG's 43-inch 43LH576T model which is currently priced at Rs 39,390 on Flipkart. As mentioned above, we get a 43-inch Full HD (1920 x 1080 pixels) LED screen up front with very thin bezels on the sides and equally thin chins at the top and bottom. The TV comes with LG's Triple XD Engine for enhanced picture quality and the display on this one can offer 16:9, 4:3, and 14:9 aspect ratios. For audio, we get 2 speakers which are capable of pulling out an output of 20 RMS combined with Dolby Digital Decoder and Virtual Sound Plus technology. LG's 43-inch LED TV is also a Smart TV so it comes with built-in Wi-Fi with Wi-Fi Direct, App Store, India Specific Apps, Miracast, Network File browser, Netflix, YouTube etc. There is also a Motion Eco sensor and we get a total of 18 OSD languages including Hindi, Marathi, Bengali, Tamil and Telugu. In terms of connectivity, there are 2 HDMI ports (1 side and 1 rear), 1 USB port (side) 1 headphone jack, 1 RD Input, 1 digital audio output, 1 composite video input, and other basic ports. The TV also comes with Smart Energy Saving functionality which will help it to be easy on your electricity bill. The TV weighs about 8.4 Kgs and measures at 975.5 mm x 583 mm x 81.5 mm. Note that, these measurements are without any accessory such as wall mount or stand as you don't get any of these in the sales package. You get 1 year of LG India Domestic Warranty which covers, all defects arising out Faulty or defective material.
Sony Bravia KLV-32W562D – Rs 35,990
If you are looking for a smaller screen size without compromising on any of the features, Sony's KLV series is surely what you should look at. The 32-inch model i.e. the 32W562D offers a beautiful near bezel-less design which makes it look much expensive than the price tag it comes with. Currently, the TV is available for Rs 35,990 on Flipkart. Inside the packaging, we get the TV, Remote Control with batteries, Power Adapter, Setup Guide, Table Top Stand etc. As mentioned before, up front, we have a beautiful 32-inch Full HD (1920 x 1080 pixels) screen which comes with Sony's reliability and top notch quality quotient. Further, the TV offers 16:9 aspect ratio with 200 Hz of refresh rate. The viewing angle on this one is pretty impressive as well with Sony's X-Reality Pro engine inside. To enhance your audio experience, there are 2 speakers and a subwoofer which are capable of a sound output of 8W x 2 and 14 RMS respectively. Launched last year in 2016, this particular TV is also a Smart TV so you get features like Screen Mirroring, Opera Web Browser, App Store, YouTube etc. In terms of connectivity, we have 2 HDMI ports, 2 USB ports, 1 Composite Audio Video, 1 headphone jack, 1 Audio output, 1 RF Input and an Analogue Audio input port. There is also an option for ethernet input on this model. The TV weighs at 6.4 kgs without any accessory and measures at 738 mm x 441 mm x 65 mm. We get 1 year of Sony Domestic Warranty as well.
BPL 4K Smart LED TV 108K300S4H – Rs 39,490
BPL was once a leader in the television industry, however, was off the chart for quite some time now. However, the Indian based company has a pretty solid option here in the name of BPL 108K300S4H which was launched in 2016. Inside the package, we get the TV unit (of course), a user manual, Quick Setup guide, Remote Control, Table Top Stand and a bunch of screws for installation. The TV comes with a beautiful 43-inch Ultra HD (4K) display boasting a resolution of 3840 x 2160 pixels which offers 160-degrees of viewing angle and 16:9 aspect ratio. For enhancing the media consumption experience, we get 2 speakers with surround sound and a speaker output of 7W x 2 RMS coupled with DBX-TV Audio Enhancement. Apart from coming in at 4K resolution, this TV is also a Smart TV, meaning it comes with all the interesting features such as built-in Wi-Fi, Pre-Installed Apps such as Netflix, YouTube, Twitter, Facebook, App Store, One Touch Access, Web Browser etc. Coming to the connectivity, there are 4 HDMI ports, 3 USB ports, 1 ethernet port, a headphone jack, 1 AV In, 1 RF In and all the other basic necessary ports. You also get features like Energy Saving, Backlight scan, HDR, Ultra Dimming, Smooth Motion Rate Technology etc. The TV weighs at 10Kgs which is a little heavy and measures at969 mm x 563 mm x 87 mm. Also, we get 2 Years of manufacturer warranty which covers both LED Panel and PCB.
###PAGE###
Vu Full HD Smart LED TV 49S6575 – Rs 38,500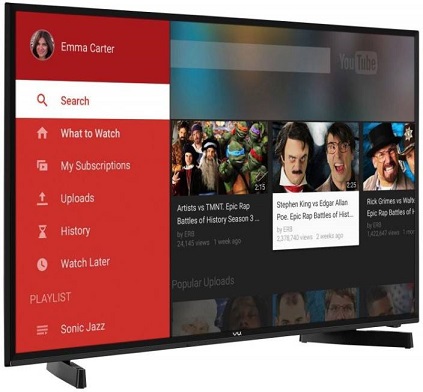 Well, Vu is having a pretty solid phase after a rough initial period of penetrating into Indian television market. The Canadian giant even made it to our top five TVs last week and is here on this list as well. Vu's 49S6575 comes with a decent price tag of Rs 38,500 and offers equally decent features for the price. Inside the box, we get the TV unit, Remote Controller with battery, User Manual, Power Cord etc. Up front, there is a 49-inch Full HD 1920 x 1080 pixel display which offers viewing angles of 178 degrees, refresh rate of 60Hz and features like Backlight Control, Smooth Motion Rate at 120 Hz etc. For the audio, there are two speakers which are capable of an audio output of 16 RMS and boasts Dolby Digital technology as well. Coming to connectivity, there are 3 HDMI ports, 2 USB ports, 1 ethernet port, 1 RF In, 1 headphone jack etc. Being a Smart TV, the 49S6575 bundles up all the feature like built-in browser, app store, pre-installed apps such as Opera Web Browser, YouTube, Netflix, Opera TV Store, Games Centre, Facebook, Accu Weather and a tonne of other interesting functionalities. The TV is powered by a Quad-Core processor and also comes with built-in Wi-Fi through which one can easily screen mirror as well. This Vu TV is currently available for Rs 38,500 on Flipkart and comes with a 3 year Vu domestic warranty. The TV weighs 11.9 Kgs and measures at 1099 mm x 639 mm x 85 mm
Sansui Ultra HD (4K) Smart LED TV SNA43QX0ZSA – Rs 36,990
Well, this might have come as a surprise to many of you as Sansui has recently not been in the limelight. Still, we chose this particular model purely on the basis of what we get for the price. This TV from Sansui offers a 4K resolution which in itself is a rare breed in this price range. Inside the packaging, we get the TV unit, Remote, Batteries and Wall Mount along with some device literature. The LED display is 43-inches and offers a resolution of 3840 x 2160 pixels which is better known as Ultra HD or 4K. This display can offer a refresh rate of 60 Hz and 4K display resolution promises to bring out a sharp and vivid viewing experience on this TV. Before going into the technical details, this model is also a Smart TV so you don't miss out here as well. We get built-in Wi-Fi along with an Ethernet port. Other connectivity options include 3 HDMI ports, 2 USB ports and other basic connectivity ports which are standard at this price range. For the audio, we have 2 speakers which are surprisingly capable of letting out a speaker output of 20 RMS. Lastly, we get 1 year of warranty along with 2 years extended warranty that covers only the TV unit and not any of its accessories.