Getting things done is everyone's motto. However, one can simply not get all things done if one's day is unplanned and disorganized. These simple to do list apps serve to be eco-friendly and can also be helpful personal reminder services to adhere to and successfully accomplish daily tasks. Using a to do list helps organize a day or week and takes some load off one's mind for new or recurring tasks every week so you do not miss out on deadlines.
Of several to do list apps, six or seven were deserving of being in the top 5. Here is our list of top five to do list apps for Android.
Wunderlist
Highly rated and recommended Wunderlist app works flawlessly across different platforms and mobile operating systems. Meant for business and personal use, Wunderlist allows users to register for a Wunderlist account so that all the tasks in the to do list are synced to the account and accessible anywhere, anytime. Creating a to do list is quite easy and the user can share lists with family, friends and colleagues. In fact, the app allows collaboration on a to do list as well – imagine planning a surprise party or working on a team project.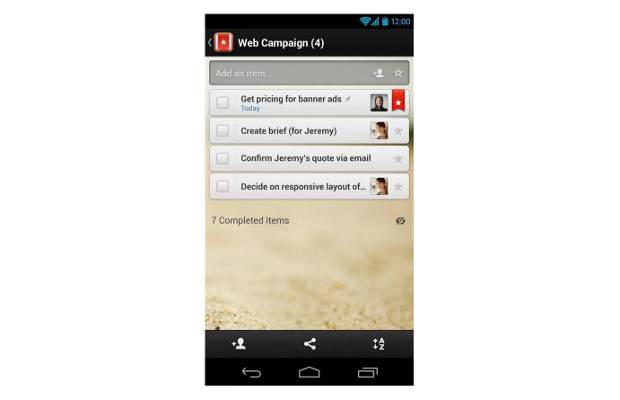 The Wunderlist app is great for birthday reminders as well with the help of power widgets that allow management from the homescreen itself. Get the free Wunderlist app for your Android device from Google Play store.
###PAGE###
Any.do
Sleek and elegant looking Any.do is what we recommend to those who are just getting into to do list creation and management. It has a simple interface and logical gestures for editing tasks. Make a quick to do list and set up tasks with reminders. These tasks can be easily divided by Today, Tomorrow, This Week and Later. This app is elemental for those who plan their weeks in advance and usually travel around a lot. Pulling down the task list will let you create a new task and once you have finished it, shake the phone to automatically remove the completed task.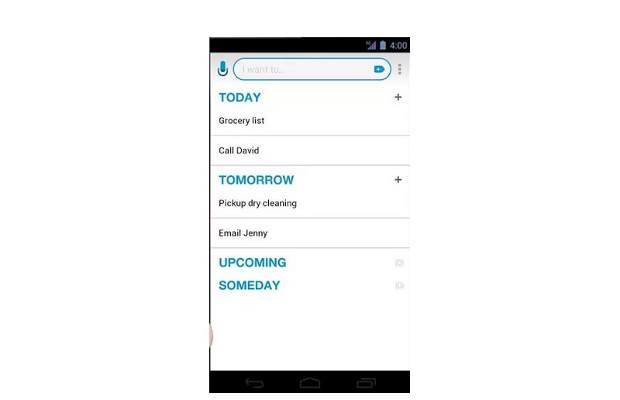 The auto complete function plays a crucial role when you are listing tasks. The best part is that it supports voice tags, but this feature is somewhat rough at the moment. Missed calls can automatically be turned into reminders. Get the Any.do app for your Android device from the Google Play store.
Astrid
The original Astrid app got acquired by Yahoo! but Alex Baker took scraped code and kept a different version of Astrid to do list app alive. This app does not sync data to any third-party website. Users can create a to do list by adding tasks that also include description and priority. Events can be easily planned on this app and activities related to particular events can be tracked.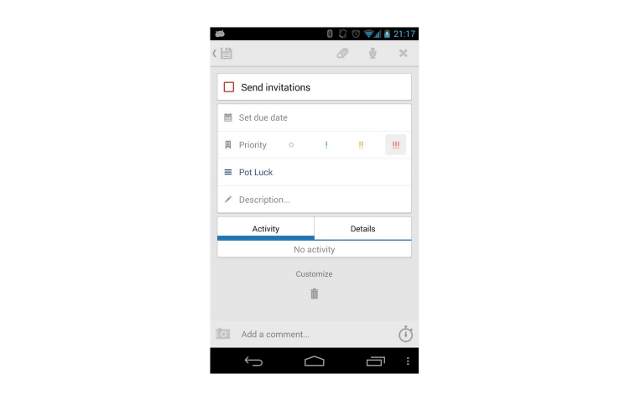 Users can also sync the app with Google Tasks to pull in different tasks that have been created. This wonderful app is free, robust and very easy to use. Get Astrid app for Android from the Google Play store.
###PAGE###
Tasks n To Dos List
Yet another colourful to do list management app arrives with tight sync support for Google Tasks. The app can integrate Google Tasks lists and to do lists into one list with filters. There is drag and drop support for tasks for changing their position as well as support for speech to text for feeding data to create tasks in the to do list. One can assign dates in the calendar style date picker for tomorrow, next week or later. It is also possible to have colour coding to show the status of the task, such as red for overdue and orange for due soon.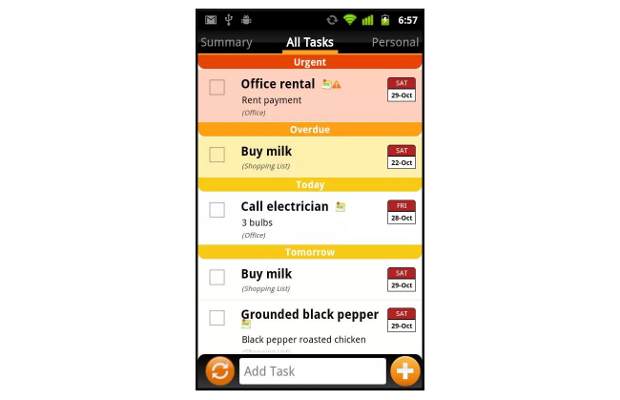 Task reminders can be set with notifications for one time or repeated usage. All data can be saved to the external micro SD card for transferring it to different devices. Smooth Google Task support and easy to understand features are indeed commendable. Get this app from the Google Play store.
Task List
This is a simple and intuitive task manager for old school style lovers and geeks. This app syncs with Any.do app as well and can do most rudimentary things like other task managers can. One can sync the to-do list with Google Tasks or Google Apps for further use. The task categories can be customized as per personal usage and labels. Alternatively, tasks can be shared with others via email or SMS. The app allows assigning alerts for tasks and adding notes to each of them. Connect your task lists with your friends on Google, Facebook, Twitter and even WhatsApp. Get this free Task List app for your Android device from the Google Play store.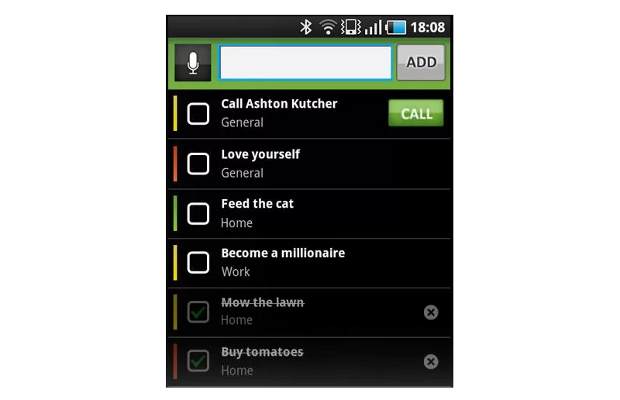 For a very simple and no nonsense user interface, check out Remember The Milk app at the Google Play store.