Reliance Jio made some gargantuan waves in both telecom and mobile industry when it launched its first 4G VoLTE-enabled feature phone, the JioPhone. The Mukesh Ambani-led company said that the feature phone comes with a zero price tag, though you need to give a security deposit of Rs 1,500.
Recently, the brand announced some terms and conditions of the much-touted JioPhone that has proven to be a wet blanket for those who were eagerly waiting for the feature phone. So, if you are still looking to buy the latest feature phone from Reliance Jio, here are 5 things that you should enlighten yourself with.
It's not free!
First thing first, the JioPhone is not for free. Users need to pay Rs 1,500 as a security deposit for opting for a 4G-enabled feature phone. Though the money will be returned after three years, but there is more to it. In order to make the JioPhone functional, one need to recharge the feature phone for a minimum Rs 1,500 per annum for a period of 3 years from the date of the first issue of the phone.
If the users fail to do so then the company will have the right to ask the customer to return the handset. So, if you do the math, then you have shed Rs 4,500 in order to avail the features and services of Reliance JioPhone, which is not certainly free!
You will be penalised for not returning JioPhone
Again, if you are thinking to return the device before the completion of three years than you will be penalized. Reliance Jio website has revealed the terms and conditions of return policy on JioPhone. To start with, users how to return the JioPhone within 12 months from the date of the first issue, will have to pay Rs 1,500 along with applicable GST or other taxes.
Similarly, if a user returns the device after 12 months and up to 24 months from the date of the first issue, he/she has to pay Rs 1,000 plus GST or other taxes. Users who return their devices after 24 months and up to 36 months, will have pay Rs 500 plus applicable GST or other taxes. Further, if you do not return the handset to the company within 3 months after the 3-year period is over, the security amount will be forfeited.
You cannot use other operator's SIM card
Yes, the JioPhone will be SIM-locked. This means that it will be locked to Jio network and assigned to a fixed number only. Simply put, you cannot use other operators' SIM card on your JioPhone. However, the company mentions that it may "may, solely at its discretion, allow the use of the JioPhone with any other compatible network from time to time." But that hardly happens in the telecom industry.
Pay Extra to watch Live TV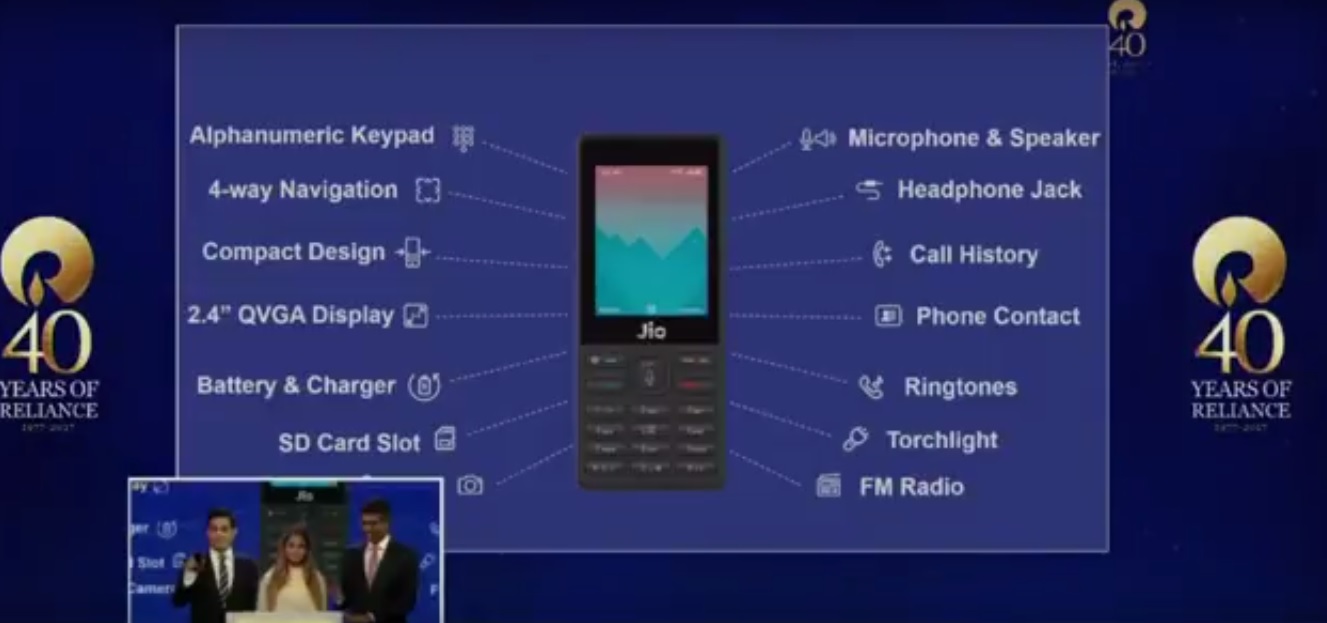 Reliance Jio, during the launch of JioPhone, said that users can connect their JioPhone to a Smart TV or even a CRT television, with the help of JioMediaCable. It is basically a dongle, which has two ports through which you can connect your JioPhone and another one can be used to connect with Smart TV via HDMI cable or CRT television via RCA connector. However, the dongle does not come bundled with JioPhone and one has to purchase it separately. Further, in order to enjoy the TV content, users need to do a recharge of Rs 309 per month.
It is still a feature phone
Despite all hullabaloo of being a smart feature phone, it is still a feature phone and you cannot compare it with a smartphone. You will not get a smartphone-like experience, even if users get to stream content in 4G. The convenience of a large touchscreen coupled with multi-tasking and with a limited number of apps support (it only support Jio suites of apps), the JioPhone, at the end of the day, will only become a medium of making and receiving calls.