Smartphone fever is gripping every potential buyer and more than feature phones smartphones offer an exciting proposition. With higher end devices getting bigger price cuts it's easier now to get your favourite smartphone and that too without punching a hole in your pocket.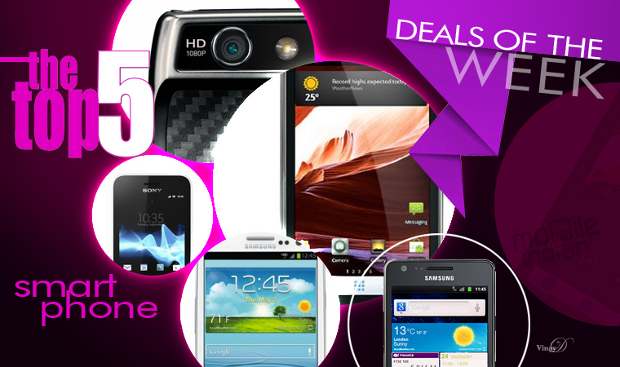 So if you are also looking to buy a smartphone this week here are some of the top deals available online which will help you get the best bang for the buck you spend. The prices mentioned are close to the prices offered by various online shopping portals across India.
Intel Xolo X900 (Rs 17,500)
Lava as a mobile brand has always been associated with the word innovation and that is what is quite visible in the new Intel Atom powered Xolo X900 smartphone. The device features a slim and sleek design with a total weight of 127 grams, making it extremely easy to carry.
Xolo X900 features a 1.6 GHz application processor, which has been provided by the world's largest chip manufacturer Intel. Intel's 1.6 GHz single core Atom processor is by far the most powerful and fastest chipset in a smartphone. The operating system on the device is outdated Google Android Gingerbread 2.3 but the company has announced the ICS upgrade for it.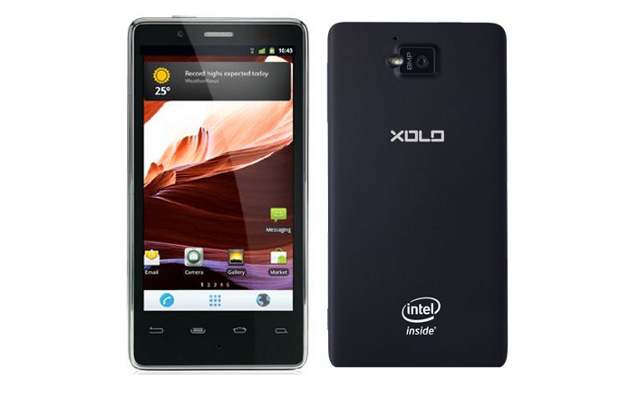 The device in terms of multimedia gets an 8 megapixel snapper encrusted with LED flash capable of recording HD 1080p videos as well at 30 frames per second. Another feature implemented in the Xolo X900 is the inclusion of a burst mode which allows the device to capture 15 pictures in just one second, making it easier to capture fast action. In terms of hardware specifications the Xolo X900 is almost identical to most Android smartphones within the Rs 20,000 – 30,000 price range; the only difference being in terms of internal storage, which has been beefed up to 16 GB.
The retail price of this smartphone is around Rs 21,999 while the Xolo X900 is available at Homeshop 18 for a special price of Rs 17,500-by far the lowest price online.
###PAGE###
Samsung Galaxy SIII 16 GB (Rs 33,999)
This flagship phone of Samsung, Galaxy SIII, with its slim design and unique looks has managed to win the hearts of users across the globe. The device offers unparalleled performance along with great battery backup and utility, making it an object of desire.
The Samsung Galaxy SIII has a 4.8 inch, 1280 x 720 pixel resolution HD Super Amoled display with PenTile pixel arrangement (two sub-pixels per pixel) and about 306 pixels per inch pixel density. By default, this display supports 1280 x 720 pixel resolution and is hailed as the best display ever to feature on a smartphone.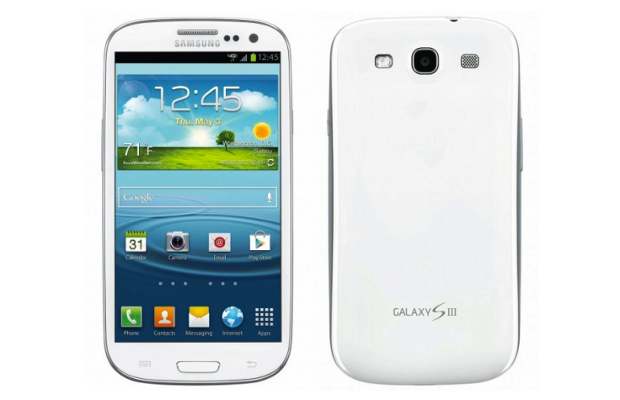 The Galaxy S III comes with a quad core 1.4 GHz Exynos 4 mobile processor running Android Ice Cream Sandwich and the new TouchWiz user interface integrated on top.
The retail price of this smartphone is around Rs 36,999 while the Samsung Galaxy SIII 16 GB is available on Shopclues.com for a special price of Rs 33,999. Along with that buyers can use the promotional code "SCGAS3" while checking out to get an additional discount of Rs 1,000 on this device.
Sony Xperia Tipo (Rs 9,499)
The Sony Xperia range now has the cheapest Android smartphone the Xperia Tipo, which despite being the cheapest has some good hardware and comes with a design that is both good looking and functional too.
The 3.2 inch display of the device comes with 320 x 480 pixel resolution which is not at all high but does justice to most functions. The colour reproduction of the display is good but brightness levels seem a little low legibility in sunlight. The low cost of the device comes with a few exclusions-the mobile Bravia engine is one of them and will be dearly missed.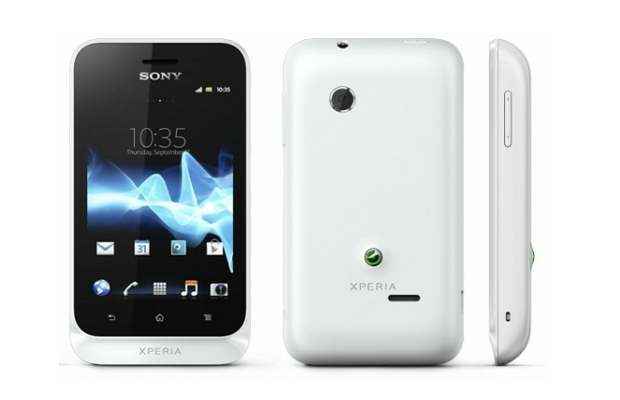 The display, however, comes with a scratch resistant mineral glass on top which will make sure that daily use does not cause any damage to the phone. Xperia Tipo is powered by an 800 MHz single core Qualcomm MSM7225AA processor featuring the Adreno 200 GPU for superior graphics. Coupled with 512 MB of RAM the device gives decent all round performance but limitations of the CPU will definitely come with processor intensive applications and games. The device, with its timescape user interface, is quite fast and never lacks in anything from app execution to performance.
The retail price of this smartphone is around Rs 9,999 while the Xperia Tipo is available on Snapdeal.com for a special price of Rs 9,499. Along with that buyers can also use a promotional offer in which they get a free air ticket from Sony India.
###PAGE###
Motorola Razr xT910 (Rs 24,849)
Motorola Razr mobile phones are known for their characteristic slimness and unique design that makes them stand out of the crowd. The Motorola Razr Android smartphone xT910 is no different from its predecessors. Super slim Motorola Razr xT910 features a 4.3 inch Super Amoled display with qHD (960 x 540 pixel) resolution and has been built with Corning Gorilla Glass to make it scratch resistant. The screen is a Super Amoled display for vivid colours. Notably, the 7.1 mm thin smartphone is built with Kevlar fiber – a material which was also used for making things bullet proof.
Motorola Razr comes with Android 2.3.5 Gingerbread, upgradable to ICS, with 1 GB of RAM that hooks up with a dual core 1.2 GHz processor for multitasking. Motorola has ensured best quality imaging with the 8 megapixel camera that is capable of recording full 1080p HD video at 30 fps. It also features a front facing 1.3 megapixel camera that promises HD quality video calling.


Razr xT910 supports up to 14.4 Mbps download speeds on 3G networks and WiFi for faster wireless data connectivity. To power the big touchscreen and hardware, Motorola has added a massive non-removable 1780 mAh battery that promises backup of 10 hours.
The retail price of this smartphone is around Rs 32,000 while the Motorola Razr xT910 is available on Snapdeal.com for a special price of Rs 24,849-by far the lowest price to be offered online.
Samsung Galaxy SII (Rs 25,900)
The older Android flagship device Galaxy SII is based on Android 2.3 Gingerbread operating system, but the Android Ice Cream Sandwich operating system upgrade is already out in the market. The SII has a 4.3 inch Super Amoled (Active-Matrix Organic Light-Emitting Diode) plus display, which is better than conventional Amoled displays in terms of contrast ratio and colour reproduction.
The S2 also features an ARM cortex A9 based 1.2 GHz dual core processor, and a dedicated graphics chip with 1 GB RAM has been included for better functioning and response from the device. The phone comes with HDMI and USB ports for on the go connectivity as well (separate accessories need to be purchased to use these features as they do not come as part of the handset bundle).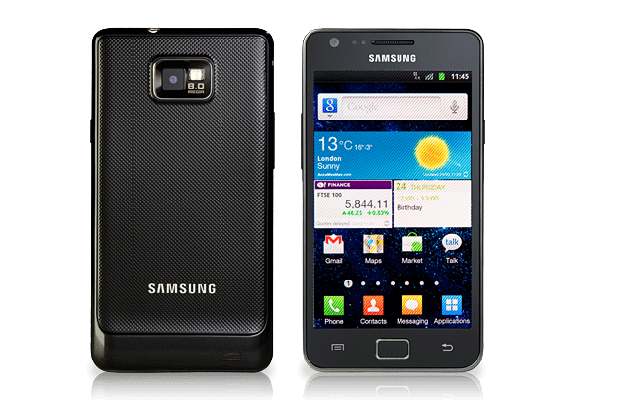 It features an 8 megapixel back camera which is capable of full HD 1080p video recording, and a 2 megapixel front facing camera. S2 will support Near Field Communications or NFC for mobile transactions.
The retail price of this smartphone is around Rs 28,000 while the Samsung Galaxy SII is available on Flipkart.com for a special price of Rs 25,900-by far the lowest price to be offered online, and buyers can also get a free 16 GB memory card complementary from the seller with each purchase.