Mobile phone companies might be releasing new high end smartphones every two months but they haven't forgotten the entry-level slot. The entry level segment is the most populous and heavily competitive market. In the last couple of months, several great feature phones have started showing up in this entry level category.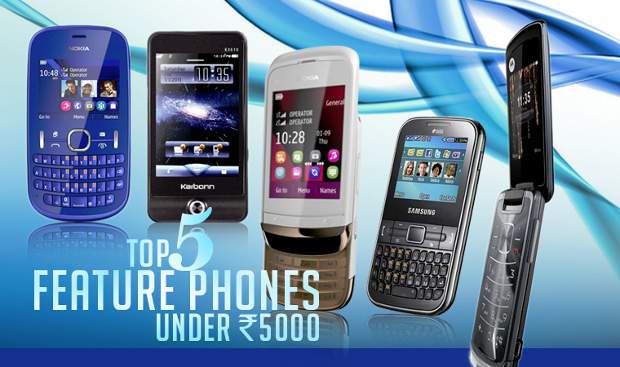 This year, it is no more about just getting a working model out. The entry-level segment has become serious and feature phones with novel functions have started showing up. There are several handsets which may suit your needs, requirements and even comfort in this segment. The best example is Micromax Superfone Ninja A50, but there are an increasing number of options to choose from. Here's our list of top five feature phones that you can purchase at just Rs 5,000.
Micromax Superfone Ninja A50 (Rs 4,915)
A new kid on the block – Micromax A50 Ninja is quite a novel device to fall in this price bracket. Featuring Android 2.3 Gingerbread, this is possibly the fanciest dual SIM Android phone you can expect to purchase under Rs 5,000. Micromax has also introduced Aisha, an interactive speech recognition app for voice command functions. In a way, it is like Apple's Siri virtual assistant.
Micromax Superfone Ninja features a 3.1 inch touchscreen display for functions such as drag and drop, and swipe navigation. Housing a 650 MHz mobile processor, Ninja A50 has a 512 MB RAM which is good enough to run Android 4.0 Ice Cream Sandwich, provided Micromax is working to push that update.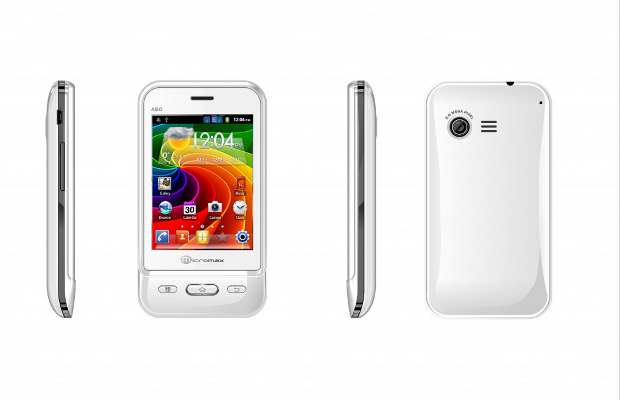 Besides supporting 3G networks, this mobile allows access to the mobile web over WiFi as well and also supports dual GSM SIMs. At the back it has a 2 megapixel camera which is decent enough to click photos and upload them quickly over social networks. Thankfully, Micromax has added GPS so that you can also specify your location and use it for navigation with Google Maps.
Micromax's Ninja A50 has a 1200 mAh battery but offers only 3 hours of continuous talk time over 3G, which is due to its dual SIM feature. In our opinion, this would be a good handset for those who wish to experience Android operating system before taking the plunge to a full-fledged smartphone.
###PAGE###
Nokia's new Asha series brings some nice features of smartphones within an affordable price bracket. Asha 200 supports dual-SIM configuration and also features a special key for Easy Swap. Nokia has used its Series 40 mobile operating system for this phone and pre-loads it with a number of handy apps.
Asha 200 features a 2.4 inch display that supports QVGA resolution and has a four row Qwerty keyboard in slightly arched placement. The 2 megapixel camera at the back offers 4x zoom for images and can also record video in MP4 format. Though the Nokia Asha 200 comes with a mere 10 MB of internal memory, it comes with a 2 GB memory card bundled and one can add up to 32 GB to it for storage.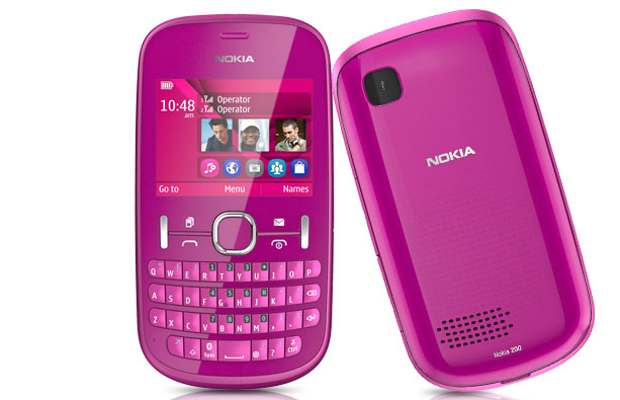 With the social networks integrated, one can enjoy sending status updates on Facebook and messages using the Qwerty keypad. The phone has a stereo FM radio and a music player for entertainment. You can also download music from the Nokia Music store. Of course, it features a 3.5 mm audio port to connect your headphones or a hands-free kit. Unfortunately this handset doesn't support 3G or WiFi.
Nokia has added a massive 1430 mAh battery to this Asha 200 device and certainly offers longer run time. Thanks to the low powered processor, Asha 200 offers talktime of up to 7 hours over 2G networks.
Slight costly elder brother of the Chat 322 or Chat 322, the Samsung Chat 527 is an impressive device for those who love a physical Qwerty keyboard. Weighing a mere 96 grams, this mobile phone comes with Samsung's Java based mobile operating system.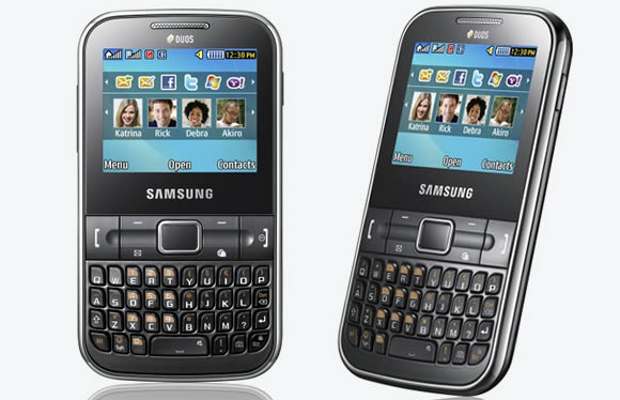 Chat 527 offers a 2.4 inch display which is not touchscreen. For navigation it has a four-row Qwerty keypad with a directional pad separating the rows. The large space key does look quite good. This Samsung mobile supports 2G as well as 3G networks. Apart from that, Chat 527 also supports WiFi so that you can save on data costs when you are at home, office or WiFi enabled areas.
At the back it has a 2 megapixel camera to click photos and this phone will surprise you with its geo-tagging feature (which works over A-GPS). Along with a stereo FM radio it features a 3.5 mm audio port to let you plug in your favourite earphones. This mobile supports MP4 video files but only in the lower resolutions. To watch movies at ease one can add a 16 GB memory card to the device. With social networking integration, users can easily update their status messages on Twitter and Facebook.
Samsung has used a 1000 mAh battery for this mobile phone. Of course, a large battery is required to use the 3G and WiFi.
###PAGE###
Motorola Quartz EX212 (Rs 4,800)
Motorola's Razr handset was praised for its amazing slim design that stood out amongst other smartphones. The company is still in love with that flip clamshell design and used it with the Motorola Quartz EX212. We often refer to this as Razr's affordable kin with a dual GSM SIM option.
Motorola Quartz features a 2.4 inch display supporting 240 x 320 pixel resolution. At the back lies a 2 megapixel camera with video recording at 15 frames per second. Well, that's what you get for a feature phone at that cost. The device has a 3.5 mm audio port, stereo FM and a built-in music player. Whenever you receive a message or call there is an animated illumination effect on the phone.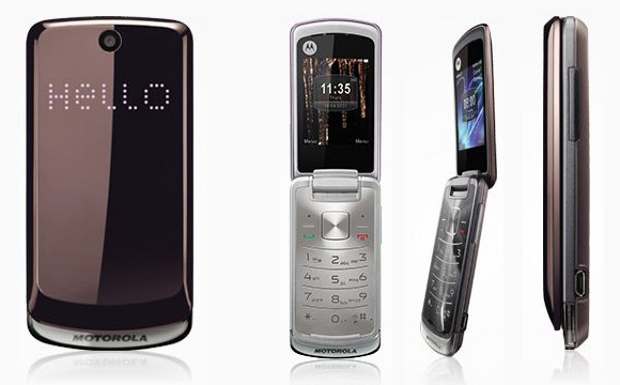 You can browse the mobile web over GPRS and also transfer files over Bluetooth. It is possible to add up to 16 GB of memory cards to this phone. Motorola has used a 750 mAh battery and promises talktime of up to 375 minutes according to the company.
One may argue about price being a bit high but it is justified when you look at the complete package – great design, style and dual SIM support.
One of the most chic and smartphone-like feature phones is Nokia's C2-03 that offers the best of both worlds. Nokia C2-03 belongs to the Touch and Type family and is a slider device that runs Nokia S40 operating system. It also offers dual-SIM support with Easy Swap feature, which means you don't need to restart your phone to switch between SIM modules. The phone can remember the settings for up to five SIM cards.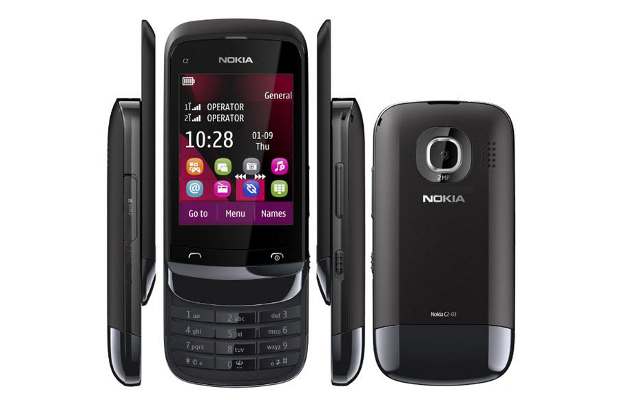 Nokia's Touch and Type C2-03 features a 2.6 inch resistive touchscreen display. It is a slider phone with multi-tap keyboard. At the back is a 2 megapixel camera to take pictures. One can add up to a 32 GB micro SD cards to expand storage options. Specifications of the C2-03 and C2-06 are very similar but there is a difference in stand-by times. Nokia C20-03 houses a 1020 mAh battery which can offer two days of run time.
C2-03 features the Nokia Series 40 mobile operating system and now the company is actively working to bring many popular apps for this platform, including Angry Birds and WhatsApp.