With the first ever Formula 1 race set to be held in India on October 30, there has been a tremendous rise in interest in the event in the country.
Seeing the F1 mania, several developers have created number of commendable applications that will keep you updated and abreast with the happenings as well as details about the Formula One racing.
Here is quick list of free and paid apps that will keep you abreast with all you wish to know about the Formula 1: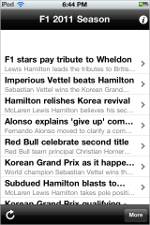 F1 News – Free
This free Formula 1 app pulls in the news updates from several places and presents it in form of a feed on the iPhone. It is like an RSS feed reader for F1 enthusiasts who just wish to stay updated on what's happening in the Formula 1 racing world.
Pretty straight forward application that will fetch you latest news and updates related to the Formula 1 racing world that includes the formula one drivers as well.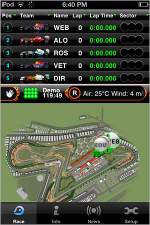 F1 2011 Timing App CP – Paid
Last year the same app won award for the Best Sports App 2010 and now the same application comes with new bunch of features. This app offers the official Formula One Live Timing and Track Positioning features for the fans to get better insight with better visual presentation. Developers have added fully interactive 3D map that let the users see position of the every F1 driver on the track with interactive gestures like pinch, zoom and spin.
Besides, this paid offers loads of live data in various forms such as leaderboards, timing data, text commentary and one can also download race packs. Also you can get detailed information about a team, driver and history of all.
The free version of the app won't work unless you have bought the in-app purchase which is the Championship Pass.
###PAGE###
FerrariArchive – Paid:
It is simply for the Ferrari lovers who wish to see all the machines till date (sorted by decades). Detailed information along with images is offered on every Ferrari model. There are about 200 Ferrari models mentioned in this app and over 600 photographs of the same have been offered.
It is a must have app for those who love Ferrari and wish to know everything possible for the each model introduced ever since 1940. For that $1.99 is a very small price to pay.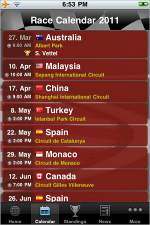 F1 Calendar 2011 – Paid:
Need to stay updated with the practice, qualifiers and race schedules? Better have the F1 2011 Calendar app that keeps you updated with race calender along with practice and qualifying results. Besides, the app also brings you latest F1 news that gets downloaded and available for offline viewing.
This app also offers detailed profiles of the drivers and the teams along with the individual driver standings and team standings statistics. For those who are new to the world of F1 racing this app explains what each flag stands for in the F1 race.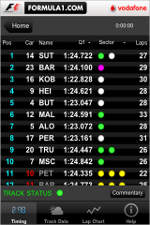 Formula1.com 2011 – Free:
This is a simple and easy to use app that gives all information one needs to know about Formula 1 racing. This app like other mentioned above streams live timing data that includes driver's details (number, name and position), lap timings, sector timings, straight line speeds, track status indicator, lap chart, circuit data, etc.
The developers have also added new alerts about results, news and sessions via push notifications. User gets notified when the session starts and pushes notifications about the standings. Loads of statistical data and timing sheets are offered. This app requires one to register with the Formula1.com which is easy-peasy.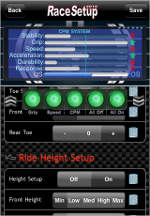 RaceSetup – Paid:
Just when you get bored while reading about the Formula 1 cars, teams, drivers and other circuits, take your mind off with the RaceSetup game. Any Formula one fan will appreciate the detailing offered in the game to tweak and tinker around cars to win the races.
This gaming app includes the interesting Car Performance Measure system that shows the possible results while altering any component of the car. One can go for entire setup for selection or choose each component for fine tuning. Special Engineering Solutions for the enthusiasts are there as well to take care and solve the machine's handling problems.
These apps will certainly put any Formula One's iOS device to good use by pulling all necessary information under one window.