Limited storage in smartphone can put anyone in a fix in critical situations. While Google Android operating system based smartphones continue to come with limited on-board storage, several companies have started offering online storage service powered by cloud servers. After registering to any such service, users can upload files from anywhere, take a backup, restore and access the files from any platform.
Out of the number of storage services offered for the Google Android OS based devices, we have selected these top five that offer best and simplest user experience. The Cloud servers based storage service offers capability to upload files, store them, even share with others and make them accessible from practically anywhere using a working Internet Connection.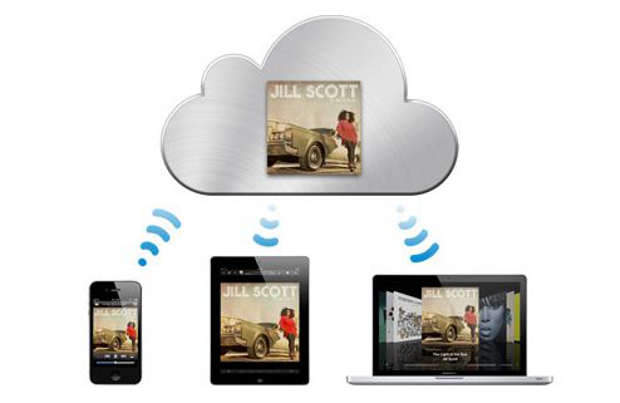 With good cross-platform support offered, here's a list of five Cloud Storage apps for Android OS based smartphones.
Box:
Box is the eldest amongst all five to offer free 5 GB online storage for life time. Also if you login or sign up from the Box for Android app, then you get free 50 GB storage for lifetime. Just download it from the Android Market, register yourself to get a new account and claim your 50 GB storage free for lifetime.
This service allows viewing and accessing the files from any location through a computer or mobile phone. For those who wish to share files with others, Box allows the user to send the files as a link in email or through instant messaging clients.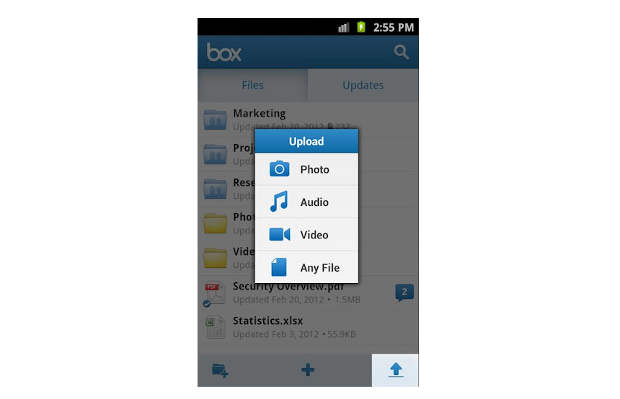 The basic reason why Box wins any day over its competitors is because of the online collaboration support with real-time updates. You can invite your friends or colleagues to join a specific folder that can be viewed, accessed, and they can even upload files to that folder. While those invited users are at it, the owner of the folder gets real-time notifications for the changes made in that shared folder. Only thing missing out over here is a passcode based access option.
Box is a great app for someone who regularly shares files or works closely with a group of friends or colleagues.
###PAGE###
Dropbox:
Dropbox is one of the simplest apps in the Android Market that offers the most hassle free user experience of storing and downloading files online. While the free accounts are limited just to 2 GB, it is good enough for storing your documents and possibly bunch of heavy presentations or PDF files. Recently Dropbox has released an update for its Android app. With that the app allows uploading the photos directly from the camera, as soon as you click the image.
Though the 2 GB storage may seem less for you, it is good enough to store documents and variety of files that can be accessed from anywhere. The app offers a no non-sense interface to upload files and mark them as favorites for offline viewing. The email attachments of Gmail can be directly saved to the Dropbox file so you need not worry about losing it.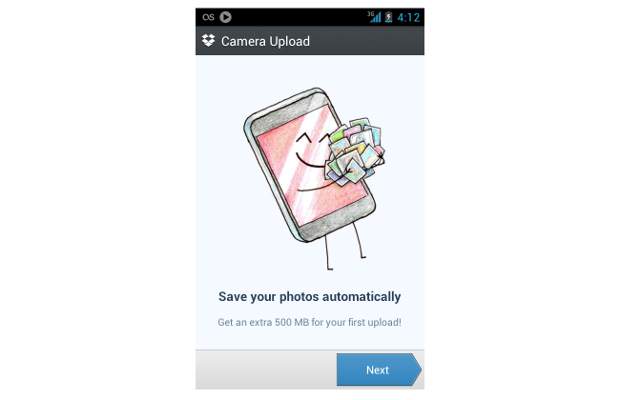 Besides the basic uploading, viewing and accessing the files, the Dropbox app also allows editing txt documents. Dropbox's Desktop component syncs data automatically whenever the PC/Mac is connected to the Internet. There's no process involved of pushing/sending your files to computer.
One of the coolest feature in Dropbox is the passcode locking. Set a passcode for your Dropbox account and no one but you can access it without your passcode. Also you can clear the cache of files from the Settings to create more space.
Download and install the Dropbox from Android Market.
Ubuntu One:
Ubuntu One has been the underdog for quite a while and first time registration gets you free 5 GB storage. For Android platform, Ubuntu offers two different applications – Ubuntu One Files and Ubuntu One Music. Both apps can be used with single Ubuntu ID. Before you get confused or worried, do note that there is no need to have Ubuntu operating system installed on your laptop to use this feature.
Basic functionality of the Ubuntu One is no different than other similar apps. You can upload images, videos, audio and any other file to your account. The app also allows creating a specific folder. The app comes with Auto Upload option that uploads all the images from your phone's SD card to your Ubuntu one folder. You can configure Auto-upload in settings to upload photos instantly or at different time intervals.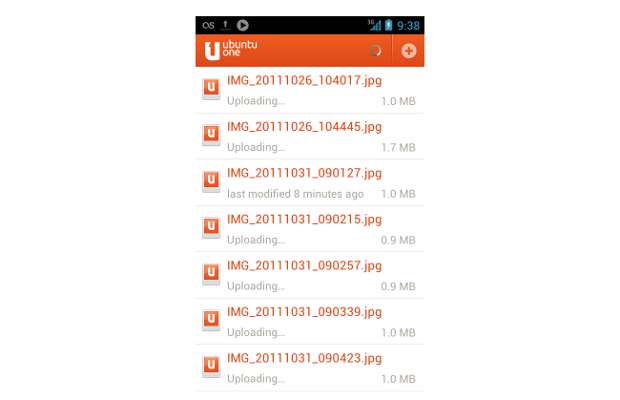 Also the uploaded files can be shared through any mode – Bluetooth, Email and even Social networks (using a link). Best part is that the Ubuntu One Music will let you store all your music for free and even offer a built-in music player to stream that music anytime and anywhere you like to. Some crucial features such as Auto-retry failed transfers, Avoid uploading duplicate files and Use WiFi Only have been added to the app as well.
Ubuntu One is a no nonsense app for cloud storage with minimalistic UI and great sharing options. You can download Ubuntu One Files and Ubuntu One Music from the Android Market.
###PAGE###
SugarSync:
In a way, SugarSync is quite similar to the Dropbox but offers different user experience and few other features. However, SugarSync offers 5 GB and several other options to control photo uploads. There's an option of Photo Optimisation while uploading them which comes quite handy with AutoSync Photo feature. So as soon as you take photo, the SugarSync app can optimise it as per your desired settings and upload it to your virtual folder.
For the universal access of files and folders, SugarSync offers Magic Briefcase that will let you access, view and edit those files from desktop. SugarSync also offers music playback and thereby allow you to play the list of your favorite songs. The app supports uploading multiple files at the same time.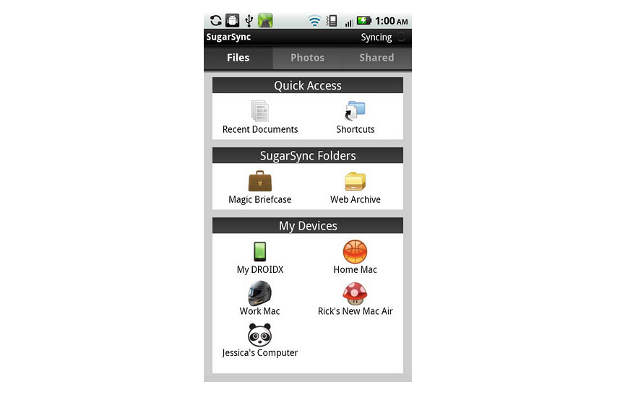 Most interesting thing about SugarSync is that it offers versioned archiving option that helps users to get the original document or files before any modifications took place on it. Of course, just like other services SugarSync allows sharing of files and clearly bifurcates those files with "Shared By Me" tag.
The biggest limitation of SugarSync is that it doesn't offer search option. One has to browse through folders and sub folders to locate the respective files.
To download the latest version of SugarSync from Android Market, click here.
CX:
CX offers funky looking logo and lets you connect with your friends. This Android cloud app promises free 10 GB storage space for life time but that comes with a catch. Users may face tough time registering for the service through the mobile interface and hence registering through the website CX.com is recommended.
This app is still in its early stage of development for the next major thing expected as an update is – multiple file uploads. This feature is already being offered by couple of the services mentioned above.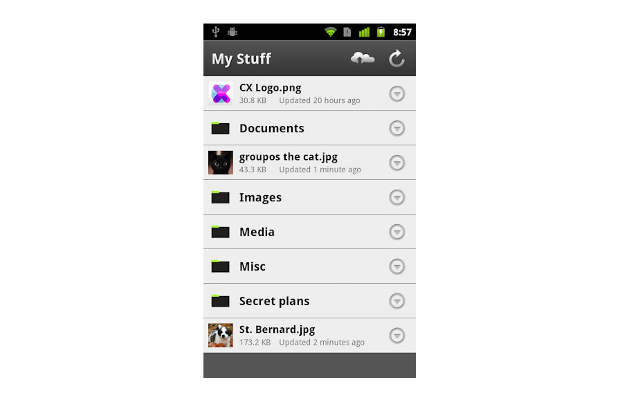 CX offers an interactive comments-based collaboration system. Those comments can also be viewed from the online account. The app offers option of public and private sharing which is absolutely essential in-order to avoid leaving files option for the world to view it. The dashboard of the app is very simple and easy to get familiar with. The favorites and profile of the user is fairly informative to access and know what's going with the account usage.
Rest features are almost like the ones offered by Dropbox or Box except the photo optimisation or resolution size options. Get the latest version of CX from Android Market.