While Android is relatively heavy when compared to iOS, it comes with some next level customizations to compensate. Android smartphones from different manufacturers come with varied skins on top giving it a distinct look. While Google tries to improve the most on the OS level, OEMs try to be as light as possible on layering the OS. Apart from millions of apps and games on Google Play Store, one particular set of apps always tend to exceed in terms of customizations and that is 'Launchers'. The ability to just install an app that has can change the entire look of your android smartphone is something that android users have always boasted about. Currently, there are a tonne of launchers on Play Store, but we decided to try a bunch of them and shortlist the top five for you. So here goes the list.
Nova Launcher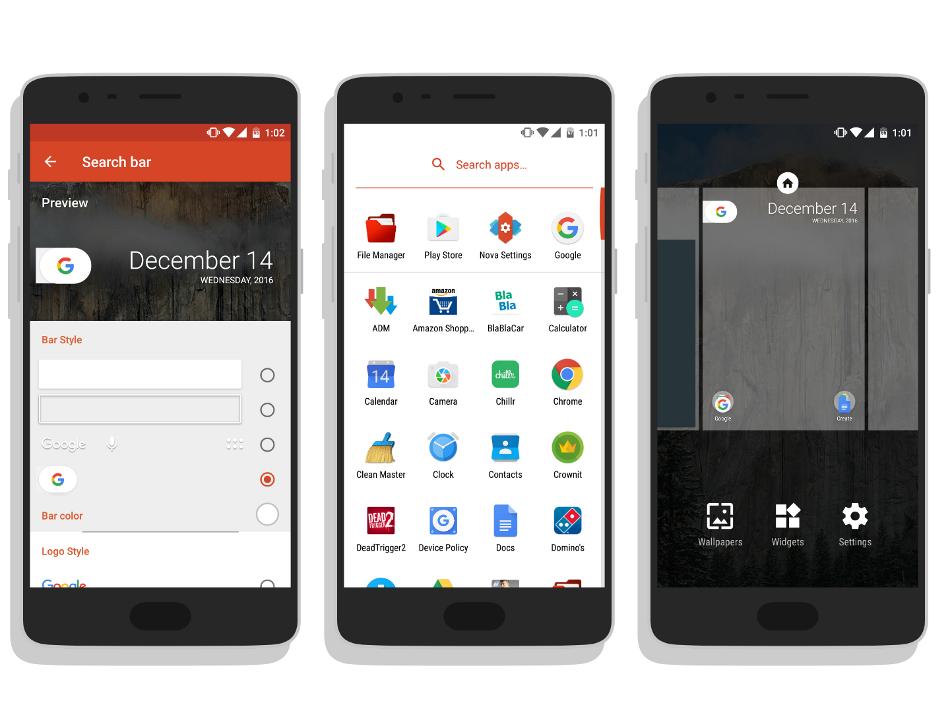 Probably the best launcher for Android right now, Nova Launcher has been there on Google Play Store for a long time now. Although you need to download the Prime version to avail all the features of this launcher, the free version doesn't disappoint as well. After the recent update (v5.0 and above) Nova Launcher has focused on giving a more cleaner and Pixel like look on the home screen. Once installed, you will be greeted with a welcome screen asking you to either start fresh or restore a previously saved backup. Next, it asks you the overall theme, app drawer style (card or immersive) and open app drawer action. You can now enable 'Swipe to Open' app drawer or change the Google Search bar layout in the settings to give your device a Pixel-like appearance. You don't get anything new on the homescreen or there is nothing unique about this launcher, however, the degree of simplicity and easy to use factor is much more than any other launcher available for Android right now. Inside the Nova Settings, you can customise homescreen grid, app drawer grid, homescreen icon size, app drawer icon size, dock icon size, label, dock background etc. Although we would warn you that not all the customizations are available in the free version. You can put up a third-party icon pack, change the app's accent colours, play around with animations, scroll speed etc. There is also a dark theme inside 'Night Mode' which makes most of the menu's dark for easy browsing during the night. We cannot list down all the options available on this launcher as there are just too many, so we recommend you to try the latest version of Nova Launcher and let us know your thoughts.
Arrow Launcher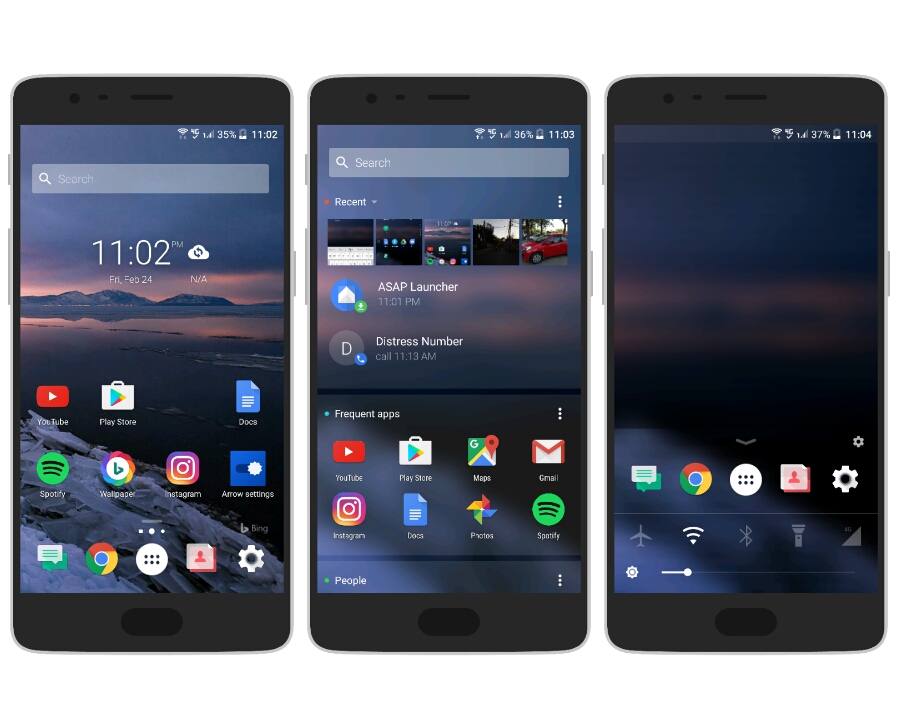 Next up in our list is Arrow launcher. Just like a lot of other launchers, Arrow Launcher is not that heavy on both memory and battery, hence, it makes up for a pretty fluid overall experience. However, despite being light, the launcher doesn't lose up on the customization part. The launcher comes with an app drawer which is nicely organised in alphabetical order. You can search for your favourite apps from the app drawer as well and you also get a little option up top to hide apps. Coming back to the Homescreen, on the extreme left, we get a nifty little page which shows all your recent photos, apps, contacts, reminders and even documents if you log into your Microsoft account. Swipe down on the home screen to quick search your apps. Whereas, swipe up from bottom to get to some quick setting toggle such as WiFi, Bluetooth etc. along with brightness control. Jumping into the settings, we get an option to adjust the icon layout, notification badges, customise what to show on the Recents Tab (mentioned above). Apart from that, there are other options as well including a high-performance mode which basically disables animation for faster navigation.
Action 3 Launcher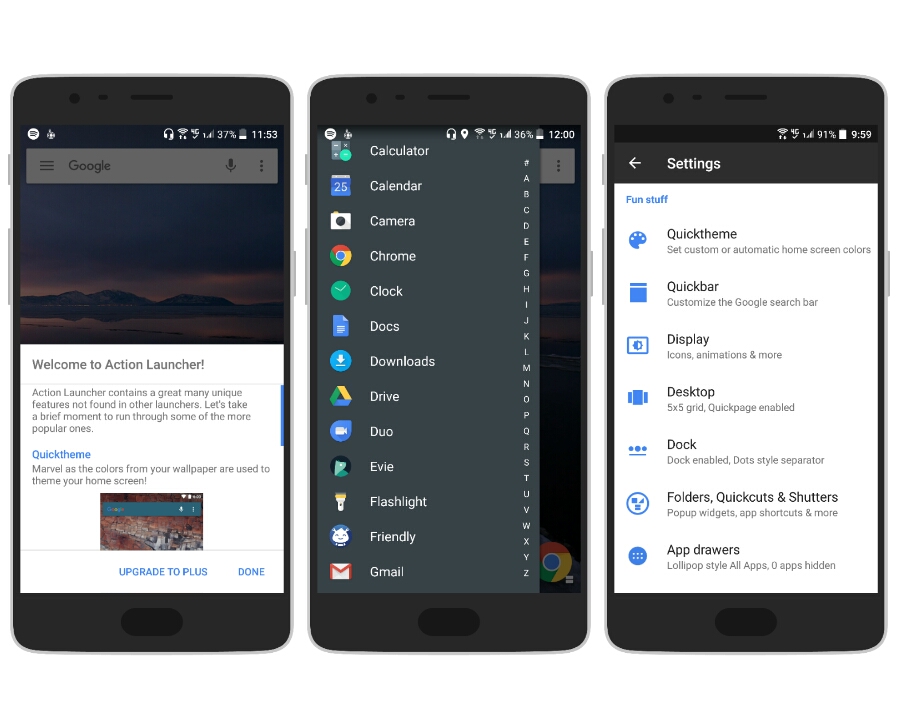 Action Launcher is one unique launcher in Play Store right now. Although the app is not light in size, it is pretty battery friendly. To start with, Action Launcher is all about a bunch of unique little shortcuts apart from a regular launcher interface. The entire User Interface resembles a lot to stock android which is always a plus point. Talking about the unique shortcuts, one of them is the quick app drawer shortcut. Swipe left from anywhere on your Homescreen to get the list of all the apps installed on your android device. Whereas, scroll from the right to get a quick page where you can add your widgets, apps, contacts etc. Another unique feature inside Action Launcher is 'Shutter' icons. To explain, shutter icons can allow you to have a sneak peek of that icon's widget by just swiping up on the icon, however, note that the feature is only available in full version. Opening up the settings will reveal a whole new level of customizations. The app boasts its own quick theme engine, you can play around with icon size, icon packs, icon scale, grid size etc. You can also customise the dock, app drawer and other desktop settings. Further, you can actually add little shortcuts on Google Search bar. Adding to this, we also get an option to fully revamp the launcher to resemble the Pixel launcher, but you will need to buy the Action Launcher Plus for that. In fact, a lot of useful features and customizations come locked on the free version, so we highly recommend you to purchase the full version to enjoy Action Launcher to the fullest. To sum up, Action Launcher adds that little dose of freshness to the stock android experience.
###PAGE###
Evie Launcher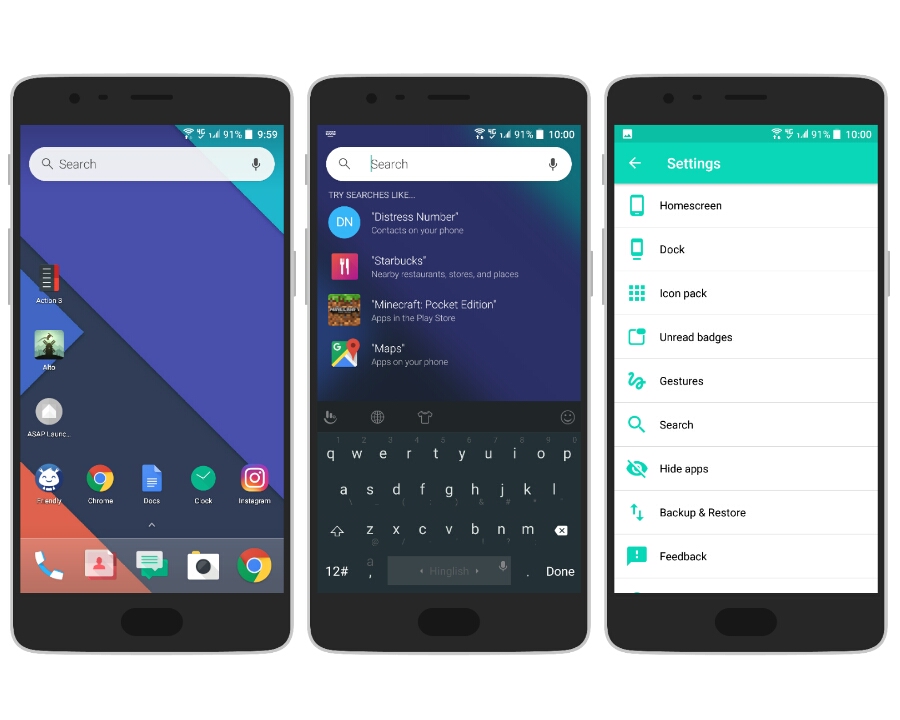 The next addition to the basket is Evie Launcher. To describe it in one line, Evie Launcher is probably the neatest launchers on the Play Store currently. The launcher is extremely light in size and does the job quite efficiently. Setting up your apps is easy and the launcher does come with an app drawer comes with a vertical scroll in two layouts. To get to the app drawer, you simply need to swipe up from the bottom, just like the Pixel launcher. Evie Launcher is one of the only few launchers which allows you to customise icon size as the app doesn't have any premium or paid version. You can enable 'unread badges', customise gestures, hide apps etc. Moreover, Evie Launcher has a unique search bar at the top. Swiping down anywhere on the homescreen brings down this search option where you can type in a restaurant's name and the app will display you the nearby option. Apart from restaurants, you can also search for different stores, apps on your device, contacts on your device and apps on Play Store.
Solo Launcher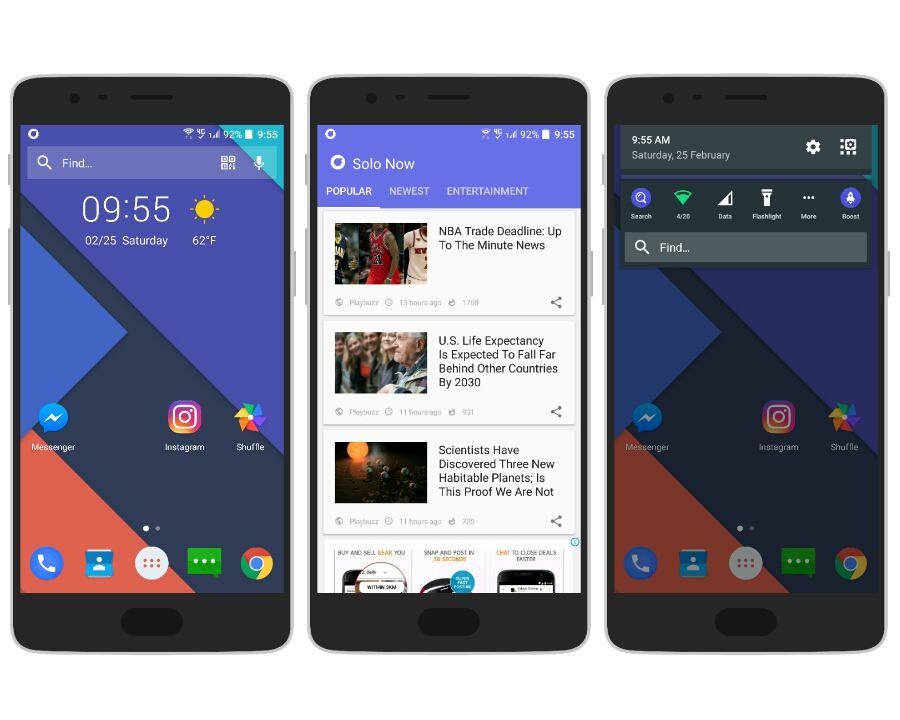 Solo Launcher is for those who absolutely can't go through a day without reading news. The launcher is available for free on Play Store and offers all the necessary customizations seen in the above-mentioned alternatives. The most unique and probably the highlight of this launcher is 'Solo Now'. Sitting on the left side of your homescreen, Solo Now is basically your news hub. You get three tabs inside the Solo Now page namely – Popular, Latest and Entertainment and sadly we couldn't find a way to customise it. Apart from this, we get a simple well-organised app drawer, similar to what we saw with Arrow Launcher. You get a dedicated Theme Engine inside the app, along with an option to add a customisable Quick Settings toggle in the notification panel and on the lockscreen. Besides Quick Toggles, you can also put up your app shortcuts here. Opening up the Settings, you again get options to customise the homescreen grid, icon size, unread badges, scroll speed, animation speed, label customizations and a bunch of additional Gestures. You also get a battery boost charge, inside the settings, which claims to speed up the whole charging process. Other than this, you can also customise 'Google Now' options right inside from this launcher and can also fiddle around with Google Hotword Detection. The launcher does come with a pro version as well, which will open up, even more, customizations for you.