Zynga, a social network game developer, has announced the launch of yet another game from its "With Friends" series. The game, named as Hanging With Friends, was created on the lines of the popular classic game of Hangman with added variety.
Hanging With Friends challenges players to take turns creating and guessing words to stump, amuse and impress friends. Players choose their avatar from a line-up of delightfully colourful characters and then join their opponents in a hilarious race to see who can hang on the longest. Guess correctly and survive to play another round. Miss a word, and its one step closer to the end! Players can also grasp at strategic lifelines that offer crucial hints and watch instant replays that provide a glimpse into their opponent's tactics.
"We took a game that everyone knows and loves and reinvented it for the With Friends platform. Hanging With Friends is a truly social game that puts your creativity and puzzle-solving skills to the test," said Paul Bettner, vice president and general manager of Zynga With Friends.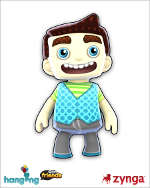 Players can connect to Hanging With Friends with their existing With Friends account or utilise Facebook Connect to easily find new friends to take on. In the new game, players move at their own pace, and up to 20 simultaneous games can be enjoyed at the same time.
Push notifications alert players when it's their turn and in-game chat Messaging invites some serious smack talk. And if a player's own friends leave them hanging, the random opponent feature will instantly find new challengers.
Hanging With Friends will be available soon as a free or premium download from the App Store on iPad, iPhone, and iPod touch, or at www.iTunes.com/AppStore. Initially it will be available in Canada via the Apple App Store and will be available in other regions in the coming days.