Zomato has announced the launch of its premium membership programme in India, dubbed as the Zomato Gold. The company is offering the subscription of Rs 299 for 3 months and Rs 999 for 12 months for the first 40,000 customers. The subscription will generally cost at Rs 599 for 3 months and Rs 1,499 for 12 months.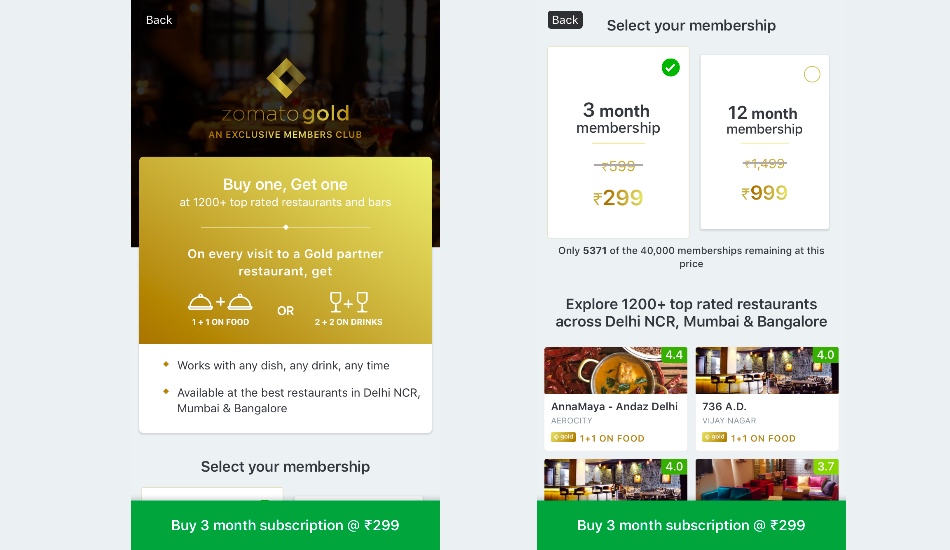 With the Zomato Gold subscription, the Indian based company is offering Buy one Get one Free meal and drinks to its customers from over 1200+ restaurants and bars in Delhi NCR, Mumbai and Bangalore. The premium membership was initially launched in UAE and Portugal, but it was only limited to food in Portugal and drinks in UAE. However, in India users will able to avail it on any dish, any drink at any time.
To use the Zomato Gold at any partner restaurant or bar, one will have to visit the page of the outlet on the Zomato app > Unlock Zomato Gold visit > before placing the ordershow the same to staff and later enjoy your meal. It is worth mentioning that the service is only available at the dining out, not for the home delivery.
You Might Also Like
In a press statement, Deepinder Goyal, founder and CEO, Zomato, said, "We are super excited to bring Zomato Gold to India, and are sure our users, as well as restaurant partners, are both going to find this hugely beneficial,"
Meanwhile, similar to the Zomato, the social networking giant, Facebook has relaunched its Events stand-alone app by the name, the Local. However, Facebook Local has an upper hand, because apart from food, users can browse through different tiles like Comedy, Gardening, Literature, Fitness, Shopping, Theater, Wellness, Home, Games, Religion and much more.