Micromax Canvas HD A116, when it was launched earlier this year, was the first smartphone in India under Rs 15,000 to have a quad core processor. It was booked by many and is still in great demand.
Now Xolo, a brand of Lava International, has launched the Xolo Q800, which too has a quad core processor but costs almost Rs 1,500 less at just Rs 12,499 against Canvas HD's Rs 13,999. So is it wise to buy the Canvas HD now for Rs 13,999? Let's compare the features of the two Android smartphones.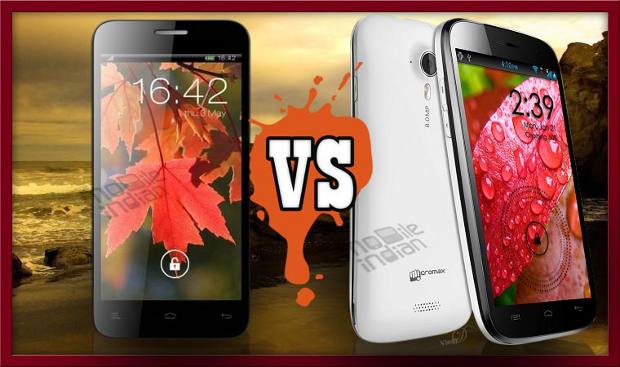 I have reviewed the Micromax Canvas HD A116, which you can read about to have a decent idea about its performance.
Display
Xolo Q800 comes with a 4.5 inch IPS display. It has a resolution of 540 x 960 pixel, which means it has 245 ppi pixel density. On the other hand, the Micromax Canvas HD A116 has a 5 inch display at 1280 x 720 pixel (high definition) resolution, which translates to 294 ppi pixel density. However, the difference is not that much and many analysts in fact say that anything more than 250 ppi does not make much difference to the human eye and rather puts a lot of pressure on the GPU and drains the battery fast. Does this mean that Micromax Canvas HD has poor battery life?
Battery
The Micromax Canvas HD comes with a 2000 mAh battery. As I said in my review as well, the Micromax handset provides around five hours of talktime on one full recharge. On the other hand, Xolo Q800 has a 2100 mAh battery, which according to the company, provides 10 hours of talktime on 3G networks and 16 hours of on 2G networks. It has a standby time of 360 hours (on both 2G and 3G networks) against the 174 hours of Canvas HD. The longer battery life of Xolo Q800 can be attributed to its larger battery as well as small screen with low pixel density.
Graphics
As I said above, the higher pixel density could put more pressure on the GPU. GPU or Graphics Processing Unit is a co-processor which helps improve the performance of the device especially during some specialized tasks like gaming. Both the Xolo Q800 and Canvas HD have the same PowerVR SGX544 GPU. However, due to big screen, the pressure on the GPU of Canvas HD would be more as compared to that of Xolo Q800. Thus, the actual game performance could be a little bit better in the Xolo Q800.
So what about the processor and RAM? Both handsets come with quad core processors with MTK MT6589 chipsets. The two have 1 GB RAM and Android 4.1 (Jelly Bean) operating system as well. Sometimes, the same processor does not give equal output due to various reasons like optimization, display etc. As I said earlier, since Xolo Q800 seems to have an advantage vis-Ã -vis the GPU, the total outcome could be a bit better on the Xolo handset. But one can actually confirm this when one has both the devices side by side in an equal state.
Camera
Figure wise, the Canvas HD scores over the Xolo Q800 as it has a better 2 megapixel front camera as compared to the 1 megapixel front camera of the latter. Both have 8 megapixel cameras at the back.
However, Xolo Q800 comes with a BSI CMOS sensor, which is used in many phones including the iPhone 4. Of course, that does not make the Xolo Q800 equal to iPhone 4 in terms of camera capability as there is a difference between the two in terms of sensor size, lens and image processor. But anyway, we hope the back-illuminated CMOS sensor helps the Xolo smartphone to capture images with good detail.
The exact nature of sensors used in Canvas HD is not known as Micromax has not made this information public, but during our review too we found it below our expectations.
Connectivity
Both the handsets come with WiFi, Bluetooth, micro USB, 3.5 mm audio jack and 3G connectivity so there is not much to compare between the two in this regard.
Storage
In terms of storage too the Android smartphones look equal. Micromax Canvas HD comes with 4 GB ROM of which 1.77 GB is available for users to store their contents. There is a micro SD card slot as well in the handset for expanding its memory to up to 32 GB.
Xolo Q800 also comes with 4 GB ROM and we expect it to have around 2 GB of internal memory or less. It has a 32 GB expandable memory slot as well.
Conclusion
The Xolo Q800 is better than Micromax Canvas HD in many departments while being equal in many other arenas. Canvas HD appeals to users with its 5 inch display, but those who do not want such a big handset can go for the Xolo Q800, which can be operated by just one hand. The biggest difference is the price and of course availability. Micromax started Canvas HD A116's booking for Rs 13,999 but a few days later it stopped selling the handset. The smartphone is not available online and we doubt its availability in retail stores. On the other hand, Xolo Q800 costs Rs 12,499 and is widely available.