Xolo is planning to launch a new quad core phone, called Xolo Q600, priced at just Rs 8,499. According to a leak by AndroidNova.org, the phone will come with 4.5 inch display with FWVGA (854×480) resolution which is by far the lowest resolution display for a quad core phone by an Indian brand. However this resolution is still on the higher side for smaller 4.5 inch display.
Xolo will be using 1.2 GHz Quad Core Mediatek MT6589M chipset which has slightly lower capability compared to MT6589. For example it supports only 720p display and only up to 8 megapixel camera. However since most phones with Mediatek processors anyway do not get anything more in these two areas, Xolo has chosen this processor to reduce price without compromising the performance much.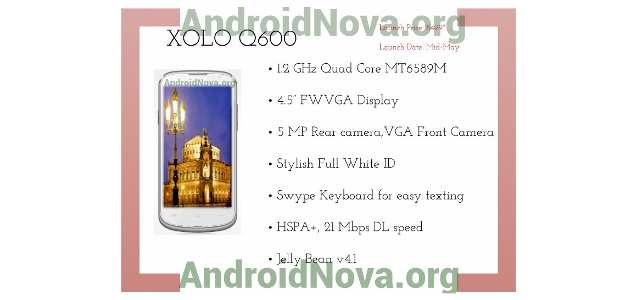 Xolo Q600 is said to have a 5 megapixel rear camera and a VGA camera in the front. The phone will have 512 MB RAM, 4 GB internal memory and a 2000 mAh battery.
All in all it looks like a value for money product from specification and price perspective.
Image Courtesy: Androidnova.org