Chinese handset major, Xiaomi has revealed a new version of Redmi 2. The new Xiaomi Redmi 2, which was announced for Singapore, has twice the amount of RAM as well as internal storage than the original model. Incidentally, the new Redmi 2 has been announced after the existing version got a price cut and is now available for Rs 5,999 against its earlier price tag of Rs 6,999.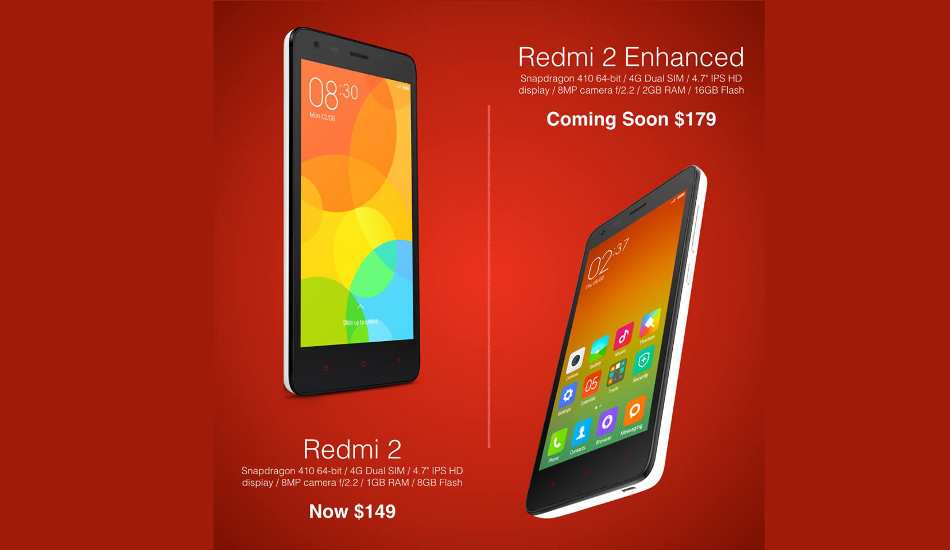 Note that the new Xiaomi Redmi 2 has been announced in Singapore for SGD179 or Rs 8,386 approximately while the older Redmi 2 is available in Singapore for SGD149 or Rs 6,981 approximately.
The new Xiaomi Redmi 2 has 2 GB RAM and 16 GB internal storage compared to 1 GB RAM and 8 GB ROM of the older version. However, like the older model, the new Redmi 2 has a 4.7 inch HD display, 64 bit Snapdragon 410 quad core processor, and 8 megapixel rear camera with f/2.2 apreture. All other features including 2 megapixel front camera, WiFi, Bluetooth, GPS, and FM are also expected in the newer version. The existing model has Android KitKat operating system but there is no information on the new model.
However, there is no word from Xiaomi India about the launch of the new Redmi 2 model in India.