Neither Nokia nor RIM (now rebranded as BlackBerry), the titans of handsets ecosystem of yesteryear, are competing against each other but they share same set of challenges.
Once upon a time, Nokia and BlackBerry were kings of feature phones and enterprise customers respectively in India but now the things have changed. They are facing tough challenge from Android and iOS on operating system front and Indian handset manufactures on hardware side.
Both BlackBerry and Nokia in 2013 have pinned their hopes for revival on their new operating system and new handsets. They have started the year with a slew of announcements and launches. Let try to decode what it means for the Indian consumer.
Announcements:
In the second week of January, Nokia launched three smartphones based on Windows Phone 8 operating system – Lumia 920, Lumia 820 and Lumia 620. Apart from the Lumia 620, which is to hit the Indian shores in the first week of February, the other two were made available in this country as soon as they were launched elsewhere. Interestingly, this was the first time that Nokia launched the complete portfolio – entry, mid and top segment, in one go.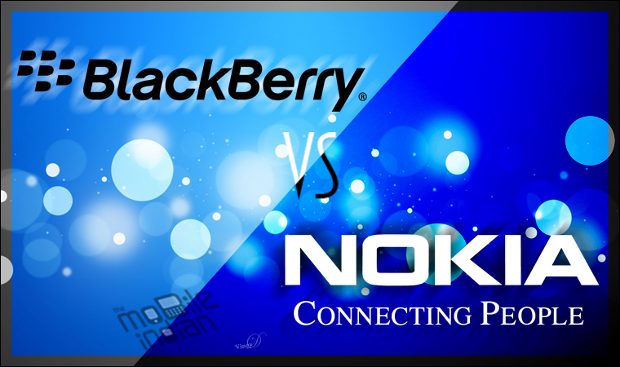 Apart from that Nokia has also not forgotten the fact that India is still predominantly a feature phone market, with around 80 per cent market share being that of these low cost handsets, and to address this segment it will launch news phones under the Asha series in next couple of months.
On the other hand, BlackBerry yesterday unveiled its new line of smartphones – BlackBerry Z10 and BlackBerry Q10 along with renaming RIM (Research In Motion) to BlackBerry. Both the new BlackBerry 10 OS running smartphones carry distinct set of features but same design philosophy packed together. Pricing for both the smartphones in India has not been revealed but is expected to be above Rs 36,000.
Editor's take:
In terms of new devices launched this month by the two companies, Nokia seems to have an edge as it is offering value for money proposition to customers. Firstly, Nokia is offering devices in all the segments – entry, mid and top, which means that price is not a barrier for purchasing a Nokia phone.
Also, the high end devices like Lumia 920 was made available for Indian consumers within one month of international launch and Lumia 620, the Windows Phone 8 based entry level smartphone, will be first launched in India.
On the other hand, both the new BlackBerry OS 10 based handsets are targeted at high end customers only. Moreover, the Canadian company has yet not announced the availability and price of the handsets in India. It would had been better had it made some announcement regarding an affordable phone like BlackBerry Curve 9220, which was liked by youth.
X factor:
The BlackBerry Z10, based on BlackBerry 10 OS, features a 4.2-inch LCD touchscreen display packing 1280×768 pixel resolution natively. It's the first time a BlackBerry smartphone offers 356 pixels per inch and the touchscreen supports up to 4 points of multi-touch.
Inside the 9mm chassis rests a dual-core 1.5 GHz Qualcomm Snapdragon S4 Plus MSM8960 mobile processor paired with 2 GB RAM and 16 GB on-board storage by and there is a Hot Swappable memory card slot to accommodate a higher density micro SD Card.
On the camera front, BlackBerry has packed an 8 megapixel rear camera with auto focus, LED Flash and 5X digital zoom. BlackBerry Z10 also features a 2 megapixel front facing camera with 3X digital zoom and 720p HD video recording. There is also a micro HDMI out port along with micro USB port.
The BlackBerry Z10 has location locking with Assisted, Autonomous and Simultaneous GPS module. BlackBerry Z10 packs an 1800 mAh battery that promises talk time of up to 10 hours on 3G and standby time of up to 305 hours on 3G. This smartphone promises audio playback for up to 60 hours and video playback for up to 11 hours.
BlackBerry Z10 stable mate, BlackBerry Q10 features a physical Qwerty keyboard along with touchscreen display. The BlackBerry Q10 has a 3.1-inch Super Amoled touchscreen display that packs 720×720 pixel resolution natively. By default, offering a 328 pixels per inch pixel density, the screen also supports multi-touch and under it rests a four row Qwerty keyboard.
This keyboard is exactly like the on-screen keyboard in the BlackBerry Z10. On top of the key rows rests a silver strip that makes the keyboard look like guitar's fret board. It is about 10.3 mm thick and weights 139 grams. This smartphone has a dual-core 1.5 GHz Texas Instruments OMAP 4470 mobile processor inside with 2 GB RAM and 16 GB on-board storage.
There is also a hot swappable memory card slot that can accommodate up to 32 GB micro SD card.The rear part of BlackBerry Q10 flaunts the same 8 megapixel camera with Auto Focus and LED Flash as the one used in BlackBerry Z10. There is also an 2 megapixel camera in the front capable of 720p HD video recording and 3X digital zoom. Both BlackBerry smartphones pack BlackBerry Maps powered by TomTom.
On the other hand, Nokia Lumia 920 is based on Windows Phone 8 and comes with a 4.5-inch HD ClearBlack IPS panel display with PureMotion HD+ layer that allows users to work on the display even wearing gloves. The display supports 1280×768 pixel resolution natively and thereby offers 332 pixels per inch pixel density. This display has been constructed using Corning Gorilla Glass 2 technology. It features 8.7-megapixel camera with dual-LED flash. The camera has the Carl Zeiss optics and offers several features such as image stabilisation and auto focus. The most interesting feature of the camera is the Optical Image Stabilisation that allows capturing great quality HD videos.
The Lumia 920 comes with a dual-core 1.5 GHz Qualcomm Snapdragon S4 MSM8960 mobile processor with Adreno 225 graphics chip and 1 GB RAM. This smartphone offers 32 GB on-board storage but there is no micro SD card slot. It has a 2000 mAh battery that promises about 10 hours of continuous talk time over 3G network.
Nokia Lumia 820 features 4.3-inch Amoled ClearBlack display with 480×800 pixel resolution natively. It also houses the dual-core 1.5 GHz Qualcomm Snapdragon S4 MSM8960 mobile processor, Adreno 225 graphics chip and 1 GB RAM. Lumia 820 has 8 GB onboard storage and one can expand the storage with up to 64 GB through a micro SD card. The Lumia 820 comes with Dolby headphone sound enhancement for better sound output. This smartphone features 8 megapixel camera with Carl Zeiss lens and dual-LED flash. Even this phone is capable recording full HD videos. It is powered by a 1650 mAh battery.
Nokia Lumia 620 comes with 1 GHz dual core SnapDragon S4 processor, 5 megapixel autofocus camera, 3.8 inch touchscreen, 8 GB of internal storage and 512 MB of RAM. Besides, the Lumia 620 has a front VGA camera and micro SD card slot for expandable storage of up to 64 GB.
Editor's take:
In terms of hardware, new handsets of both Nokia and BlackBerry are well equipped.
As far email service is concerned, BlackBerry scores over Nokia. Its emails services are the best in class but when it comes to services like navigation, camera and music, Nokia is far ahead of Blackberry.
For navigation, BlackBerry has used maps from Tom Tom who started its services in India last year and so far not been able to make a mark. In comparison to it Nokia Maps offers the best free offline and online navigation support in the country.
Nokia's Lumia 920 and 820 have the best in class camera capabilities and for most Indians, who loves their music, Nokia doesn't disappoint either.
Also, email services are no more the USP of BlackBerry as users and have explored the email services of other operating systems – Android, iOS and Windows. In the last one year as per different research report they are pretty happy with email services available on other platform simply because it is a free service and security in not that bad either.
On the other hand, Nokia still dominates the navigation, music and camera space in smartphones which has its USP for long. As of now, Nokia seems to be offering a better case scenario for the users but time will only tell who will reclaim the lost glory.