Popular augmented reality products' maker Wikitude has developed a new solution that takes the GPS based navigation to a step beyond with the addition of augmented reality to it.
Augmented reality is simply superimposing valuable information over the real world objects that we see. Wikitude has done the same thing with their new product – the Wikitude Drive.
With Wikitude Drive, simple GPS based navigation is turned in to a more informational and accurate driving information system for the drivers as they can see the real world picture with the additional route information and turn by turn navigation.
In comparison to simple GPS based navigation systems, it is better as it overlays the information pertaining to navigation on the existing imagery recorded by the devices' camera simultaneously. So using this, one can see the road ahead with live traffic in addition to the route information.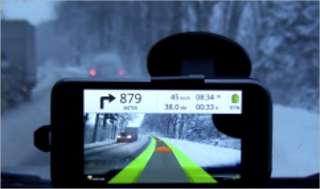 According to Wikitude, "Wikitude Drive solves a key problem that all other navigation systems have. These systems require the driver to take his eyes off the road in order to look at the abstract navigation map. Just by looking at the map screen for one second when driving at 100 km/h (62 mph), the driver is actually "blind" for 28 meters (92 ft). Think about how much can happen in those precious meters. Since Wikitude Drive provides you with driving directions on top of the live video stream, you still see what is happening in front of you when looking at the display of your mobile AR navigation system."
Since the concept and the application itself are very new, it is available for only a few Android phones running Android v 2.1 and above including Samsung Galaxy Tab, Google Nexus S, HTC Nexus One, HTC Desire, Sony Ericsson X8, Sony Ericsson X10i.
Wikitude is presently available for a handful of countries that does not include India but since it is a growing market for smartphones, Wikitude may soon release an India specific application for Android smartphones.
Unlike its previous world browser, the Wikitude Drive application is not free for use. Users will have to pay a price ranging from Rs 400 to Rs 700 as one time fees for this application from the Android Market.