With a week left to go for the event, Vivo has scheduled an announcement at the Mobile World Congress (MWC) Shanghai 2019 which will commence from June 26. The announcement will be regarding an upcoming charging technology as Vivo labels it the 120W Super FlashCharge in a recent teaser.
The poster shared by GizmoChina shows an all-screen phone that reads "100 percent Vivo Super FlashCharge 120W" in the middle. Vivo claims that the 120W charging technology will be able to fully juice up a 4,000mAh smartphone in 13 minutes.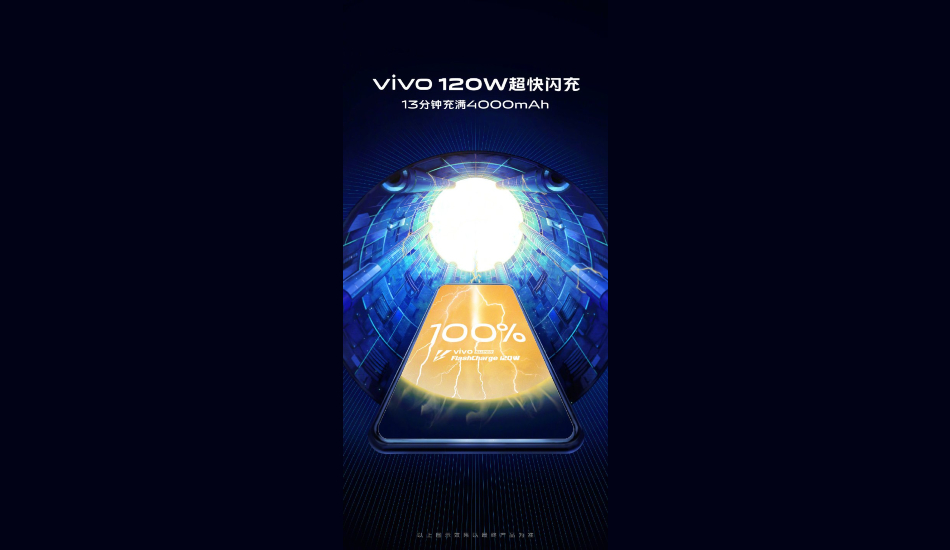 The news comes just three months after Xiaomi demonstrated its own 100W Super Charge Turbo fast charging technology which it claimed will be able to charge a phone from 0 to 100 percent in just 17 minutes. In a video shared by Xiaomi President Lin Bin, the 100W fast charging technology is put to test against Oppo's 50W fast charger. While the Xiaomi charger charges the phone from 0 to 100 percent in just 17 minutes, the Oppo charger manages to charge around 65 percent at the same time.
Besides Vivo, Xiaomi and Oppo, Huawei also has delivered fast battery charging technologies in the past. It announced the 55W SuperCharge technology alongside the launch of the Mate X foldable phone which it said would deliver 85 percent of power in 30 minutes of charge.
With the latest posted, Vivo is now expected to showcase the 120W Super FlashCharge technology at the MWC Shanghai 2019 next week. We can speculate a smartphone to debut with the new charging tech sometime in the second half of 2019. Vivo is also expected to unveil its first 5G smartphone at the MWC Shanghai 2019 event which is set to be held between June 26 and June 28 at the Shanghai New International Expo Center.