Just a couple of days ago 'The Mobile Indian' reported that Viewsonic will launch two tablets in the Indian market. However, that's not all from the company; it will also launch two new smartphones in the country.
The phones to be launched are Viewsonic V350, which will be based on Android 2.2 with a new 3D interface; and the Viewpad 4 that will come with a 4.1 inch screen, 1 GHz Qualcomm processor and a new Viewsonic user interface.
The Viewsonic V350 smartphone with 3.5 inch display will be the second dual SIM Android phone in the country, the first being the Spice Mi270. While Mi270 is a basic phone; Viewsonic V350 will be fully loaded.
While talking to 'The Mobile Indian', Ajay Sharma, country manager of Viewsonic in India, said, "We will launch these two smartphones along with our tablets. Both the phones are high on technology and will offer superior functionality. We will also introduce our dual SIM technology and 3D interface with these phones."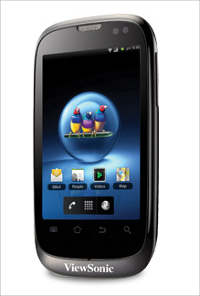 V350 is an active dual SIM device (with both SIM cards active all the time) running Android 2.2 Froyo operating system, enabling the use of two network services at the same time. The phone will come with an HVGA (320 x 480 pixel) capacitive touchscreen, 5 megapixel auto focus camera, microSD expansion up to 32 GB, WiFi, Bluetooth 2.1 and Assisted GPS navigation. The phone is likely to be priced close to Rs 17,000.
On the other hand, Flash 10.1 enabled ViewPad 4 will feature a 4.1 inch WVGA capacitive touchscreen with Android Gingerbread OS, which will offer both phone and tablet functionality.
The smartphone will be based on a Qualcomm MSM 8255 1 GHz platform. It will support HD 720p video recording, playback, upload, and a mini HDMI 720p display output. A 5 megapixel auto focus camera, Bluetooth 2.1 and WiFi 802.11 b/g/n wireless enables video calling via an additional front facing camera on the phone.
Viewsonic enhanced ViewPad 4 uses the latest ViewScene UI that integrates GPS with apps. The expected price of the phone is Rs 20,000.
Both the phones will offer up to eight customisable home screens and a new 3D interface. They will also be available from Reliance Digital outlets.