Micromax was having a dream run with its Canvas series smartphone. While Canvas II A110 – the second phone in the Canvas series – put the limelight on Micromax, the Canvas HD A116 was a blockbuster even before its release in India. Micromax Canvas HD A116 was sold out within hours of its launch, making it perhaps the only smartphone in India to sell out so fast. Even the Canvas A110 was sold out from the market and is still being ordered. Canvas A110's price also soared from Rs 9,000 to Rs 11,500 as demand rose significantly. But amid all this brouhaha, UMI, a Chinese handset vendor, launched a phone that has such high end features that it could even put smartphones priced at Rs 35,000 to shame.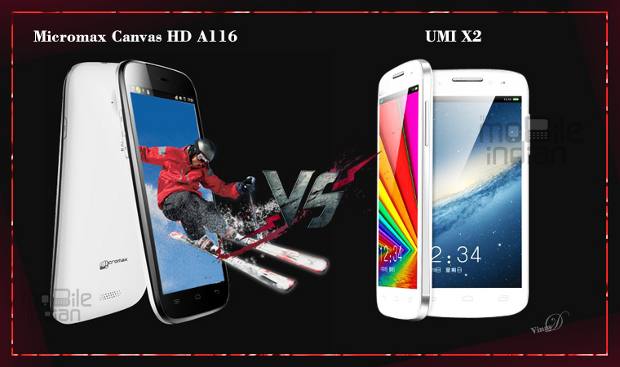 The phone in discussion is the UMI X2, which is priced at Rs 14,000 only. The UMI X2 comes with a 5 inch high definition display, quad core processor, 2 GB RAM, 13 megapixel rear camera, 3 megapixel front camera, 2500 mAh battery and a lot more. But the question is whether you should go for the Micromax Canvas HD or the UMI X2 as both are priced equally. We have already reviewed the Canvas HD so we are in a good position to talk about its performance, and we expect to review the UMI X2 soon. Here is a simple comparison of features of both the handsets that will help you choose the right phone for yourself.
Body
Micromax Canvas HD A116 is a really slim phone-elegant to be precise. It has a shiny yet non-slippery body. Unlike other budget smartphones, Canvas HD has a good build and does not feel cheap. Of course, it isn't the slimmest 5 inch smartphone; nor the lightest at 10.7 mm thickness and weighing 156 grams. On the other hand, UMI X2, which too has a 5 inch display, is just 8.9 mm thick and weighs 155 grams. In the pictures, UMI X2 looks good with a metallic strip around its sides. However, it is difficult to say about the exact nature of its build quality as of now.
Display
The UMI X2 comes with a 5 inch display. However, the UMI X2 has 1920 x 1080 pixel resolution compared to the 1280 x 720 pixel resolution of the Micromax smartphone. Of course, the pixel density is more on the UMI X2 and pictures look sharper and clearer on it. To be specific, UMI X2 has 441 ppi display resolution, which is a lot better than Apple iPhone 5's 326 ppi density and Samsung Galaxy SIII's 306 ppi pixel density. On the other hand, Micromax Canvas HD has 294 ppi pixel density. Both the phones have IPS panels, but UMI X2 scores over the Micromax Canvas HD as it has a Gorilla Glass 2 display which provides some sort of protection to the screen from scratches.
Camera
Micromax Canvas HD comes with an 8 megapixel rear camera with dual LED flash and auto focus. There is a 2 megapixel camera in the front. The cameras are theoretically able to capture high definition images and videos but as we have pointed out in our review as well, Canvas HD is like most other budget smartphones when it comes to the camera. In fact, we found a bug in the smartphone that prevents the camera app from opening. UMI X2, on the other hand, looks exciting with its 13 megapixel auto focus rear camera with single LED flash and 3 megapixel front camera. Figure wise, the UMI X2 anyway looks better than the Micromax handset, but it is a category where figures are misleading.
Storage
Where storage is concerned Micromax Canvas HD is a decent device as it has 4 GB of internal memory of which 1.77 GB is available for the user. One can also expand the memory up to 32 GB using a micro SD card. But when compared to the UMI X2's storage space, Canvas HD looks very ordinary. This is because, the UMI X2 comes with a huge 32 GB ROM, of which we expect that around 25-28 GB will be available for users to store their data. Besides, the UMI X2 has support for a micro SD card as well through which you can expand the memory by another 32 GB.
Battery
Both phones come with 5 inch screens as well as quad core processors so their requirements are similar. That is why the 2500 mAh battery in UMI X2 looks a lot better than the 2000 mAh battery of Micromax Canvas HD. As I said in the review as well, Canvas HD gives around five hours of talktime with one full recharge. We expect the UMI X2 to provide more talktime as it has a bigger battery, which should last around 6-7 hours at the least.
Processor, OS, RAM
Both the handsets come with the same MediaTek processor which has four cores and 1.2 GHz clockspeed. Also, both UMI X2 and Micromax Canvas HD A116 have Android 4.1 Jelly Bean operating system, and both the handset manufactures have promised to release Android 4.2 update for the smartphones in due course of time. What makes the UMI X2 special is its 2 GB RAM against Canvas HD's 1 GB RAM.
Conclusion
Many a times, we found that mobile phones do not behave as per their specifications. But if a phone indeed delivers as its features suggest, then UMI X2 is undoubtedly the best phone under Rs 20,000. We have used the Micromax Canvas HD A116 extensively so we know it is a very good phone. But apart from its performance, the service network of Micromax (which is expected to be better than that of UMI in India,) makes it a little bit safer to buy the Canvas HD. Since UMI is a newer entrant in the handset business in India, its network is evolving. We will soon come out with a complete review of UMI X2, soon after which we can say for sure which one is better, but feature-wise the winner is obvious. Micromax should worry more about making its Canvas HD readily available. Currently it is struggling to make both Canvas A110 and Canvas A116 available to buyers. If it can't resolve the supply issue soon, it would not be surprising to see people drifting to other handsets.