The much speculated Ubuntu Edge smartphone will come with dual boot option. As per its makers, the phone will thus allow its users to select between two operating systems – Android and Ubuntu -while powering on the device.
Canonical, the makers of the phone, has also announced a crowd funding project for the Ubuntu Edge smartphone project via Indiegogo to raise $32 million for the limited edition device. The funds collected will be used for develop and mass produce the limited edition Ubuntu Edge smartphone. This approach is quite similar to the one taken by Jolla Mobile for its Sailfish OS based smartphone. The concept of crowdfunding means the interest person pays stipulated amount in advance and then get the phone whenever it is available.
The Indiegogo page also carried the concept design and expected imagery of the Ubuntu Edge phone.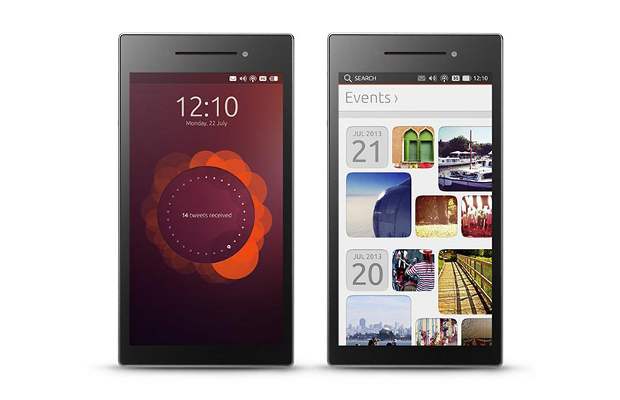 As of now, the specifications have not been finalized but tentative ones have been mentioned. Ubuntu Edge will feature a 4.5-inch touchscreen display with 1280×720 pixel resolution. The novel aspect of this touchscreen is that it will be constructed using sapphire crystals. Under the 9 mm thick chassis, it will pack a fastest multi-core mobile processor with 4 GB RAM and 128 GB storage. Just for information sake, the production of 4 GB RAM for mobile phones has been commenced by Samsung. Other makers such as Hynix are expected to being producing 4 GB LPDDR3 (low power double data rate) RAM later this year.
At the rear, there will be 8 megapixel camera capable of clicking great images in low light conditions with LED Flash. Also, there is a 2 megapixel camera in the front for video calling. For fastest data connection, the Ubuntu Edge will support dual-LTE and dual-band WiFi options. It will also sport Bluetooth 4.0 and Near Field Communication chip along with other sensors such as Accelerometer, Gyro, Proximity sensor, Compass, Barometer and GPSc hip.
Ubuntu Edge will also feature Stereo speakers with HD audio and Active Noise Cancellation with dual-mic recording. The package will also include Mobile High-Definition Link connector. Hopefully the device will pack a fairly powerful battery.
The standalone Ubuntu Edge smartphone is priced at $600 (Rs. 36,000) and is expected to be available in May 2014. By that time, the development of the Ubuntu OS and prototyping of the device will continue. Check the Ubuntu Edge project page for more details.