The official iPhone app of the micro-blogging service Twitter is expected to receive a major update. 9to5Mac reported that Twitter for iPhone 4.3 is currently being tested and can be expected anytime. Packing several features, the new Twitter for iPhone aims to gain some users that have moved away from the official app to the ones by third party developers. Push notifications for the updates, in-line content previews, and new selected events are set to draw the attention of power users.
Twitter for iPhone app has been lagging behind a bit when it comes to offering a full set of features along with something unique. While select third party apps continue to reign in the iOS space, Twitter has decided to fix some plagued issues and also improve user experience on the iPhone.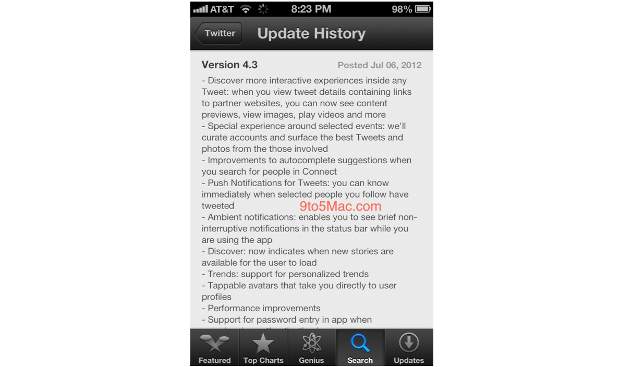 The new Twitter for iPhone 4.3 update will bring in-line preview of multimedia content such as images, videos and other links. Twitter will also include new Selected Events that will curate tweets and images related to events. The app will offer push notifications for the mentions and tweets from the users being followed. New ambient notifications will display non-interruptive notifications in the status bar.
Several other changes include the capability to check out avatars to visit user profiles. Most importantly, the official mascot, the Twitter bird logo, will be changed. Besides these new features, the app will bring several under the hood fixes, and performance improving tweaks.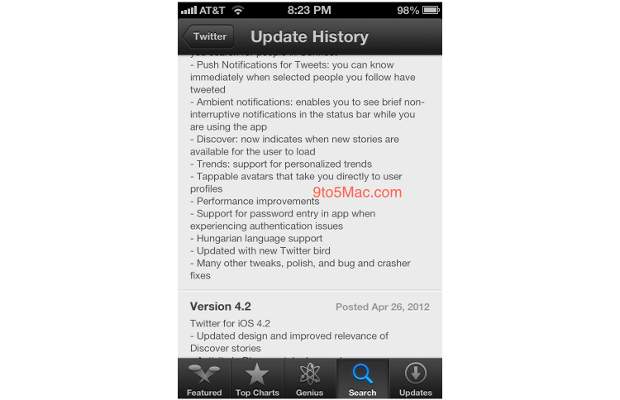 This new update might be withheld till Apple formally releases iOS 6 for the iPhone, iPod Touch and iPad.