The search for a universal translator for mobiles is a tough one because while Google supports Indian languages such as Bengali and Gujarati there are not many mobile apps that do.
To address this issue we have listed a few apps from Android , iOS and Symbian platform than can be of help.
This App for Android and iPhone is really great, with support for more than 50 languages including Hindi, Bengali, Gujarati, Tamil, Telugu and Urdu. You can translate any SMS you have received to any language you wish. You can also type in a phrase to see its translation.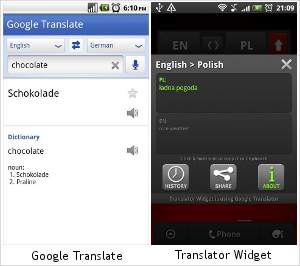 There is also a text to speech mode which reads out a message in your choice of language. There is a dictionary which tells you the meanings of words, their pronunciation etc. The application is free but won't work on versions of Android prior to 2.3 as they do not support Indian languages.
This Android app is a widget so it works only when you place it on the home screen, but after being there it comes in really handy when you want to translate a word or a phrase from one of the supported languages.
The app uses Google's Language API and therefore supports all the languages that Google translator supports. You can also share the results via Twitter, SMS, email and more (there is no Facebook support at the moment). You can tap the text to copy it to your clipboard and paste it in an email or any other document.
The app is free and works only on Android 2.3 and newer versions for Indian languages; for other languages it works on older versions as well.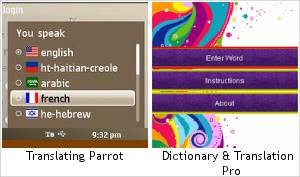 This is an interesting app available for Nokia phones. Just send text in your language and Parrot app will respond in up to 12 languages which include Hindi. By putting in a parrots' sound to the app, developers have added a bit of fun to it, thereby making it interesting for kids to learn a language using the app. You will need to have an internet connection for Parrot app to be able to translate.
Dictionary & Translation Pro offers access to an online English dictionary, thesaurus, and translation service supporting a wide range of languages including Hindi, Arabic, French, German, Spanish, Italian, and more.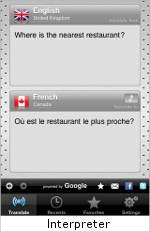 The application is simple and light and therefore offers solutions even to lower end Nokia handsets. It requires an internet connection and is available for free.
The application is fairly accurate as it uses both Google and Bing language API (engine), It supports the 50 languages supported by Google translator. The application translates single words or entire sentences.
Interpreter app allows sharing translations through email, Facebook and Twitter. You can also tag a translation for future reference and the app keeps a list of recent translations.
Interpreter is free of charge, and while there are many apps on iTunes for translations it is one of the few to support Indian languages.