Finnish handset maker Nokia sold more mobile phones than any make in the first decade of this millennium. It is followed by Samsung, Motorola, LG, and Sony Ericsson in that order, according to Vision Mobile, a market analysis and strategy firm, which made a detail study of handset sales during the decade of 2001-2010.
Nokia, which topped the chart each year, sold 308 crore handsets) during that period followed by Samsung with 130 crore handset sales.
In 2001, Nokia LED the way followed by Motorola, Siemens, Samsung and Ericsson. In 2002, 2003 and 2004, Siemens went down to the fourth position and Samsung bettered its sales to reach number three. All others maintained their positions in the sales list.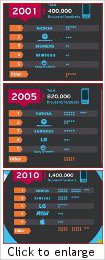 In 2005, Siemens was out of the top five handset manufacturers' list. Nokia led the way followed by Motorola, Samsung, LG, and Sony Ericsson.In 2006 and 2007, the top five manufacturers were Nokia, Motorola, Samsung, Sony Ericssion and LG.
However, 2008 saw the rise of LG, which improved its position to come third. Nokia sold the maximum number of handsets, while Samsung, LG, Motorola and Sony Ericsson followed. The top five maintained their sales figure the following year.
2010, however, was a watershed year in the telecom sector. It saw two giants (Apple and RIM) rising the ladder while Motorola and Sony Ericsson were shown the door. While at the top, Nokia, Samsung and LG held their respective positions, RIM was the fourth biggest handset maker and Apple was at the fifth position.
There has also been a constant increase in the number of handsets sold every year. According to Vision Mobile, while 40 crore handsets were sold in 2001, in the year 2010 the figure rose to a whopping 140 crore handsets.