The first thing you want to know before using a third party calendar is whether it syncs with your native app. It's also a good idea to have an app that can be accessed from the homescreen.
The native Android calendar, for example, works well for most Android users because it allows them to work with several calendars, even shared ones, in one go. When the native calendar is good enough, chances are users won't want to pay for another calendar even if it is feature rich.
With the arrival of iOS 5, its calendar app also has some nice updates. The events are still saved on different dates and are then displayed in different views. New elements include the week view on iPhone and iPod Touch, where users just have to scroll to go from Monday to Sunday. iPad users will also see the year view, just to get a bird's eye picture of their annual schedule.
Still hankering for more? Here are some great calendar apps available for BlackBerry, Symbian,iOS and Android platforms: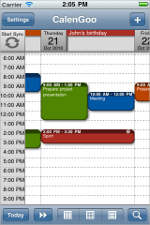 Calengoo (iOS)
Calengoo app for iPhone behaves like the Google Calendar app, though in an unofficial capacity. The app is especially useful for power users of Google Calendar. To use the app you first need to synchronise with your Google account.
You can sync future events or recent ones. These events can be arranged by month, week or day. The interface looks like the web version of Google Calendar and has the same colours as well. You can also use icons with events. These look good and stand out.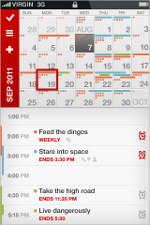 Fast Calendar + Tasks (Calvetica) for iOS
Fast Calendar is yet another iOS calendar app with a gorgeous interface that makes life much easier. Unlike other calendars, Calvetica doesn't require management, so users need not spend endless hours viewing the calendar.
It works in a snap. The calendar syncs nicely with the default calendar app so once the sync is set up, no further work is required.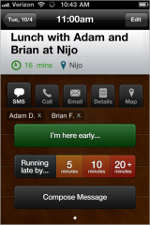 TouchBase Calendar (iOS)
It is a smart calendar and it isn't static. You can use it as a digital assistant as well. While adding events to the calendar you can easily add contacts so as to notify them about whether they have reached as per schedule or not.
The app syncs to different calendars including Google, Exchange, Outlook and more.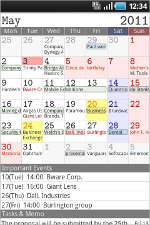 Jorte (Android)
Jorte is a robust calendar app which can be customised according to how you work. The app provides many calendar views including monthly, weekly, and by agenda.
Jorte calendar comes with numerous skins so setting up the look and feel of the calendar is an extremely easy process. Even exporting or importing data from different calendars can be done through easy to use menus.
If you don't need these features they can be tucked away inside and are produced only when needed. The same calendar can also be accessed through a widget.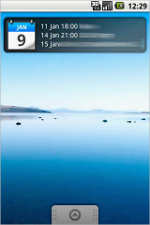 Smooth Calendar (Android)
This is another simple and attractive calendar for Android devices which syncs calendars by itself since every Android phone is linked to a Google account.
The calendars displayed depend on the users' choice, and tapping the calendar allows users to either refresh it or enter configuration settings to make changes.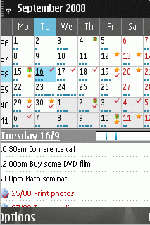 Handy Calendar (Symbian)
Handy Calendar on Symbian looks different in its skin depending on the theme being used on the phone. There are several screens in the app, and users can easily create a new reminder, appointment, anniversary or even task on the screen.
The view options in the app include month, week, day and tasks, and users can also zoom into the information if they so desire.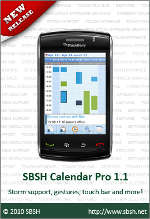 SBSH Calendar Pro (BlackBerry)
The Calendar Pro app for BlackBerry goes beyond the native calendar app of BlackBerry platform in terms of looks and appearance. Just like other calendar apps mentioned above, there are four views to choose from in Calendar Pro &#151 daily, weekly, monthly and tasks.
The task and event entry process is very fluid, and the layout is easy to navigate. Overall, the app is visually appealing and it is built on the default calendar app of BlackBerry smartphones.