Held every February in Barcelona, Spain, Mobile World Congress (MWC) is for mobile phones what Auto Expo is for cars in India. The event is organised by GSMA, which is the international governing body for GSM based mobile technology. All mobile phone companies use this platform to showcase their latest technologies. Here is a sneak peak at what the mobile majors are coming up with at MWC 2011.
Nokia
The company is making a comeback at Mobile World Congress 2011. It is expected to unveil its first MeeGo (Nokia's open source OS project) product. It is also expected to upgrade the user interface of its Symbian devices with a new portrait-orientation Qwerty keyboard and split screen text input.
Sony Ericsson
Sony Ericsson's PlayStation phone is expected to be the next big thing in gaming, and it is coming to the Mobile World Congress. The phone is a combination of the PlayStation gaming console and a mobile, and is awaited with much anticipation.
Samsung
Samsung will use the MWC platform to unveil phones based on the new plane to line switching display technology. PLS enables various viewing angles, greater brightness and a crisper picture. Samsung is looking at introducing a device with a 4.5 inch screen, using this technology which is cheaper and is therefore expected to drive prices down.
HTC
HTC is likely to launch its first 3D Android phone at the Mobile World Congress 2011. It had already showcased a 3D phone this year but that was merely a demonstration piece. HTC plans to be the first to come up with a 3D Android phone; while Motorola, Acer and Sharp also have plans to launch 3D smartphones at the upcoming event.
Motorola
Motorola will launch its Olympus phone powered by Nvidia Tegra 2 processors in Barcelona. The phone is expected to feature a 4 inch touchscreen, HDMI out port and Android 2.3 OS. Being powered by a dual Core Tegra 2 processor, Motorola's Olympus is expected to be a real smooth operator. The device will sport the latest Motorola user interface for social networking called Moto Blur.
LG
LG is expected to make a comeback at the Mobile World Congress 2011. The Korean company's plans are not yet clear, but it has already said it will bring out a series of Optimus smartphones including one that is based on the Windows Phone 7 platform. Also on the cards is an LG tablet device.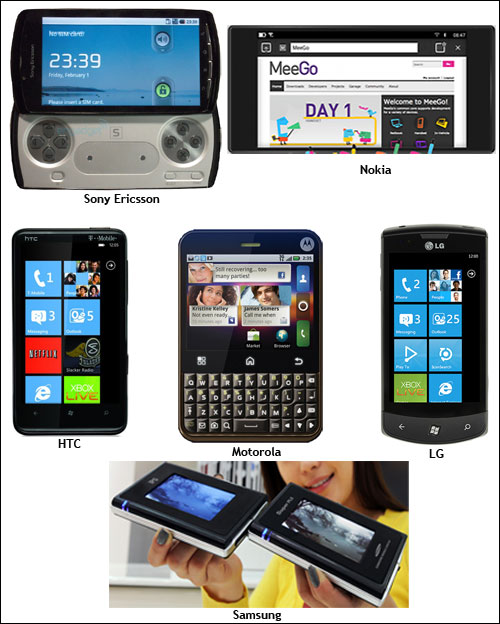 Asus
Last year the company showcased products with its joint venture partner Garmin. Now since the two companies have split, it will be interesting to see Asus and Garmin's new product line up. >From Asus we can expect new tablets and a smartphone with a 5 inch screen.
Acer
Acer will most likely showcase two tablet devices running on Android 3.0 Honeycomb. These will include a 7 inch version with 1.2 GHz dual Core Qualcomm Snapdragon processor, and a 10 inch screen powered by a dual Core 1 GHz Nvidia Tegra 2 processor. It will also showcase a new line of smartphones including one that will be an Android device with a 4.8 inch touchscreen. Acer recently demonstrated prototypes of the ICONIA tablets and notebooks, which were concept devices, and we hope to see the finished product at the Mobile World Congress.
HP
HP will demonstrate a lot of smartphones based on Palm's OS. It will also showcase a new webOS. The company is promising a new level of software personalisation and is working with developers to make this happen.
Microsoft
Windows Phone 7 will likely be the big thing at the Mobile World Congress. It is expected that Microsoft will launch several phones using this OS with partners such as HTC, Asus, Samsung, Dell and LG. However, it is still unclear whether Microsoft will launch a phone of its own.