Makers of popular Stick Cricket game have now launched another variant of the popular cricket game, called Stick Cricket Partnership. The game is available for free and has a small size of odd 30 MB.
As the name suggest, it is a multiplayer game where you can play an innings over internet with another person. You can log on with your Facebook account and can also invite your Facebook friends else you can play with any random player across the world.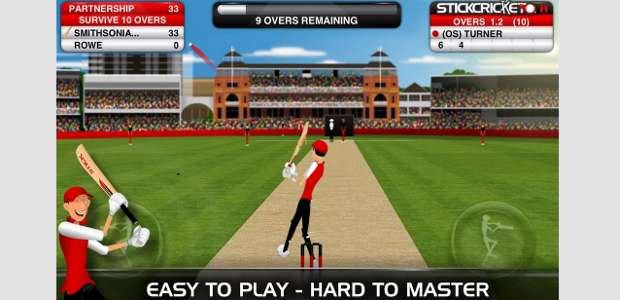 Unlike its previous versions, you can stay not out with the help of DRS (Dodgy Review System), and spend your virtual money to buy more powerful bats.
However, as per our initial experience, navigation is a big problem with the game. It is not clear how to get partners or how to finish the game. The moment you got off strike or gets out, you return to the initial page, forcing you to start the game with another partner all over. Also there are lots of advertisements. People have also complained of crashes.
The developers should have seen popular multiplayer games like Homerun Battle 2 before making this game. In a nutshell, the Stick Cricket Partnership fails to recreate the magic of predecessors.