S Mobility has formally announced the new Stellar Virtuoso Pro smartphone along with debut of the Spice Cloud services. As the successor of the Stellar Virtuoso, this new model brings 4.5-inch LCD display and packs Android 4.1 Jelly Bean inside. S Mobility has bundled the new Spice Cloud service that basically is a mobile data synchronisation service meant for the smartphones. The Spice Stellar Virtuoso Pro is expected to be available at a price of Rs 7,990 along with Spice Cloud services.
S Mobility has stepped into cloud services scene with the new Spice Cloud. Bundled with the Stellar Virtuoso Pro, the Spice Cloud services offers free 2 GB storage space for the users. Apart from that, the Spice Cloud offers Backup, Sync, Sharing, Device Location, Secure Locker, Remote Lock & Wipe, Call Log retrieval and multiple device sharing options.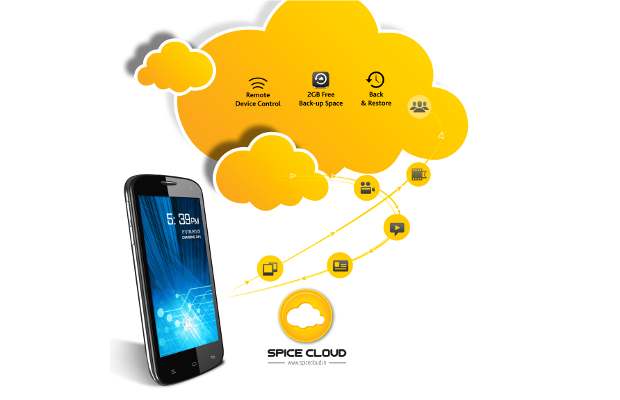 The Stellar Virtuoso Pro features a 4.5-inch LCD display with 480×854 pixel resolution natively. The smartphone packs 1 GHz dual-core mobile processor inside and runs Android 4.1 Jelly Bean. Virtuoso Pro also boasts of the SRS Sound Enhancement for better quality output. It will pack a 1700 mAh battery which should be decent enough for the Dual-SIM configuration. At the back, the smartphone has a 5 megapixel camera with auto focus and there is a 1.3 megapixel in the front for video chat-call.
The cloud service is open to all Spice handset owners as of now and offers 2 GB free storage a part of promotional offer.