Spice Mobile, now called S Mobility, has launched Transformer phone. It has also tied up with one of the largest movie franchises in the world, Transformers 3 &#151 Dark of the Moon.
Matching the sci-fi technology of the Autobots in the movie, the phone too transforms from a bar to a touch phone. The phone will have a keypad, which is an attachment that you can remove to make it a touch-only device.
This handset will have pre-embedded Transformers 3 content such as video, wallpapers etc. and will be branded with the Autobot logo.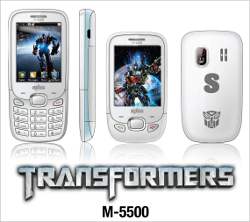 The phone has a 2.4 inch touchscreen, a 1.3 megapixel camera, 8 GB expandable memory, FM, MP3 player, FM transmitter and stereo Bluetooth, GPRS, WAP and Java. It is available in yellow, red and white colours.
Kunal Ahooja, chief executive officer, S Mobility, said, "With its form changing capability, we have yet again tried to offer a product that will appeal to the ever trendy youth since it is as per their requirement and affordability. The tie up with Transformers 3 movie is further expected to raise its appeal quotient."
Transformer costs Rs 4,600. The handset is available across India at more than 50,000 retailers including the Spice Hotspot retail network, which has more than 750 stores.