Saholic.com, the online shopping portal for branded mobiles and tablets, has announced the 'Buy Online, Pickup In Store' facility for its customers.
Under this facility, a consumer can order a product online from Saholic and pick it from any Spice Hotspot from anywhere across the country. This will help them save time and also benefit from the online pricing which is mostly lower than what is available in offline stores.
This will also be a good solution for people who do not want products to be delivered to their addresses because they live alone or all the members are working therefore no one being available at the address at the time of delivery. Or for those who want the product immediately.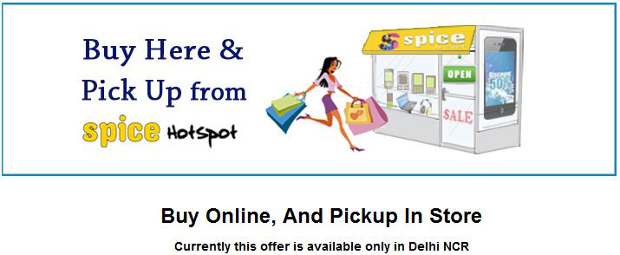 However, the offer is currently available for people in Delhi/NCR only, and will be made available to other places where there is Spice Hotspot stores depending on the response it gets in Delhi/NCR.
Such a facility is common in the west with stores like Walmart, Macy's, Best Buy, Sears, etc allowing their online customers to pick up products at an offline retail outlet. In fact eight out of the top 10 E-commerce stores in the USA also have a significant offline presence.
Rajneesh Arora, the chief operating officer for Spice Retail, said, "The Spice Group runs a chain of more than 850 offline Spice Hotspot outlets. We also have a prominent online store Saholic.com. Thus we are uniquely positioned to offer an In Store pickup facility to online customers."
People who book the product online will be guaranteed the price that they have booked the product at, even if it is lesser than what is available at the Hotspot store.
Pankaj Jain, the chief executive officer for Spice online retail added, "Customers have requested for a way to pick up a product at their convenience. Now we can guarantee availability at a predetermined price to Buyers. Thus they can now combine the excitement of researching and buying online with the trust and speed of an offline pickup.
The users who want to avail the facility can go to Saholic.com, select the product he/she wants to buy, and at the shipping page, on the right tab, select the option 'pick from store'. Filter by region to see stores closest to you and select a convenient store. The billing address can be your home or office address as per user convenience. Users can choose to pay online through credit/debit card, or can choose to pay at the store.