Indian handset manufacturer, Spice today launched two new smartphones including an Android 4.0 based phone. The Android ICS based Spice Stellar Horizon Mi-500 is priced at Rs 11,999 while the Spice Stellar Craze MI-355 will be sold for Rs 6,499. Both are dual SIM phones and will be available in India by the end of this month. Both will also come with Netqin anti-virus preloaded.
Spice Mi-500 comes with a 5 inch capacitive touchscreen. It has a 1 Ghz Snapdragon processor along with Android ICS operating system, and 512 MB RAM. It has 4 GB of internal memory which is expandable to 32 GB.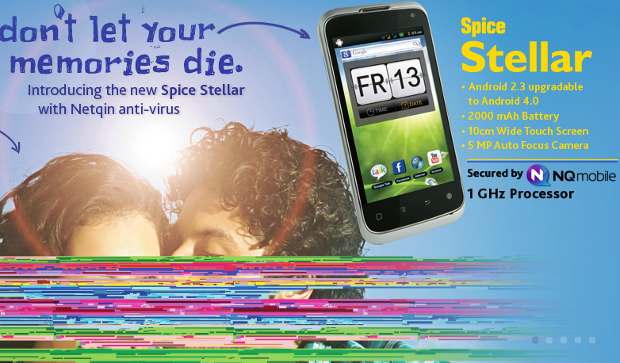 The Mi-500 has a 5 megapixel autofocus rear camera along with a VGA front camera. It will come with SRS audio sound enhancement and a 2150 battery. Besides, it has all the usual Android features like Bluetooth, WiFi, GPS etc. The Mi-500 has a 2150 mAh battery.
The other Android phone which was launched today by Spice is the Stellar Horizon Craze Mi-355. It comes with Android 2.3 Gingerbread operating system but is upgradable to Android 4.0.
This dual SIM smartphone too has a 5 megapixel rear camera along with 0.3 megapixel front camera. Besides, this 3.5 inch capacitive touchscreen bearing phone has an 800 Mhz processor, 1420 mAh battery and usual features like Bluetooth, WiFi, GPS etc.
Both these phones would be available by the end of this month. Notably, another Spice dual SIM Android smartphone, called as Spice Mi-425, is available for Rs 9,999 and is Android ICS ready. You can read about that from here.