Sony is all set to hold its launch event at the upcoming Mobile World Congressevent to be held in Barcelona next month. The company has scheduled its launch event at MWC on February 26th and it will start at 8.30am CET (1 PM IST). Now as per a report, it is also leaked that Sony will also be unveiling Xperia XZ2 along with much in leaks Xperia XZ Pro in the event. The Xperia XZ1 will be the successor to the Xperia XZ1 smartphone which was launched last year.
Now an Irish mobile operator has accidentally tweeted that Xperia XZ2 is Coming soon and could also be unveiled at the event. The tweet which was posted on February 2 has however been deleted now. As of now, nothing much is known about Sony Xperia XZ2 specs.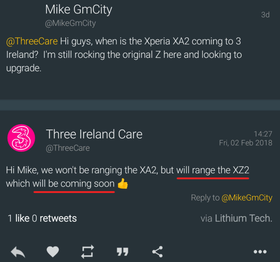 Sony has however not revealed any of the smartphone names which the company will be unveiling at the MWC event. However, a recent report has already hinted that the brand might be announcing the Xperia XZ Pro flagship smartphone with Snapdragon 845 chipset at the event. Alongside, the company was also reported before to launch Xperia XZ2 and Xperia XZ2 Compact smartphones.
Recently, schematics of alleged Xperia XZ Pro surfaced online which revealed both the front and back panels of the device. As per earlier reports, the upcoming Sony Xperia XZ Pro will be featuring a dual camera setup of an 18-megapixel sensor with a pixel size of 1.33μm and a 12-megapixel sensor with a pixel size of 1.38μm. For the front, the device will feature a 13-megapixel camera for selfies and video chats.
You might like this
The Sony Xperia XZ Pro will be featuring a 5.7-inch OLED display that will deliver 4K resolution. It will be powered by Snapdragon 845 chipset coupled with 6 GB of RAM. It will be featuring an internal storage of 128 GB with an option to expand vis micro-sd card slot. The flagship phone will also feature IP68 certification. It runs on Android 8.0 Oreo operating system and backed up by 3,420mAh battery. The Xperia XZ Pro is said to be available in single-SIM and dual-SIM variants.