Sony has developed a new next-generation back-illuminated CMOS (Charge Modulation Device active) image sensor. CMOS sensors are popular in both high end and low end cameras.
What Sony has managed to do is to place different parts of the censor in a stacked form there by reducing the size of the sensor.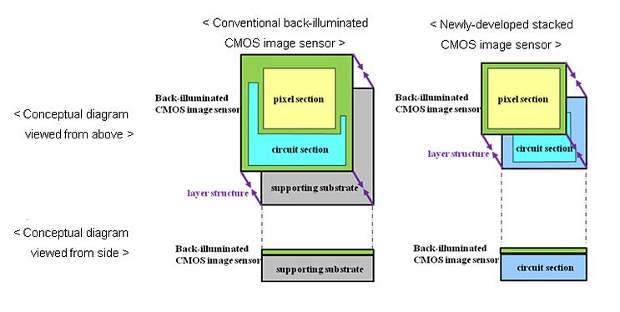 This structure further enhances image quality while bringing in superior functionalities and a more compact size that will lead to enhanced smartphones. Other benefits of the new design is higher image quality of the pixel section by adopting manufacturing processes specialised for superior image quality, faster speeds and lower power consumption.
This new sensor will go into production in March 2012 and will be introduced in Sony's cameras and phones soon after that.
In its smartphones, Sony will also use its new "RGBW Coding" function which facilitates low noise, high quality image capture even in low light condition. Besides, the proprietary "HDR (High Dynamic Range) Movie" function of Sony may be included in future phones of the company. This feature will enable smartphones to capture better colour even when taking pictures against bright light.