Sony Ericsson is set to release a non-operating system related upgrade for its Xperia Arc and Xperia Play devices that focuses mainly on improving the user experience and device's usability in various aspects.
According to a latest post on the support website of Sony Ericsson, Xperia Arc will soon be getting this update whereas there have been reports that the same update will also work for the Xperia Play devices as well.
With the update, the Xperia devices will get a couple of improvements including 'xloud' music playback setting that will increase the volume of music when it is played through the speaker. The devices will also get digital home which will allow devices to play multimedia content on other DLNA certified devices while using the existing Wi-Fi network.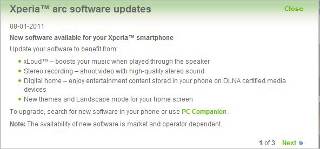 In terms of performance upgrade, the update will allow devices to record stereo sound alongside while recording video, which earlier used to be in a monaural mode. Along with that the home screen now gets a landscape mode and a couple of new visual themes.
Users of the Xperia devices can update their devices directly by connecting their devices to a computer running PC companion software only. Sony Ericsson has not issues a confirmed date as to when and where this update will be coming to, so the users need to check the PC companion software often and they will be updated as soon as the software upgrade will be made available.