Sony Ericsson has unveiled a faster version of the sleek Xperia Arc device – the Xperia Arc S, during an event in Berlin.
The Arc S shares the same sleek design as the Xperia Arc but with a faster Qualcomm MSM8255T Snapdragon Chipset with a 1.4 GHz processor. Whereas the Processor upgrade for the new device gives it the much needed muscle for better performance.
Sony Ericsson has also included its much appreciated 3D sweep panorama image capture feature to the Xperia Arc S, which enables this device to capture 3D images without dual cameras.
Based on the latest Android Gingerbread platform, Xperia Arc S also features the same 4.2 inch LED backlit display with a native Resolution of 480 x 854 pixels as the Xperia Arc.
Powered by the Mobile BRAVIA engine, it delivers better visuals and video performance as compared to other devices. The Xperia S also get an 8.1 Megapixel camera with HD video capability featuring Sony's exclusive Exmor R image sensor that enhances still images and videos even in low light conditions.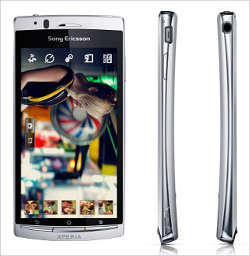 Nikolaus Scheurer, head of product marketing at Sony Ericsson said: "Xperia Arc S is the fastest and most entertaining Xperia to date and it clearly demonstrates how the Xperia family are the best smartphones to experience great entertainment services such as Music Unlimited and Video Unlimited of Sony."
In select countries, Xperia S smartphone users will be able to enjoy "Music Unlimited" and "Video Unlimited" services of Sony. The Music Unlimited service offers free access to a global catalogue of over 10 million unique songs with access to users personal music library and ad free radio channels. While, the Video Unlimited provides users free access to the latest Hollywood blockbusters, all-time classics, and TV shows from all major studios.
Sony Ericsson Xperia Arc S will be available for the Indian customers by the end of this year, while more details about the pricing of this device will be revealed by Sony Ericsson at a later stage.