Sony Ericsson seems to have succeeded in impressing Indian mobile consumers by launching an array of Xperia devices this year. And now, the company looks forward to challenge the supremacy of Nokia and Samsung in the Indian handset market. This is reflected in 'The Handset Hotlist survey (December 2011). Six of the 25 phones that made it to the list are from Sony Ericsson.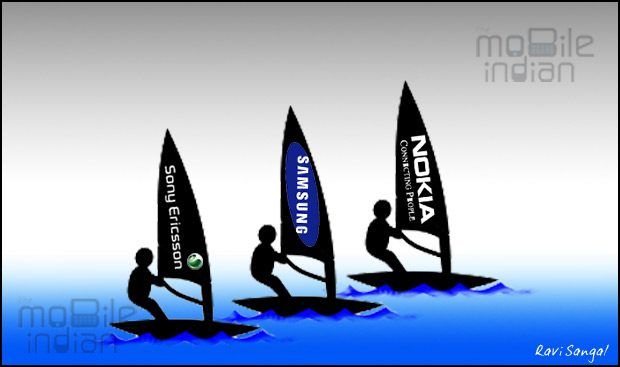 The Handset Hotlist is brought out by The Mobile Indian every month. It is based on a survey of online preferences of more than eight lakh unique visitors who came to the site in November 2011, and searched for and viewed information about mobiles on the site's handset guide which lists more than 1,700 models.
Sreekant Khandekar, director, The Mobile Indian, says, "Nokia and Samsung have formed a duopoly that has dominated The Handset Hotlist for the last seven months, but since August 2011, Sony Ericsson has been slowly and steadily strengthening its position, especially with its flagship Xperia series."
Khandekar further adds, "Sony Ericsson in 2011, on an average, has launched one device per month. Of these, four Xperia devices and two Walkman series smartphones have made it to December's Top 25 list. This suggests that half the mobiles launched by the company this year, have managed to grab the interest of the online consumer."
According to The Handset Hotlist for December 2011, 10 of the 25 most exciting mobile handset models are from Nokia. Samsung follows with eight, and Micromax has one model.
This month too, Nokia C5-03, a Symbian operating system based handset, was the most-searched mobile phone on The Mobile Indian. Stable mates Nokia 701 and Nokia 700, each climbed six slots compared to last month, to occupy the second and third slots, respectively.
Seven new handsets made their way into the list this time — Sony Ericsson Xperia Arc S, Sony Ericsson Xperia X8, Sony Ericsson W8, Samsung Galaxy Note, Samsung Galaxy Y S5360, Samsung Galaxy pop S5570, and the Nokia 2720 fold.
Consumer interest in Micromax models was weaker in December, with only one handset, A 70, an Android smartphone, making it to the list as opposed to two models from the company that normally mark attendance.
Top 25 Handset Hotlist for December 2011

Rank Nov
Rank Oct
Change
Brand
Model
Price in Rs.
3G
OS
1
1
0
Nokia
Nokia-C5-03
8475
Yes
Symbian
2
8
6
Nokia
Nokia-701
19000
Yes
Symbian
3
9
6
Nokia
Nokia-700
17200
Yes
Symbian
4
4
0
Samsung
Samsung-Galaxy-Ace-S5830
13900
Yes
Android
5
2
-3
Nokia
Nokia-C2-06
4903
No
S 40
6
3
-3
Nokia
Nokia-C2-03
4500
No
S 40
7
7
0
Samsung
Samsung-Star-II-Duos-C6712
6000
No
Java
8
6
2
Nokia
Nokia-C6
11903
Yes
Symbian
9
NA
New
Sony Ericsson
Sony-Ericsson-Xperia-Arc-S
27000
Yes
Android
10
11
1
Micromax
Micromax-A70
7619
Yes
Android
11
10
-1
Nokia
Nokia-C2-02
3900
No
S 40
12
12
0
Samsung
Samsung-Galaxy-Pro-B7510
8500
Yes
Android
13
20
7
Sony Ericsson
Sony-Ericsson-Mix-Walkman
6800
No
Java
14
5
-9
Samsung
Samsung-Champ-3.5G
5000
Yes
Java
15
NA
New
Samsung
Samsung-Galaxy-Note
35000
Yes
Android
16
NA
New
Samsung
Samsung-Galaxy-Y-S5360
7100
Yes
Android
17
NA
New
Nokia
Nokia-2720-fold
2450
No
Java
18
23
5
Sony Ericsson
Sony-Ericsson-Xperia-Neo
18000
Yes
Android
19
19
0
Sony Ericsson
Sony-Ericsson-Xperia-Neo-V
17500
Yes
Android
20
14
-6
Samsung
Samsung-Galaxy-S-Plus
22500
Yes
Android
21
22
1
Nokia
Nokia-C5-00
7500
Yes
Symbian
22
NA
New
Samsung
Samsung-Galaxy-pop-S5570
8500
Yes
Android
23
NA
New
Sony Ericsson
Sony-Ericsson-Xperia-X8
9500
Yes
Android
24
NA
New
Sony Ericsson
Sony-Ericsson-W8
10000
Yes
Android
25
24
-1
Nokia
Nokia-X2-01
6700
Yes
Java
Top 10 Indian Challengers
Mirroring the Handset Hotlist, Micromax continued its downward journey in The Top 10 Indian Challengers list for December. The brand, which had bagged eight slots in last month's report, was able to garner only six this month.
The Challengers list was introduced in August, and has a ranking of the 10 most exciting handsets from Indian marketers, based on the preferences of visitors to the handset guide section of The Mobile Indian.
Commenting on the Challengers' list, Khandekar says, "A striking aspect of the Challengers list is that most models feature here for only a month before disappearing in the next. This indicates that consumer interest in a majority of Indian models is fleeting, unlike the Hotlist, where the international brands typically remain for at least a couple of months."
This month, six new phones made it to the Challengers list — Micromax-A85, iBall-Andi, Karbonn-K-1818, Spice-Mobiles-Mi-350, iBall-Aura-V36, and Micromax-X78.
Top 10 Indian challengers for December 2011

Rank Nov
Rank Oct
Change
Brand
Model
Price in Rs
3G
Touchscreen
Screen Size
Camera
1
1
0
Micromax
Micromax-A70
7619
Yes
Yes
3.2
5
2
NA
New
Micromax
Micromax-A85
19500
Yes
Yes
4
5
3
3
0
Micromax
Micromax-X222
2500
No
Yes
2.4
VGA
4
NA
New
iBall
iBall-Andi
6300
No
Yes
3.2
3
5
2
-3
Micromax
Micromax-X560
3699
No
Yes
3.2
2
6
NA
New
Karbonn
Karbonn-K-1818
3300
No
Yes
3.2
3.2
7
NA
New
Spice
Spice-Mobiles-Mi-350
9000
Yes
Yes
3.5
5
8
6
-2
Micromax
Micromax-Q80
4761
Yes
No
2.4
3
9
NA
New
iBall
iBall-Aura-V36
5375
No
Yes
3.5
3
10
NA
New
Micromax
Micromax-X78
4750
No
Yes
2.8
3.2