Sony Ericsson has added two new mobile phones to its Xperia series. Both the phones, which were announced during CommunicAsia 2011 in Singapore, feature the latest Android 2.3 operating system along with a 1 GHz processor.
But that is where the similarity ends.
Xperia Active comes with a 3 inch reality display with Mobile BRAVIA Engine (Sony's display technology), and a 5 megapixel camera with HD video functionality. It is a dust proof and water resistant phone, and incorporates wet finger tracking to ensure the phone works perfectly when either the screen or the user's fingers are wet.
Xperia Active is for health conscious people. The phone comes pre-loaded with sports apps that enable consumers to easily track their fitness levels. Users can set their ideal training route using the built-in GPS, barometer and compass. On-screen heart rate and pulse can be monitored in realtime (enabled by ANT+ wireless networking technology), while the iMapMyFitness app can monitor day to day performance. In addition, Facebook inside Xperia allows consumers to share their progress and experiences with friends.
The phone also comes with one extra, changeable soft-touch back cover, detachable ear hooks for the portable handsfree active headset that ensures the earpieces remain in place while you are running; a wrist strap and an arm case for use during a workout.
The phone is not the lightest &#151 it weighs 110.8 grams. The battery is a measly 1200 mAh (measly as it is a smartphone); we hope that Sony Ericsson has some tricks up its sleeve to make the battery last a full day.
The other Sony phone, announced today, is called Xperia Ray. Aimed more at style conscious consumers the phone comes with a sleek aluminium frame, reality display, Mobile BRAVIA Engine, and 3.3 inch screen.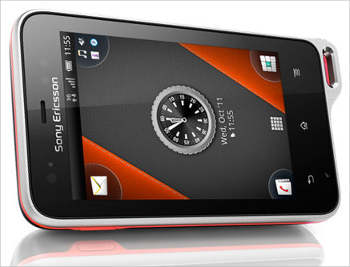 Besides, it has an 8.1 megapixel camera with Exmor R technology (Sony's camera technology) and HD video functionality, which means that the camera will be one of the best, if not the best, in its class.
Xperia Ray runs on the latest Android platform for smartphones (Gingerbread 2.3), and is powered by a 1 GHz processor. The phone is quite sleek with 9.4 mm thickness and the design certainly is gorgeous.
The phone incorporates a front facing camera and a scratch resistant screen with excellent resolution and brightness, and integrated touch keys. The phone is light weight at just 100 grams. All the other bells and whistles of the smartphone, such as WiFi, 3G, Bluetooth and DLNA are all present.
Sony Ericsson has not announced the prices of these devices but we think they would cost somewhere between Rs 15,000-20,000.
There is a high probability of these phones making it to India at the time of their launch. Sony Ericsson India has already said it will be very aggressive in the Indian market and will launch several products in the next three months, and we expect these to be included in that list.