Every year, the fourth Sunday of July is regarded to be the day to honour parents worldwide. There are many such days that focus on singularities like the Father's day and Mother's day as well but the significance of this day is more because on this day the whole world celebrates parenthood as a whole.
Every year on the Parent's day, many of us gift our parents varied things like chocolates and flowers. But, this time let's make it a little more memorable by gifting our parents the gift of communication.
In this modern world, where mobile phones have become a bare necessity everyone has a phone but there are still very less people who own a smartphone. So this Parents Day let's gift our parent an upgrade to smartphones and let them also access the smarter side of mobile telephony. If they already own one, then these smartphones will serve as an upgrade for them to an even smarter device.
We have categorised smartphones on the basis of their functionality and usage and made out combinations for a neat little surprise for our parents and little more help for the reader.
Camera centric devices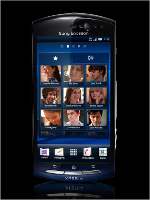 Sony Ericsson Xperia Arc (Rs 27,000) for dad and Nokia N8 Pink (Rs 21,500) for mom:
Gone are the days when smartphones just used to be smarter data centric devices and nothing more. Today smartphones have conquered new frontiers be it multimedia or data usage. So if you are of the opinion that your parents need a camera based smartphone then the Sony Ericsson Xperia Arc and Nokia N8 Pink combo is the best for them.
Sony Ericsson Xperia arc features an 8 megapixel camera which offers superior imagery with the use of Sony's patented Exmor sensor technology. This smartphone runs on the latest version of Google's Android Gingerbread operating system and has a big 4.2 inch display to make things clear. Its 1 GHz processor ensures that things remain fluid while using this device and it also comes with an 8 GB of internal storage space.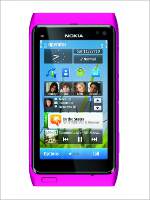 The Nokia N8 Pink has been recently added to the Nokia smartphone lineup by Nokia specifically targeted at women who loves to take pictures. By far, Nokia N8 has the best camera ever to feature on a smartphone. And with the launch of the Symbian Anna, Nokia has upgraded the whole N8 lineup with this new operating system. The N8 features a 12 megapixel camera and a total of 16 GB of internal storage to keep the shutter bugs happy.
Touch screen centric devices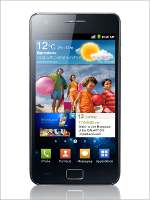 Samsung Galaxy SII (Rs 28,500) for dad and Micromax Bling 2 (Rs 8,000) for mom
Today touchscreen mobile phones are among the best selling handsets in the world. Few touchscreen handsets are responsive even to the tip of the finger and offer functionalities like multi-touch which definitely helps in getting tasks done faster and better.
Samsung Galaxy SII is the second generation Galaxy device from Samsung's stable. The device boasts of the biggest smartphone screen size till now, standing tall at 4.3 inches. And to make that work better, Samsung has incorporated a 1.2 GHz processor in this device.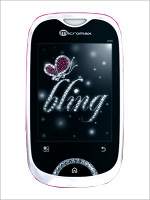 Women always look for style and a little bit of fashion in anything they use, so how can this be not considered vis-a-vis the mobile phone they carry. Micromax's second generation Bling device has come up as an Android based smartphone but carries the same aura as created by the original Bling device.
The Bling 2 gets encrusted with Swarowski crystals. Besides, it features a slightly smaller but a much responsive capacitive touch screen along with a speedy 600 MHz processor that manages things well and keeps the device ready for action anytime.
Business centric devices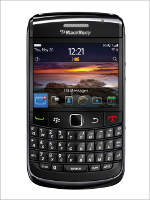 Blackberry Bold 9780 (Rs 21,500) for dad and Blackberry Pearl 3G 9100 (Rs 13,300) for mom
BlackBerry devices are always considered the best as far as the business phones go. Most executives today prefer the small little device and depend on it for exchanging mails, talking to people and doing a lot of other stuff as well.
Built on the same lines as the Bold 9650, the Bold 9780 is marginally smaller and thinner than its predecessor and weighs lesser by 14 grams. The Bold 9780 features a 2.44 inch screen, 65,000 colour TFT display with a resolution of 480 x 360 pixels offering ample viewing comfort to the users.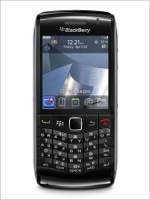 The biggest change in the Bold 3 is the inclusion of the OS 6.0 as a preinstalled option, which is the most appreciated BlackBerry operating system till now. Although much better suited for a touch based operation, the new OS 6.0 works flawlessly with the track pad also.
On the other hand, the once lost legacy of Blackberry Pearl has been resurrected by the new Pearl 3G smartphone. The classic half Qwerty keypad makes sure that user need to type the minimum amount of letters to type. The Pearl 3G has gotten a total new look, some weight loss to and not to forget the inclusion of the OS 6 in this one, making it the perfect choice for business women especially with the pink colour. And no more worries about the trackball as it too has been replaced with an optical track pad.