In the past 30 days, in the line-up to Diwali festivities, Mobile phone companies together launched more than 19 smartphones, and all these handsets had something special about them.
While some of them are upgrades to the popular handsets, some others introduced a whole new category, and few ushered a new operating system in the market with them. Here is the complete list of hottest new handsets.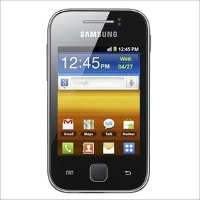 Samsung Galaxy Y
This is the cheapest Android smartphone from Samsung priced at Rs 7,100 and it's a feature packed handset with a small 3.0 inch capacitive touch screen. It is based on Android 2.3 operating system. It is powered by a fast 832 MHz application processor which is by far the maximum that has been offered at this price.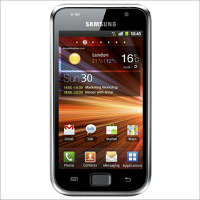 Samsung Galaxy S Plus
This smartphone is the upgrade of the original Galaxy S, priced at Rs 22,000 its only slightly costlier that its predecessor (which continues to be available). The phone has a 4 inch Super Amoled full touch display and is based Android 2.3 Gingerbread operating system and is powered by a 1.4 GHz processor and 512 MB of RAM.
It has a 5 megapixel autofocus camera which is capable of shooting high definition video, and a VGA front camera for video calling which is same as what Galaxy S has. Galaxy S Plus is powered by a 1650 mAh battery. Other features remain the same as the original Galaxy S.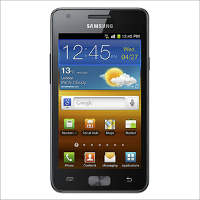 Samsung Galaxy R
Galaxy R Android smartphone is similar in design to the Galaxy S2. It has a slightly smaller display standing at 4.2 inches. The Galaxy R, however, misses out on the Amoled display but gets a super clear LCD like the one on the Samsung Galaxy I9003.
The Galaxy R runs Android Gingerbread v2.3 operating system with Samsung's Touch Wiz user interface on top. The phone comes with a dual core Nvidia Tegra 2 processor. The Galaxy R will come with 8 GB of internal storage along with a 32 GB expandable memory option as well.
A 5 megapixel camera with power LED flash has been included in the device and it is capable of recording 720p high definition video at 30 frames per second. For video calling, the phone has a 1.3 megapixel front camera. Samsung Galaxy R is priced at Rs 27,500 which is approximately Rs 2,500 cheaper than the big brother Galaxy SII.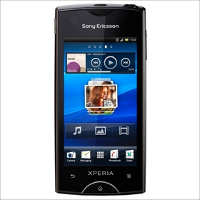 Sony Ericsson Xperia Ray
Xperia Ray priced at Rs 19,000 is aimed style conscious consumers the phone comes with a sleek aluminum frame, reality display, mobile Bravia engine, and a 3.3 inch screen.
Xperia Ray, runs on the latest Android platform for smartphones Gingerbread 2.3 and is powered by a 1 GHz processor. The phone is quite sleek, with a thickness of 9.4 mm.
Besides, it has an 8.1 megapixel camera with Exmor R Sony camera technology and HD video functionality, which means that the camera will be one of the best, if not the best, in its class.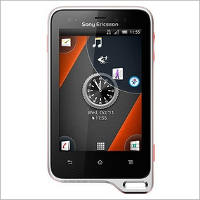 Sony Ericsson Xperia Active
Xperia Active is one of the first Android devices targeted at health freaks. It has a 3 inch reality display with Sony's Mobile Bravia display technology, and a 5 megapixel camera with HD video functionality. It is a dust and water resistant phone and has wet finger tracking technology which means that the phone works perfectly even when the screen or the user's fingers are wet.
If you are outdoor sports enthusiast Xperia Active has GPS, Barometer and compass to help you in your endeavours. It also comes with accessories like wrist strap, arm case and detachable ear hooks for the portable handsfree that ensure the earpieces and the phone remains in place while you are running. The phone will cost you Rs 20,000.
Sony Ericsson Xperia Neo V
Xperia Neo V gets Android gingerbread 2.3 operating system with the regular features of the new generation Xperia smartphones that include Facebook inside Xperia, the Bravia engine and the upgraded audio player with the Xloud.
Neo V features a 1 GHz Qualcomm Snapdragon processor with a dedicated graphics engine as well. And the screen is a 3.7 inch multi-touch reality display with Sony's Bravia engine for better visuals.
It has a 5 MP camera with LED Flash and auto focus feature which can shoot 720p HD videos at 30 FPS. Neo V has a 1500 mAH battery and its external memory is expandable up to 32 GB through a micro SD card. The phone is priced at Rs 17,500.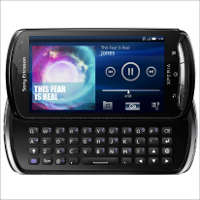 Sony Ericsson Xperia Pro
Xperia Pro is a slide out Qwerty phone with features similar to Neo V, with same screen, operating system and processor. However it has a 8 megapixel camera capable of recording 720p high definition videos. The phone is priced at Rs 23,990.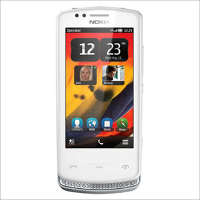 Nokia 700
Nokia 700 has the latest Symbian Belle operating system and NFC pairing functionality. It has a 3.2 inch Amoled "ClearBack" display with Gorilla Glass with 320×640 pixel resolution, this handset houses a 1Ghz ARM design based processor. It is available in five different colours. At the rear, Nokia 700 features a 5 megapixel full focus camera that is capable of recording 720p HD video at 30fps.
Nokia 700 features Bluetooth 3.0, and has 2 GB internal memory which expandable upto 32 GB. It comes with a rather small 1080 mAh battery. Nokia 700 comes with integrated GPS, Compass, Accelerometer and WiFi network support. The phone is priced at Rs 18,000.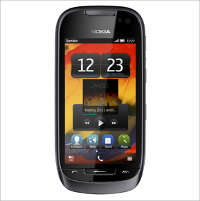 Nokia 701
Nokia 701 also, runs on Symbian Belle and has got NFC capabilities. It comes with 3.5 inch IPS (in plane switching) LCD ClearBack display with Gorilla Glass. The display comes with 16:9 aspect ratio and 360×640 pixel resolutions. This display supports multi-touch and comes with proximity sensor as well as accelerometer.
Even this handset houses a 1 GHz processor. At the rear, the Nokia 701 has 8 megapixel camera with Dual LED Flash and 2X Digital Zoom. The camera is capable of recording 720p HD video at 30 frames per second and apparently comes with a front facing camera for video chat.
This handset features Stereo FM with RDS and Bluetooth 3.0. This handset supports 3G as well as WiFi for speedy data connectivity. Its 1300 mAh battery offers up to 7 hours of talking time over 2G and about 6.5 hours of talktime over 3G Networks. Nokia will offer this handset in three colours.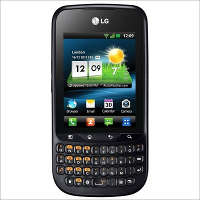 LG Optimus Pro C660
Priced at just Rs 9,600 this device offers a good value for money; it comes with the latest Android 2.3 OS (operating system) sitting on top of 800 MHz processor and 256 RAM. The pro as the name suggests comes with a qwerty keypad, however unlike most other Android Pro devices this one is in a bar form factor. The screen is a 2.8 inch capacitive touch with a resolution of 240 x 320 pixels, which is quite big for a device in this design type.
The handset has a 3 megapixel camera with 4x digital zoom. Video in this phone can be recorded at 24 fps (frames per second). Pro C660 also includes sensors like accelerometer for UI auto-rotate. However, the proximity sensor is missing, lack of which has been smart compensated by user interface design. The battery is a 1500 mAH unit which is on the bigger side, all the other features of a regular Android phone including 32 GB expandable memory, EDGE, GPRS, Wi-Fi (with Hotspot function), 3G, Bluetooth, micro USB port and GPS are all present.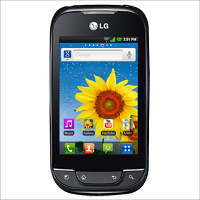 LG Optimus Net
It is being touted as the upgrade of very popular Optimus One. Optimus Net has a 3.2 inch capacitive touch display with HVGA (320×480) pixel resolution. And features a better (than Optimus One) 800 Mhz Qualcomm MSM7227T processor, 512 MB RAM and 512 MB ROM, the Optimus Net features Gingerbread with Optimus UI 2.0 layered on top of it. Other features of this touchscreen handset includes 3.0 megapixel camera, Bluetooth 3.0, Wi-Fi (802.11 b/g/n), 1500 mAh battery and A-GPS support. The phone is priced very competitively at Rs 10,000 level.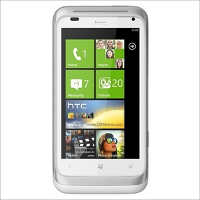 HTC Radar
HTC Radar, which features the latest 7.5 Mango version of Microsoft's Windows Phone operating system has been priced at Rs 23, 990. The smartphone sports a 3.8 inch touchscreen display with 480×800 resolution. It is powered by a 1 Ghz Snapdragon processor and 512 RAM. Besides, it has a 5-megapixel back camera which is capable of recording 720p HD videos and a VGA front facing camera for video chat.
Also, it has 8GB of on-board storage, 1520 mAh non-removable battery and comes with G-sensor, proximity sensor, and ambient light sensor as well. As connectivity option, it has Bluetooth, WiFi, 3G and GPRS options.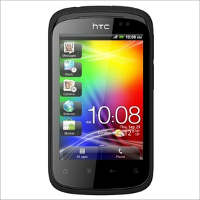 HTC Explorer
HTC Explorer has been designed especially for the Indian market. The phone is priced attractively at Rs 11,600 and comes with a 3.2 inch capacitive touchscreen with 320 x 480 resolution, and is based on the latest Android 2.3 Gingerbread, with HTC Sense user interface's latest 3.5 version sitting on top of it. Besides, it features a 3 megapixel camera. Indian consumers will enjoy exclusive pre-loaded content and applications including Saavn, Bollywood Hungama, NDTV Cricket, NDTV news, eBuddy XMS, HTC Flashlight, Asphalt Adrenalin, Uno and Cricket Pro.
The phone has very modest specs with just 600 MHz processor, 384 MB RAM and 3.2 megapixel autofocus camera. However, given the price and HTC's quality and user interface, it makes a good value for money smartphone.
Blackberry also launched two new devices, one each in Torch and Curve category.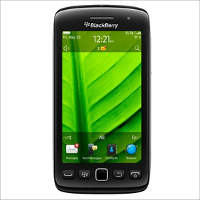 Blackberry Torch 9860
BlackBerry Torch 9860, is priced at Rs 28,490, for this money you get a handset with latest BlackBerry 7 OS and the Near Field Communication chip which allows transactions, data exchange, and wireless connections between two devices in close proximity to each other.
It comes with a 3.7 inch touchscreen which, according to RIM, is the largest on a BlackBerry smartphone yet. The BlackBerry Torch 9860 is powered with 1.2 Ghz Qualcomm MSM 8655 processor with 768 MB RAM and 4 GB ROM on board with additional storage space for up to 32 GB.
RIM has added a 5 megapixel camera with Flash and continuous autofocus. WiFi (802.11 b/g/n), Bluetooth, Near Field Communication chip, GPS, digital compass and accelerometer are all there. Torch 9860 comes with 1230 mAh lithium-ion battery, which provides 6.8 hours of talk time on 3G networks.
Blackberry Torch 9360
BlackBerry Curve 9360 smartphone priced at Rs 20,000, comes with a 2.44 inch touchscreen but does not feature a touchscreen based display. It is powered by BlackBerry 7 OS and runs on an 800 Mhz single core processor. This phone comes with 512 MB of RAM, 512 MB ROM, 4 GB internal memory and an option to expand memory up to 32 GB via a microSD card. It has a 5 megapixel camera with flash but can only record in VGA mode. The BlackBerry Curve 9360, which is a 3G ready device, is capable of five hours' worth of calls after each recharge. The smartphone has a Qwerty keyboard along with an optical trackpad. It also has a Near Field Communication chip which allows transactions, data exchange, and wireless connections between two devices in close proximity to each other.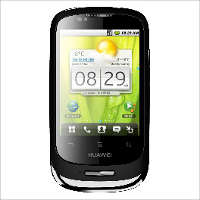 MTS Mtag 3.1
MTS though a mobile operator also launched two new re-branded (from Huawei and ZTE) phones, though very basic these phones come with very lucrative plans.
MTS MTAG 3.1, which is made by Huawei, comes with a 2.8″ capacitive touch-screen offering 240×320 pixels display. It has 3.2 megapixel camera. The phone also has the MTS TV application allowing its users access to Live TV and On demand video playback. Its priced at just Rs 5,499, and comes with money back plans.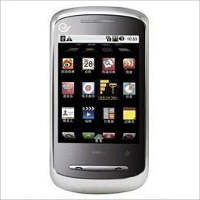 MTS Livewire
MTS Livewire is equipped with Android 2.2 Froyo and offers high speed CDMA EV-DO network access (3.1 MBPS speed). The phone is made by Chinese handset major ZTE. It also has a 2.8 inch screen but is a resistive one and therefore is priced cheaper at Rs 4,999 and also gets money back plans.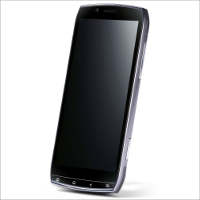 Acer Iconia S300
Acer Iconia Smart S300, which is an Android 2.3 based smart phone featuring a large 4.8 inch capacitive multi touch screen, 8 megapixel rear camera with auto focus and led flashlight, and 2 MP front facing camera. Other features include Wifi, Bluetooth, GPS, FM radio, TV, micro – SD slot, HDMI port and motion sensing along with 8 GB internal memory. The phone comes with a 1GHz Qualcomm Snapdragon processor. The phone looks stylish in its metal casing engraved with subtle wavy patterns. The phone is priced at Rs 29,000.