Mobile devices are fast gaining popularity even among the hard core shoppers and the consumers are increasingly connecting to stores right from their smartphones and tablets, according to a research report of JiWire.
It said that about 79 per cent of shoppers surveyed were okay with the idea of purchasing goods through their mobile devices, including tablets, even for goods that were priced high.
At the same time, it's easier for the shoppers to make purchase decisions if the goods are in the lower price bracket. About 20 per cent users feel safe buying goods worth more than $500 (about Rs 23,000) through their smartphones.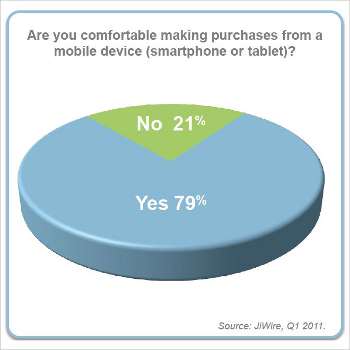 There is a segment of users also, who though don't do their shopping through mobile devices but prefer to conduct a research of products through these devices before buying anything from a physical store. This further underlines the importance of the mobile devices which are increasingly influencing the buying decision of consumers.
"As mobile technology evolves and people begin to rely more on their smartphones and tablets, location-based services and content have truly become a necessity for the on-the-go audience," said David Staas, senior vice president of marketing at JiWire.
"What we are seeing with the evolution of mobile commerce is how the combination of mobile and location is transforming shopping behaviour, enabling mobile advertising to drive in-store, brick and mortar consumer engagement," Staas added.
Even those users, who only do their research on mobile phones and do not actually buy, might feel comforted by the fact that there are people buying using mobiles and their experience has been safe.
The most popular product and services people search for on mobiles are retail products, entertainment and travel services, the research has further revealed.