Bad news for Xiaomi and OnePlus fans as some of the smartphones from the companies emit maximum radiation as compared to other handsets. on the other hand, eight devices from Samsung emits the lowest radiation.
Bundesamt für Strahlenschutz, which is The German Federal Office for Radiation Protection, released a list of smartphones that emit the highest level of radiation. TThe report measures radiation in watts per kilogram and it specifies that the phones should have a specific absorption rate (SAR) of less than 0.60 watts per kilogram. The value reveals the amount of radiofrequency waves that each smartphone emits, with higher numbers the chances that users are exposed to harmful radiation increases rapidly.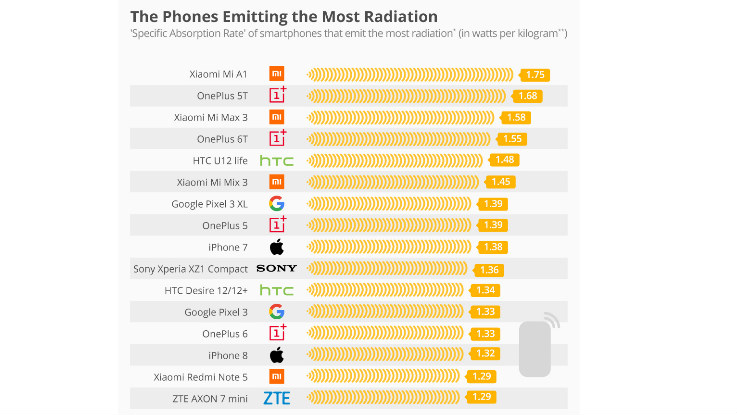 Xiaomi Mi A1 top the list of smartphones with the highest radiation with a specific absorption rate of 1.75 watts per kilogram. The second device in this list is OnePlus 5T, which comes with a specific absorption rate of 1.68 watts per kilogram. This is followed by Xiaomi Mi Max 3 with SAR value at 1.58, OnePlus 6t at 1.55, HTC U12 Life at 1.48 and Xiaomi Mi Mix 3 at 1.45. Interestingly, Google Pixel 3 also emit harmful radiation with SAR at 1.39. Apple iPhone 7 and iPhone 8 are yet another smartphones at having a SAR value of 1.38 and 1.32 respectively.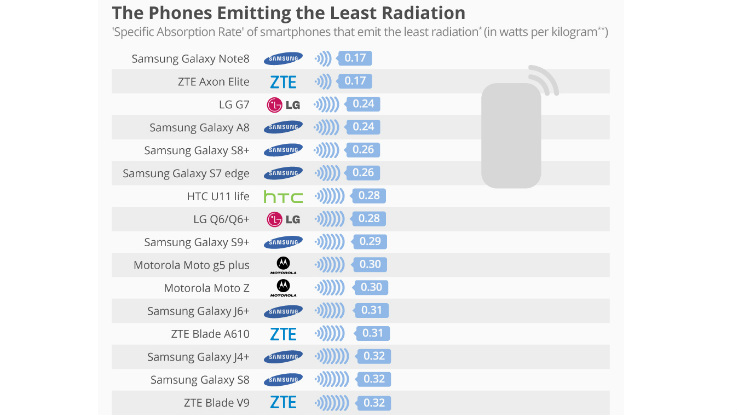 Moving on, the report has also revealed smartphones with the least SAR value and interestingly, Samsung leads this segment with the lowest specific absorption rate. Samsung Galaxy Note 8 has the least SAR value of 0.17 followed by ZTE Axon Elite with 0.17, LG G7 with 0.24 and Samsung Galaxy A8 with 0.24. Overall, Samsung has six more smartphones including Galaxy S8+ with SAR value at 0.26, Galaxy S7 Edge with 026, Samsung Galaxy S9+ with 0.29, Galaxy J6+ with 0.31, Galaxy J4+ with 0.32 and Galaxy S8 with 0.32.
UPDATE:
Xiaomi has provided an official statement:"All Xiaomi smartphones sold in India comply with the laws for SAR values and are well under thelimit. Mi A1 has a SAR value of 1.26 W/kg (head) and 0.17 W/kg (body) in India. Values shared inthe said report have been obtained from tests in Germany (where the conditions and standards forSAR testing and values are different from those in India) and thus cannot be compared to SARvalues in India. For reference, India has a maximum limit of 1.6 W/kg while in Germany, the limit is2.0 W/kg."