Sandisk, which is known for its memory cards and pen drives, has now ventured in to the smartphone application domain with the launch of its first ever cloud storage services manager – the Sandisk Memory Zone. The memory zone allows users to manage and monitor various cloud based storage services in one simple and user friendly application.
With Sandisk Memory Zone, you can manage and backup both local (in your tablet or smartphone) and cloud based content with one single application. Users can move files from their memory card or device to cloud services and vice versa with the help of this app. At present, the Sandisk Memory Zone features support for various cloud services that include Box.net, Dropbox, Google Docs, Picasa, SugarSync, SkyDrive and Facebook.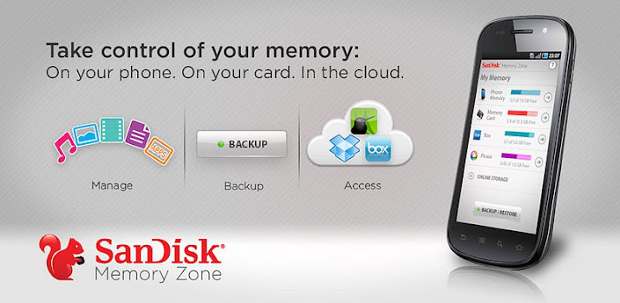 The Sandisk app also allows users to password protect their content on the device so that it does not fall in the wrong hands.
Users can make use of its intuitive graphical interface to copy and synchronise files or folders between service and the device with just one touch.
There is however no cloud storage that is being offered by the application or Sandisk. The application will help users better manage their existing storages on the cloud with ease.
Interested users can locate the application on the Google Play store or can also follow the link to access the same.