It sure looks like an end of the road for rumours as the Galaxy A6 and A6 Plus finds its way to the official Samsung website in Indonesia where the mid-range duo are up for display in all their glory. The new range of Galaxy A6 devices will sport a taller and narrower 18.5:9 AMOLED Infinity displays with front facing camera flash and rear-mounted fingerprint scanners.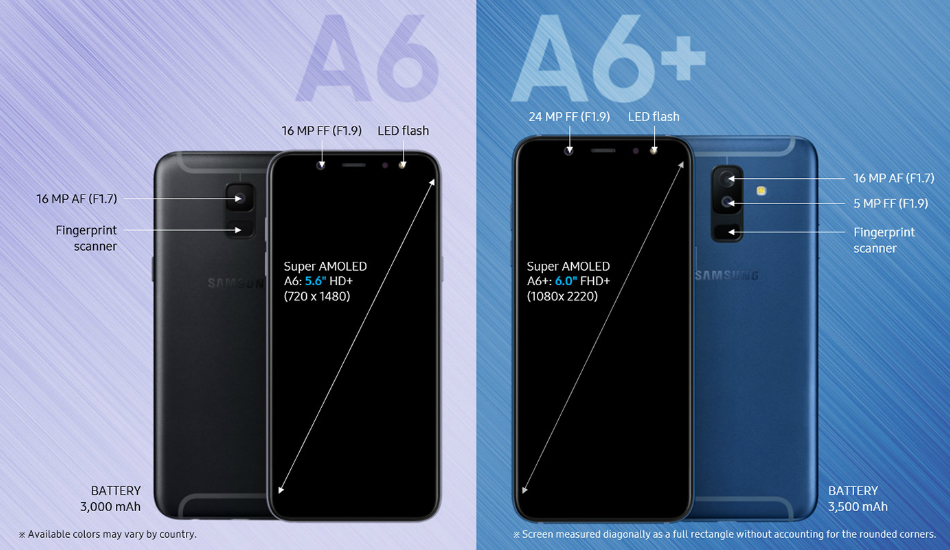 The release of the detailed specifications and images mean the launch of the Galaxy A6 lineup is just a week or two away. While there are 18.5:9 Infinity AMOLED displays on both the devices, only the Galaxy A6 Plus will sport a larger 6-inch Full HD+ display with a larger resolution of 2220 x 1080 pixels. The Galaxy A6, on the other hand, will only feature a 1480 x 720 resolution 5.6-inch HD+ panel.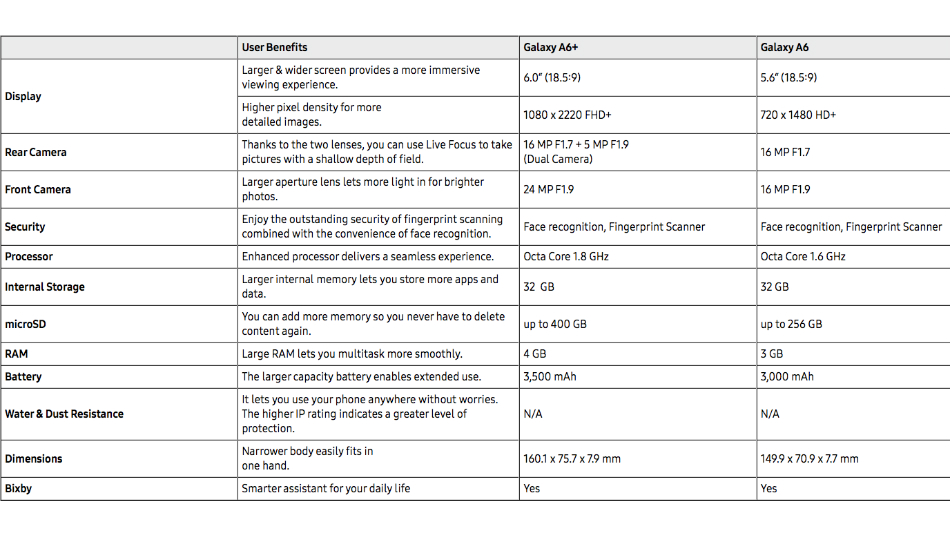 As for the specifications on the inside, the Galaxy A6 rocks an octa-core processor with a maximum clock-speed of 1.6GHz while the A6 Plus clocks in at 1.8GHz. This suggests that the Galaxy A6 Plus is the one running a Snapdragon 450 while the lower priced Galaxy A6 will be powered by Samsung's own Exynos 7870. Both devices equip 32GB onboard storage, though the A6 Plus comes with a faster 4GB RAM compared to the 3GB memory on the Galaxy A6.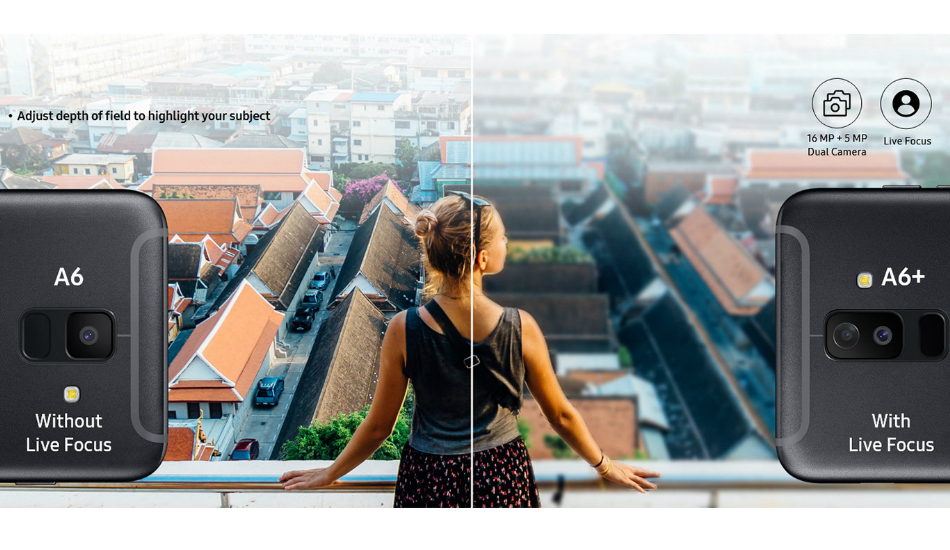 The Galaxy A6 and A6 Plus both deploy a 16-megapixel primary camera with f/1.7 aperture but the latter also features a secondary 5-megapixel sensor with an aperture of f/1.9 with Live Focus for capturing bokeh shots just like what we saw on the Galaxy Note 8 and S9 Plus. In terms of selfies, the Galaxy A6 has a 16MP shooter on the front while the A6 Plus sports a larger 24MP lens with f/1.9 aperture.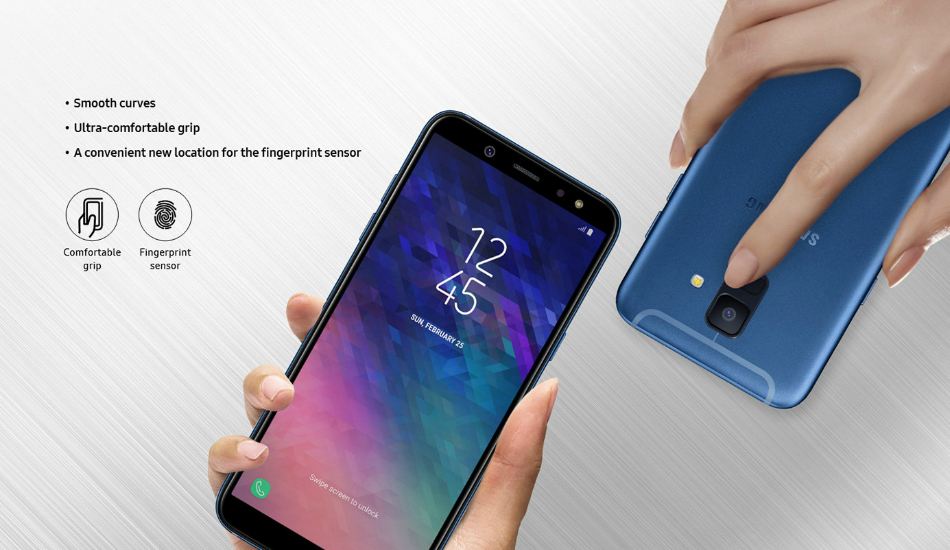 Both devices in the Galaxy A6 lineup will feature Bixby though not the fully fledged Bixby Suite that's found on Samsung flagship devices. We can only see the inclusion of Bixby Home, Bixby Vision and Bixby Reminder on the A6 duo which confirms that there will be no Bixby Voice feature on the smartphones if you were one of those who was excited about the same.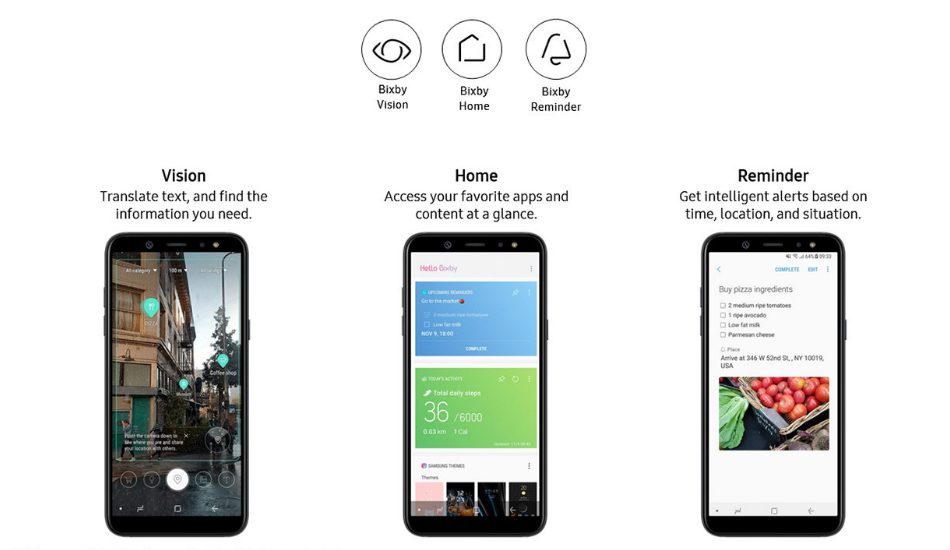 With Samsung itself revealing everything about its upcoming mid-range lineup, it remains to be seen how it prices these two devices. While the larger A6 Plus raises its stakes quite high with a larger 3,500mAh battery, more RAM, better CPU, dual camera and a denser screen, the A6 could be expected to be priced way cheaper with its lowly specifications.
A separate set of leaks revealed that the Galaxy A6 might just be made available for a price of EUR 300-EUR 340 (roughly Rs. 24,100 – 27,300) while the more powerful A6 Plus could be priced at EUR 360-EUR 400 (roughly Rs. 28,900 – 32,100).