Samsung, which has pioneered several trends in the smartphone industry like launching phablets and phones with edge display, is now reportedly set to launch world's first foldable smartphone as early as January 2016. As per SamMobile, the smartphone is code-named as"Project Valley".
Samsung is reportedly testing two versions of the smartphone, first one has the Qualcomm Snapdragon 620 chipset that comes with a 64 bit octa core processor with maximum clockspeed of 1.8 GHz along with LTE and Quick Charge 2.0 technology. The other model has the high end Snapdragon 820 that is currently in the news for its support for high speed data speeds of up to 600 Mbps. This octa core processor is said to come with the latest Quick Charge 3.0 technology which claims to charge a phone battery from 0 to 80 percent in about 35 minutes.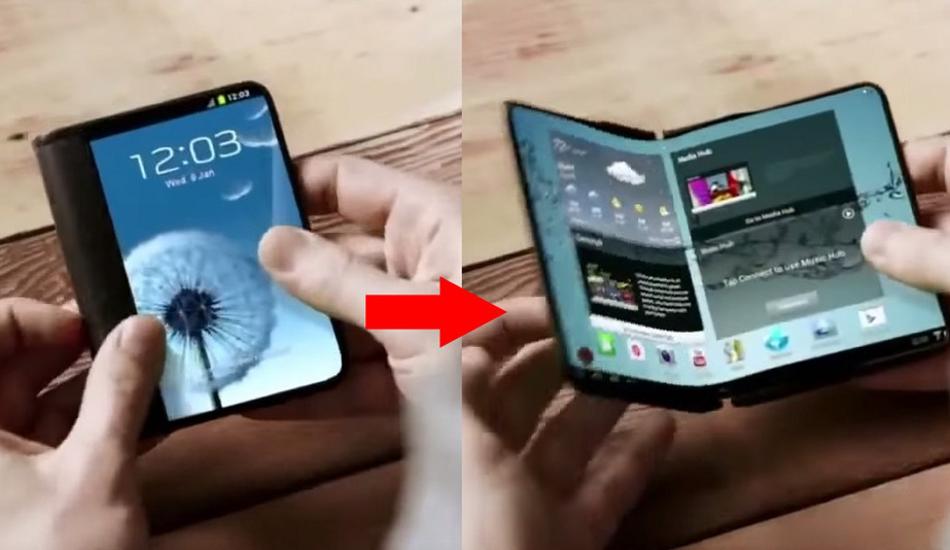 Besides, the purported foldable smartphone of Samsung is said to offer 3GB RAM, a micro SD card slot and a non-removable battery.
But this is not the first time that such foldable smartphone from Samsung came to light. In 2013 itself, Samsung showcased its Youm foldable display. Earlier in June this year, a Samsung patent surfaced which indicated towards a foldable tablet display which could fold up to two times, and form a single device.
Recently, Samsung launched world's first smartphone with a dual-edge curved display, named as Galaxy S6 Edge which is available in three variants – 32GB, 64GB, and 128GB priced at Rs 58,900, Rs 64,900, and Rs 70,900 respectively.
Samsung is also largely credited for pioneering the phablet segment with its Galaxy Note in 2011. Samsung's Galaxy Round was also world's first smartphone with a curved display.
No other details about the first foldable smartphone is available right now. However we will keep you posted as soon as we get more information on this handset.
Image Credit: SamMobile