Samsung India has launched a new online store, called eStore (https://www.samsungindiaestore.com), to sell its mobiles, tablets, accessories and laptops. The store offers online (Debit/Credit card) and cash on delivery payment options.
Though the prices offered are low compared to the MRP (Maximum Retail Price) of the products, but they are not the lowest amongst the online retailers like Flipkart and Letsbuy. So while you must check the site, you must also check other e-commerce websites before you buy.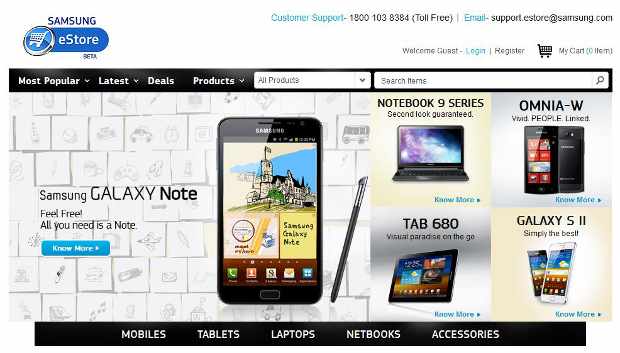 It also offers a toll-free support number (1800 103 8384) and an e-mail ID for it. Samsung India site provides link to this store as well as to e-commerce sites like LetsBuy, which according to a product page, is a trusted Samsung Sales partner.
The accessories page lists a lot of useful accessories for it phones and tablets. And in future we expect the site to one of the best place to buy accessories for your Samsung devices.
The site is currently in beta testing phase.